As the government has approved the new frequency policy 2073 which includes technology neutrality provision, the two big telecom operators, Nepal Telecom and Ncell have geared up to prepare for 4G technology. They have been demanding the 4G license along with additional frequency in existing bands through technology neutrality. Now that NTA has included in the policy to ask the operators for their preparation and implementation plan for 4G( and the approval be made after the completion of preparation), they have geared up to launch the 4G service ahead of the rival operator. It is known that both of the operators have already prepared the radio network plan for 4G in Kathmandu and some major metro cities, before the frequency policy. The radio network plan includes the no of sites, location, frequency band, bandwidth to cover the metro cities. Some unconfirmed news has it that they have also tested a 4G site in Kathmandu. They are also claiming that their existing network is 4G ready but they are in the process to buy some additional equipment and software, that could not be done without getting the license for technology and spectrum. Both of the operators are now in continuous talk with the same vendor Huawei, whose equipment are currently with both of the operators and the software/ patch upgrade is needed to make the existing equipment compatible with 4G. The frequency band for 4G, as specified by the newly edited frequency policy, is 1800 MHz which is currently being used for 2G (GSM) technology. Right now, Nepal Telecom has got 15 MHz frequency in the band whereas Ncell has got 11 MHz frequency (More on frequency bands here). Although it is mentioned in the policy that the maximum bandwidth to be owned by an operator is 20 MHz, it is known when the regulator is going to provide the additional frequency. So it seems like they have to re-farm their existing GSM 1800 MHz (i.e. take out the existing frequency from 2G and use it for 4G) which will definitely take some time. It is due to which NTA has made such procedure to make the operators ready for frequency, hardware/software up-gradation and give the operators ample time for re-farming so that there won't be any significant quality reduction in their 2G service.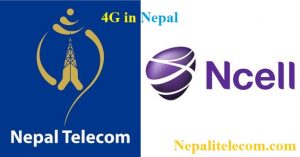 It is known that both of the operators are likely to submit their work plan and implementation plan within this month. NTA will evaluate their work plan and after the completion of their preparation, NTA will be giving them the technology neutrality approval to use the 4G technology in 1800 MHz. And it would take for another month to implement the technology in each sites after upgrading the software and hardware ( to be bought soon). 4G is fourth generation mobile technology standard ( direct evolution to 3G) which can provide high speed data connectivity but the speed depends on the bandwidth put up for operation in 4G. It seems like they are going to use as much as 5 MHz from the existing frequency in 1800 MHz which would provide speeds up to 15- 20 Mbps for a user, in non loaded site and it degrades to 5 to 7 Mbps after being loaded in normal conditions. The technology name is LTE (Long term evolution) which again has different versions. It would be better if they will bring the latest versions with different functionalities like the aggregation to other frequency bands coming in near future. As it is in the policy to auction 700 MHz & 2600 MHz for LTE, along with reserving some chunk for the existing telcos, they can leverage the aggregation feature to increase the speed significantly, but the frequency of operation also need to be supported in the user end equipment like mobile or LTE dongle.
Learn more about 4G here.
Apart from 4G in 1800 MHz, operators are also talking of 3G UMTS in 900 MHz (as mentioned in the new policy), which if approved and implemented, will be a very important step in providing mobile broadband in rural areas. As the rural sites are quite unloaded and its coverage will be good due to better propagation in 900 MHz, the data speed there will be comparable to that of 4G in metro areas.
Lets see how will this story unfold in coming days. We will keep updated about 4G in Nepal through our website. Stay tuned.