Ncell, the private GSM operator of Nepal has put an end to Free facebook offer. For which, they have informed to their customers. The company also recently closed its free twitter and Wikipedia offer. Ncell free Facebook offer introduced to customers on February 15, 2017.
Here is how they informed their customers of stopping the offer through SMS, which tells of the closure to happen  Baishak 19 that is Tuesday, May 2, 2017. Ncell thanks its customers for using the free facebook offer.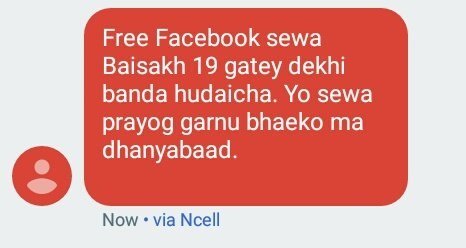 It is also quite rare that this kind of service be introduced later. Why? You can Find the reason below.
Ncell free Facebook was actually a text version of Facebook, which allowed to use unlimited photo uploads, likes, share, comments. Though the customers  benefitted with the offer specially for students, internet and startup campaigners had come down heavily for the free offer. They claimed that Ncell violated Net Neutrality that proposes for free and fair internet. Net neutrality is actually a principle that all internet traffic should be treated equally.
Read here for more on to Net Neutrality and Ncell free Facebook offer.
It is due to this reason, Nepal Telecommunication Authority is also taking up this issue seriously. So, they might not approve similar kind of offers in coming days.
Now, after the announcement of Ncell free facebook closure, people have started criticizing Ncell for this. It seems many of the customers have been using Free Facebook for their leisure time. It was also handy for all those people who can not afford to use Facebook all the time. Similarly there was an outrage in social media, when they closed Free twitter and Wikipedia recently.
This is what Ncell posted in their twitter account.
फ्रि फेसबुक योजना बन्द हुने बारे सूचना। pic.twitter.com/uUMCPw2tFr

— Ncell (@Ncell) May 1, 2017
Tell us, how do you feel about the Ncell free Facebook offer closure.