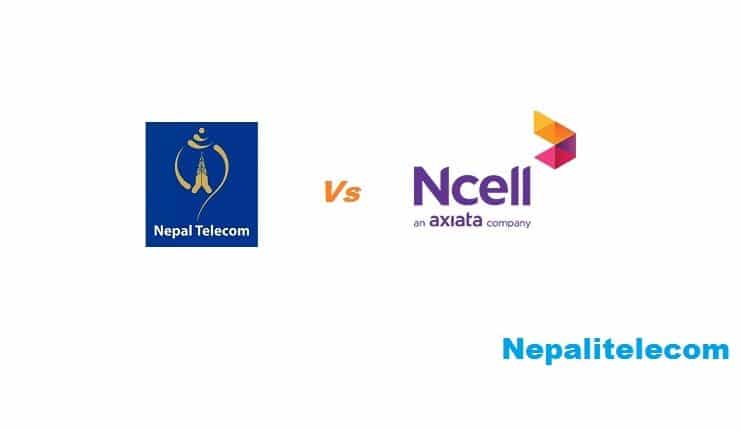 Nepal telecom and Ncell are competing really well in alluring customers for their data services. As customers are also demanding affordable data services, they are in the race to provide cheap data packages. The competition is actually benefiting the consumers but there is always a limit for the operators to reduce their price.
We have already done comparison post for SIM card and data speeds of Ntc vs Ncell. This post, we are comparing Ntc vs Ncell data packs.
Currently NT holds 55 percent of the total market share in data internet whereas Ncell has just 42 percent (as of Latest NTA data). The majority of the data subscription comes from the ubiquitous GPRS. Edge and the 3G. Only Ntc has got 4G service in Kathmandu and Pokhara. The internet tariff without any data package in Ncell Rs 3 Per MB whereas for Ntc it is the same at Rs 1 per MB. Till now, all of the GSM technologies be it 2G, 3G or 4G can use the offered data packs.
Having said all, the real competition is for the data package is in GSM 2G and 3G services. The latest offers from Nepal Telecom is the integration of all the affordable data packs in to one called Ntc Sasto offer. Whereas for Ncell, they recently revised the  previously launched "internet for all" schemes with some extra data volume and little of price.
Ntc vs Ncell data packs Comparison
Here are some of the main comparative points for Ntc vs Ncell data packs.
Ntc always charges Rs 1 per MB without any data packs whereas Ncell charges Rs 3 per MB. Ncell also provides Rs 1 per MB for the customers who subscribe their data packs of Rs 100, 150 and 250. That remains operational till the validity period of the pack. Ntc has simple tariff for consumers for this.
Pay per go tariff of Rs 1 and Rs 3 are exclusive of the regular taxes which will be added. Whereas for data packs, it is inclusive of the data packs.
Cheapest all time data packs in Ntc is 20 paisa per MB, through 1500 MB at Rs 300 valid for 30 days. For Ncell, the lowest cost for all time data pack is 21 paisa per MB, through 1200 MB at Rs 250, valid for 30 days. Ntc is little cheaper on this.
The cheapest for  Night data packs in Ntc is 4 paisa per MB through 6.5 GB at Rs 300, for 30 days. Similarly, the cheapest Ncell night data pack is 5 paisa per MB through 4800 MB at Rs 250, for 30 days. Ntc is little cheaper on this.
For all time small data packs, Ntc has 10 MB @ Rs 8 for 2 days and 50 MB @ Rs 35 for 10 days. Whereas Ncell has 25 MB @ Rs 10 for 3 days and 60 MB @ Rs 20 for 3 days. For this, Ncell is a clear winner with more volume and one day extra validity.
The least and most preferred all time packs is Rs 100 data packs in both Ntc and Ncell. With Rs 100, you can get 400 MB valid for 30 days. Whereas for Ncell, you can get 300 MB for 30 days.
For Ntc, you can either use *1415# to subscribe the pack or remember different keywords for SMS. For Ncell, it is *17123# or SMS with keyword to 17123.
Day and Night packs. Ntc has just one offer of Rs 100 which includes 100 MB at day and 500 MB for night period, for 7 days. Ncell has no similar data packs. But Ncell provides two times more data in day pack and 4 times more data in Night packs. Same cost of Rs 100 can either provide 300 Mb for all time or 600 MB (double) for day time or 1200 Mb (4 times) for night time.
Facebook pack of 100 MB valid for 5 days costs Rs 22.6 in Ntc which is 22.6 paisa per MB. Ncell Facebook pack of 140 MB valid for 7 days costs Rs 55.37 which is nearly 40 paisa per MB.
Ncell has named a unlimited data internet offer which is actually not unlimited. 1 GB unlimited offer in Ncell costs Rs 789.87 valid for 30 days. After the consumption of 1GB data early, customers can continue to surf at 32 kbps for the rest period.  Ntc has no such so called "unlimited" data offer which is not a real unlimited offer.
The Verdict:
Ntc and Ncell are going head to head for the data packs and target to increase their data revenue. With the advantage in most preferred and most cheap data packs, Ntc comes out as a clear favorite. But there are some features in Ncell that is also quite preferred by the customers. So, we leave it to the public to select one as a winner based on the comparison above. If you may have different opinion, do let us know.
Here are the all of the Ncell data packs in a picture.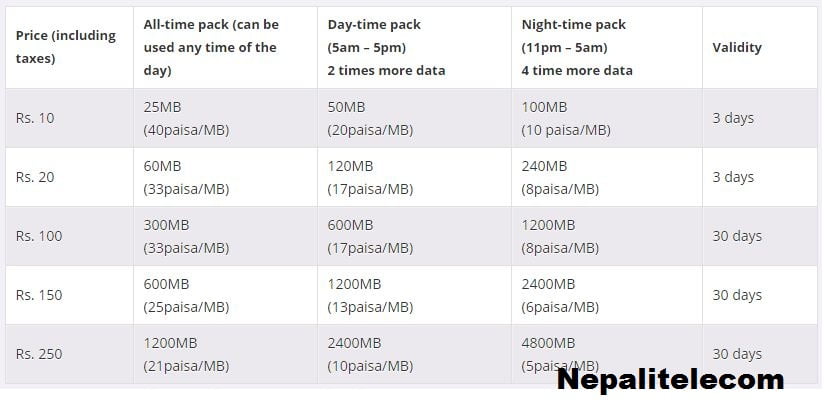 Here are all of the affordable Ntc offer packs.
NT continues the cheap data packs (all time, night time) and adds two new small data packs. Read more here.
Hope you have liked the comparison, do share it to your friends.
Do follow us in Facebook and Twitter.