Ncell has handed its first batch of over 150 oxygen concentrators to the Ministry of Health and Population (MoHP). Ncell's support for the government comes as part of its Corporate Social Responsibility.
Ncell lent its support to the government as part of its Corporate Social Responsibility. Supplement oxygen has become one key factor in treating Coronavirus patients with low blood oxygen levels.
The CEO of Ncell, Andy Chong handed 150 batches of oxygen concentrators on Friday to Mahendra Prasad Shrestha, the Chief Specialist at the MoHP. The government will dispatch these oxygen concentrators to district-level hospitals on a priority basis that could save many suffering from COVID-19.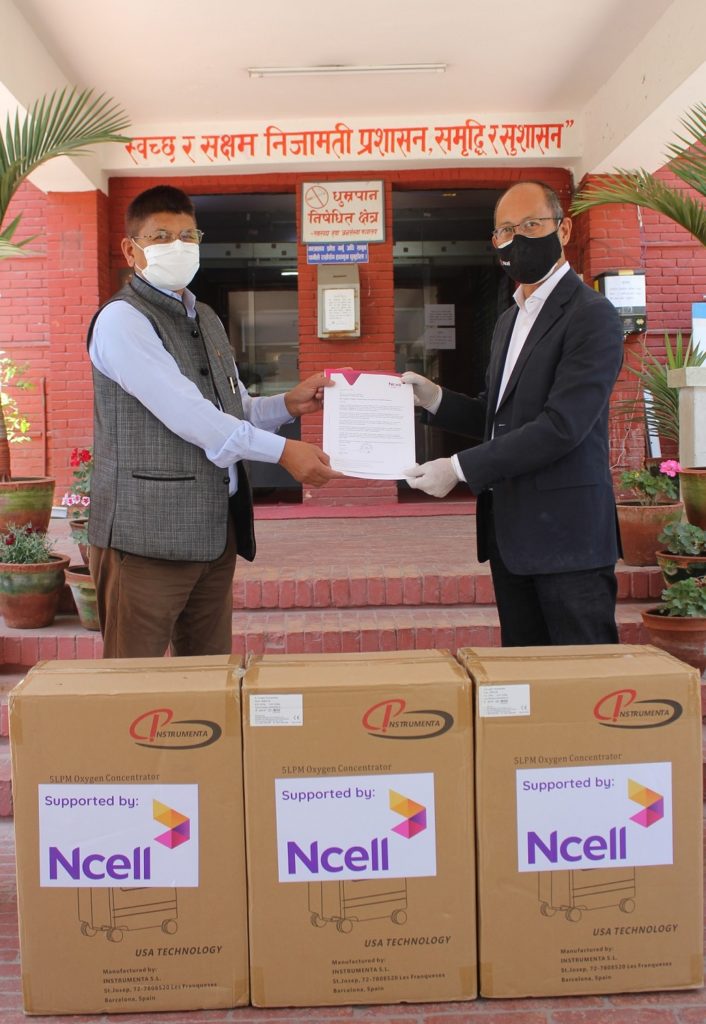 Ncell's Support 'A Part Of Continued CSR'
At the event, Dr. Jageshwor Gautam, the Spokesperson of the MoHP applauded the private telecom for its support during the crisis. He said, "Ncell's support is the result of its collaboration with the MoHP and it is a part of its Corporate Service Responsibility.
"Ncell's provisions will play a significant role in the treatment of critically ill patients with respiratory distress. Nevertheless, it will also help boost the country's medical infrastructure in government hospitals especially at the district level." He added.
Likewise, Ncell CEO Andy Chong expressed telecom's commitment to serving the people of Nepal in times of crisis. He said, "the company has pledged to help save lives during the pandemic with over 150oxygen concentrators."
He reiterated Ncell's social activism as a 'corporate citizen' and said since the beginning of the COVID-19 pandemic in March 2020, it has lent the government a financial package of up to NRs.100 million for the prevention, control, and treatment of the infection.
Check out: Everything about Covid Connect Nepal >>
Ncell's Covid-19 Hotline
He continued, "As a part of COVID response, we are also operating Ncell COVID-19 Hotline in collaboration with Dhulikhel Hospital. He added, "The service provides 24/7 COVID consultation and daily health teleconsultation free of costs to all those who are in home isolation."
In case of the COVID-19 issue, anyone can call on Ncell's Hotline Service In 9805554500. The hotline calls are free of any cost. The callers can have consultations with doctors and health professionals to address their health concerns.
Ncell's call center at Dhulikhel Hospital is serving COVID patients in home isolation from across the country with daily consultations by qualified medical professionals.
Check out: Save These Helpline Numbers for COVID-19 Issues
Ncells' COVID-19 Activism
Ncell has been at the forefront delivering its COVID-19 relief packages with financial and telecom pakcages. In 2020, Ncell made the contribution of NRs. 9.70 billion in COVID-19 response that includes NRs. 100 million in support to the government's COVID-19 Prevention, Control, and Treatment Fund.
Similarly, Ncell has launched cost-effective packages to facilitate seamless communication during the lockdown. Stressing on data connectivity for those working from home and its data package can be handy to many who are on mobile broadband for online activities.
Don't miss: Ncell Brings Lockdown Relief Packages: Work From Home Plan, Double Data, Sapaati, & More
With financial aid and Telecom services, Ncell's contributions during the pandemic have been very praiseworthy. Its assistance as part of its Corporate Social Responsibility will help the government as well as the hospitals in providing the necessary services to the COVID-19 patients who are in dire need of oxygen for survival.
What is your opinion of Ncell's support to the government with the oxygen concentrators? Do you think other private firms are also doing their best to mitigate the COVID-19 crisis especially during this second lockdown? Kindly drop your opinions in the comments section below.