The news of China Mobile investing USD 1 Billion in Nepal is doing the rounds in Nepali internet. However, not many details have come out so far about the nature of this investment. So, in the absence of specifics, let's speculate what this project could mean for Nepal and China.
China's leading telco and World's largest operator by subscribers, China Mobile is investing $1 billion in Nepal to build a Mobile Data Network. This was revealed in the World Investment Report 2021 released by United Nations Conference on Trade And Development (UNCTAD).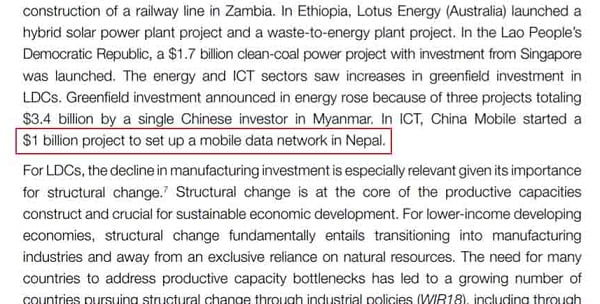 The report hints that the project might have already taken off. However, China Mobile has kept mum about its project in Nepal. Adding further obscurity, Nepali authorities have also shown their lack of awareness.
Do Read: Challenges of a Telecom Operator in Nepal
Part Of A Larger Chinese Project
Both China Mobile and Nepali authorities have not offered detail into the project. So, we can speculate on what this project mean for Nepal and China. Given China is flexing its broadband efficiency around the globe, we can expect its Nepal investment to be part of a broader goals.
In 2017, the Chinese telecom company had published a report titled 'Connecting The New Era'. In the report, the telco had expressed in elaboration, its desire to advance the required broadband infrastructure to connect the world. The report mentioned its plan for laying cross-border optical fiber to link Nepal, Pakistan, Tajikistan, and Myanmar.
Read this: Oppo Flash Initiative; MWC Shanghai, China

The said investment could also be a part of the Chinese government's transcontinental 'Belt And Road Initiative'. The report mentions China Mobile's commitment to establishing 29 Information Station (Internet service Access Point-PoP) in the countries that are part of the 'Belt and Road Initiative.' In addition, China Mobile will also facilitate in building International Communication And Information Exchange in the region.
Currently, there is no definitive specifics about this major China-Nepal telecom project. But with the current speculation, we can guess China Mobile to be investing on a mobile operator as they have mentioned mobile data there. However, we expect to learn more about it from authorities soon.
When we finally have more on this, we promise to keep our readers updated.
Check out: People's Expectations for Internet Service in Nepal
What do you make of China Mobile's unprecedented investment in Nepali telecommunications? If it is a part of the Belt And Road Initiative, Nepal could benefit in multifold with its fiber expansion that will connect us to other neighboring countries. Let us know your inputs in our comments section below.