On another exciting day for MWC, medical experts demonstrated 5G's role in the health sector. Seasoned medical practitioners emphasized how the 5G and AI could minimize errors in surgeries called for more technology spurned medical practices.
The event gave a worthy hint about how 5G could transform remote health services with its high bandwidth and its low latency capacities while reducing human errors in surgeries.
Key medical experts attended the MWC event and spoke on 5G's significant role in elevating medical practices with advanced technologies. Dr. Antonio de Lacy, chief of the gastrointestinal surgery department at Hospital Clinic Barcelona centered his speech on 5G and AI's role to lessen human errors during surgery. He called for medical practitioners to integrate more technology in the health sector.
Also read: Qualcomm Unveils Snapdragon 888 Plus 5G Chipset At MWC
AIS TeleSurgeon For Global Network
De Lacy made world headlines back in MWC 2019 for demonstrating the first-ever 5G assisted remote surgery. This time, he introduced an innovative system called AIS TeleSurgeon. He stated it will enable deeper collaboration between doctors and hospitals across the world.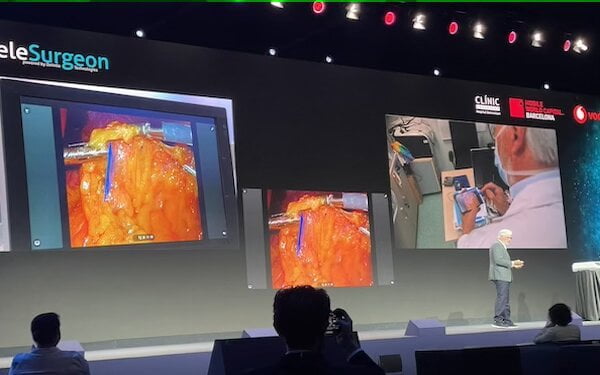 He says the AIS TeleSurgeon system is set up in operating theatres around the world and the concerned doctors can communicate through 5G among surgeons over video calls with pictures.
De Lacy, later highlighted how the system allows for the global network of doctors over 5G. He pointed to its importance as "as four eyes, or even ten eyes are better than two". He said the real-time collaboration among surgeons would reduce possible errors that he dubbed "one of biggest pandemics".
Going forward, de Lacey said the goal was to move towards a world where live surgery through 5G was possible. In addition, to also increasing discussions about how robotics and AI could be integrated into the surgical process.
Technology is Going Home!
Keynote speaker Ana Marques, CEO of Neuroelectrics furthered the role of technology for the human brain. She said 5G was crucial behind the company's Enobio headpiece gadget. The device helps its users by tracking brain activity and even solve issues like epilepsy and other mental health perils.
The invention was inspired after witnessing depression among people caused by COVID-19 as they lived homebound for several months. The company saw an opportunity to send the device to the homes of patients who couldn't make it to the hospital during the height of the pandemic.
"We believe the future of technology is going home, so it is going to change the way we deal with brain diseases," she explained. "5G s going to be key because we can simulate millions of patients at home, but also when we stimulate the patients we can record their brain data," Marques added.
The event reflected 5G's multifaceted roles it could play to aid medical service in the health sector. As demonstrated, with 5G's broadband medical practitioners can perform surgeries amidst experts from around the world. In addition, 5G's low latency URLLC and high bandwidth capacity would effectively minimize errors in surgeries.
When the fifth-gen network arrives in a full circle, it will surely ease off medical experts and improve their proficiency. While the role of 5G is still explored and evaluated, the prospects look promising.
Check out: 5G network and Applications: Explained
5G For Telemedicine In Nepal
In Nepal's case too, 5G's combination with the health sector could bring better medical services, especially to rural areas, and even dispatch medical facilities using broadband.
Nepal's health sector is badly stumbled by arduous terrains. In this, the fifth-gen network could execute 5G for remote health practices. It could effectively render telemedicine services to the remote hills in Nepal.
Recommended Read: 5G test within 2021 by Nepal Telecom
How do you see the merging of 5G and medical fields to convey better medical services? You can provide your valuable input in the comments below.