This festive season, Durbar Mart is presenting "Babbal Bada Dashain Aayo Sunn Chadi ko Bahaar Lyayo". This offer commences from 10th Ashoj and ends on 24th Ashoj. On purchase of Rs. 5000, one can get a sure shot silver coin. While on Rs. 5000 above, there is a whopping discount up to 60%, 'Babbal' gift hampers and 'Babbal' Cash Back offer too. One lucky customer can grab a gold coin and many more exciting prizes. Nepalese culture believes in bringing silver coins as an act of fortune and good luck. Find more of the Durbarmart Dashain offer 2078, along with several vouchers on several categories.
About Durbar Mart
Durbar Mart is an e-commerce platform brought up by ambitious Nepalese entrepreneurs with a motive to provide quality shopping experiences. This e-commerce mart provides an array of products from domestic to international ones. Reliable & safe online shopping is its main motto. Also in the present Covid scenario, it's easier and convenient to do shopping online. This mart has already partnered up with more than 30 local brands and aims to further increase its collaboration.
Durbar Mart Dashain Offer
Under the festive offer, customers can get amazing discount vouchers up to Rs.5000. Those vouchers can be used to get heavy discounts on various product lines of Durbar Mart. These offers enable the customers to save money but one can also earn money by registering on the official website of Durbar Mart. Customers can get Rs. 100 instantly after registering. Also, there is a Refer and Earn scheme, in which one can refer Durbar Mart to his/her friends and families and earn Rs.50 to Rs. 1,000.
Also, there is a brand warranty and a free delivery on the purchase of items like Electronics & Home Appliances. Coming on mobile phones, "Bada Dashain Offer" is granting Rs 1500 cashback. Similarly, Laptops are available for purchase with up to 2-25% discounts.
| | |
| --- | --- |
| Products | Discounts |
| Refrigerator | Up to 30% |
| Washing Machines | Up to 25% |
| Televisions | Up to 38% |
| Small Home Appliances | Up to 50% |
| Mobile | Cashback up to Rs. 1999 |
| Audio Accessories | Up to 60% |
| Electronic Accessories | Up to 50% |
| Trendy Gadgets | Up to 50% |
| Computer & Laptop Peripherals | Up to 45% |
| Laptops | Up to 2-5% |
Home Appliances Vouchers
Here are the vouchers you can grab on home appliances.
| | | |
| --- | --- | --- |
| Voucher Amount | Minimum Purchase | Voucher Code |
| Rs.1000 OFF | Rs.30,000 | HA1000 |
| Rs.2000 OFF | Rs.50,000 | HA2000 |
| Rs.3000 OFF | Rs.75,000 | HA3000 |
| Rs. 5000 OFF | Rs.100,000 | HA5000 |
Electronics Vouchers
The voucher for electronic goods ranges from Rs 500 to Rs 2000 for products above Rs 15000, which are as follows.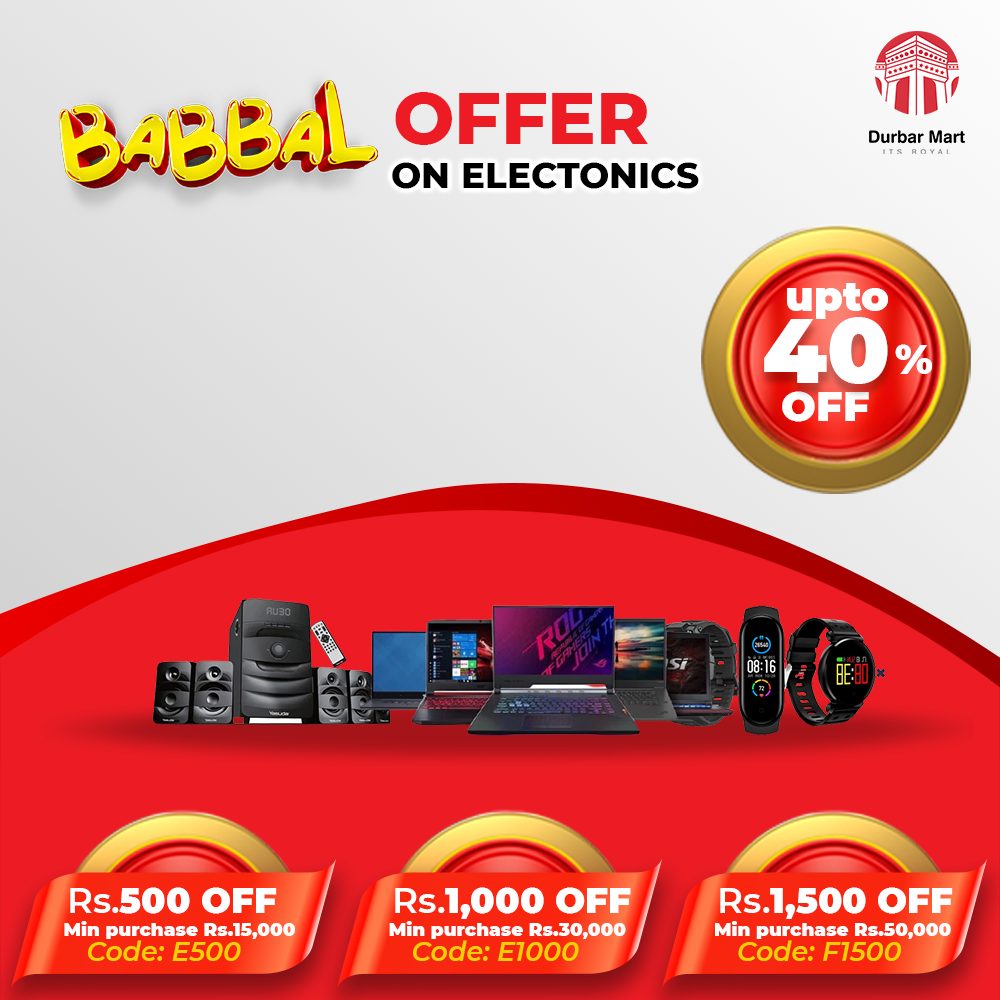 | | | |
| --- | --- | --- |
| Voucher Amount | Minimum Purchase | Voucher Code |
| Rs.500 OFF | Rs.15,000 | E500 |
| Rs.1000 OFF | Rs.30,000 | E1000 |
| Rs.1500 OFF | Rs.50,000 | E1500 |
| Rs.2000 OFF | Rs.70,000 | E2000 |
Vouchers For All Categories
Durbarmart vouchers that apply to all categories are:
| | | |
| --- | --- | --- |
| Voucher Amount | Minimum Purchase | Voucher Code |
| Rs.200 OFF | Rs.2000 | F200 |
| Rs.300 OFF | Rs.3500 | F300 |
| Rs.700 OFF | Rs.10,000 | F1000 |
| Rs.2000 OFF | Rs.20,000 | F2000 |
You need to hurry up as the vouchers will be limited numbers. So, buy the products for your requirement from their website.
Durbar Mart Dashain Offer for Nepali Brands
Durbar Mart has been promoting local brands via its platform. So, they do have some amazing discounts on Nepali brands purchase from its site. Find the Nepali products on the offer below (click to know more).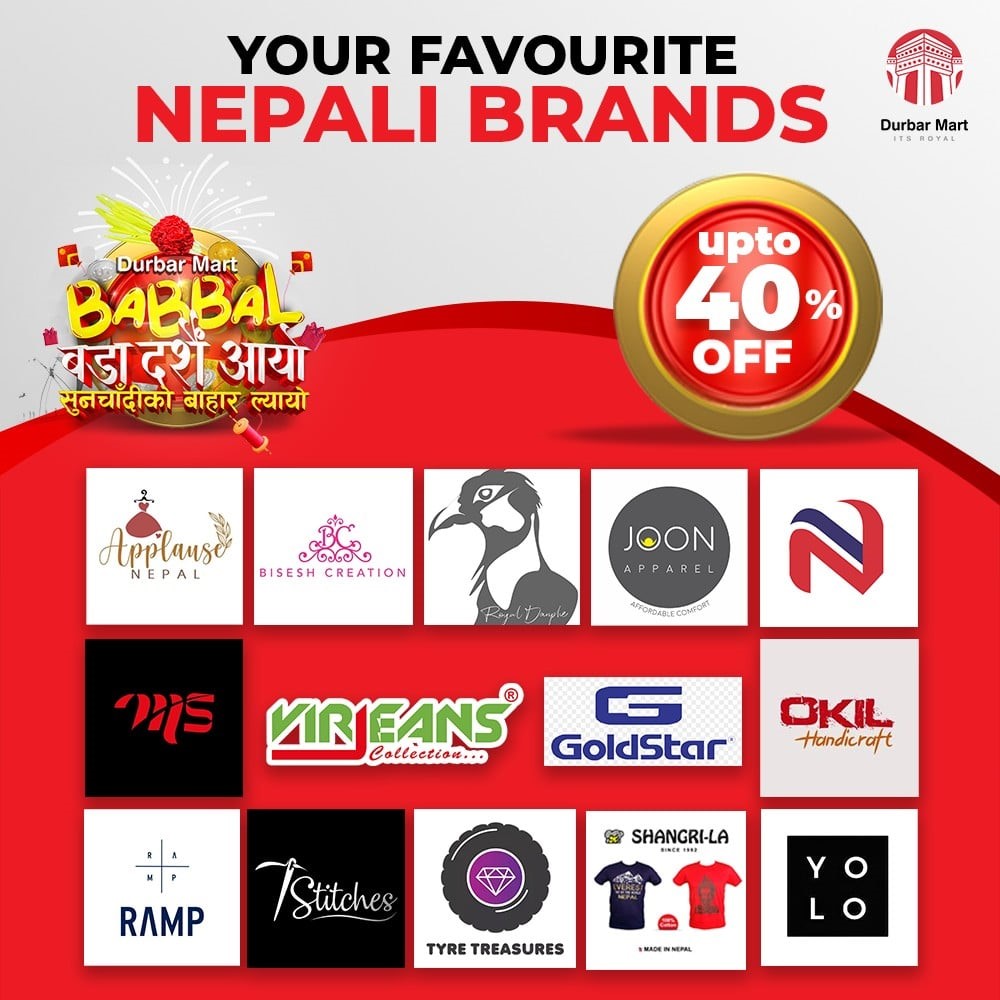 Dashain Shopping From Home For Safety
The festive season is around the corner and Nepali people have to buy a lot of stuff for the biggest festival in the country. Meanwhile, Covid-19 is still not gone and crowded marketplaces are high-risk zones. So, to maintain the safety of us and our families, online shopping is a convenient method to go for. One can easily buy varieties of stuff with a few taps on their smartphones. Digital Payments apps are already assisting to conduct hassle-free payments for online sites as well.
So, Durbar Mart is also a wonderful option for buying groceries, beauty products, footwear, men & women clothing, electronics, gadgets, and much more. Getting products delivered right at your doorsteps is pretty handy in current times. Also, let's support local brands while shopping.