CG Net has launched its much-awaited IPTV service. The fast-growing internet service provider has called it "CG Net Jodi", and will now offer both broadband internet and IPTV in a bundle package to the customers.
The company added the digital TV service 1 year after launching its trend-setting internet service back in 2021.
CG Net has introduced its IPTV service under three categories – Sprinter Jodi, Popular Jodi, and Rockstar Jodi. Each package comes with a different internet speed and cost. You can get a subscription per month, 3 months, and on an annual basis for both CG Net internet and IPTV services in a bundle.
Check out: CGNET Fiber Internet In Nepal | Speed, Price & Availability
CG Net IPTV and Internet Jodi packages and Price
The Sprinter Package comes with an 80 Mbps internet connection and IPTV and costs Rs 810 per month. Similarly, the Popular Jodi package includes a 155 Mbps internet plan at Rs 1055 for monthly renewal.
The premium package Rockstar Jodi brings 305 Mbps internet speed and costs Rs 1,374.
You can also subscribe to the packages for three months. The Sprinter Package costs Rs 2,640, Popular Package Rs 3,750, and the Rockstar Jodi comes for Rs 9,720 on three-month renewals.
For an annual subscription, the Sprinter Jodi costs Rs 9,720, and Popular Jodi costs Rs 12,660. Similarly, the Rockstar Jodi package costs Rs 16,488.
| | | | |
| --- | --- | --- | --- |
| CG Net Jodi IPTV+ Internet Packages | 1 month | 3-months | 12 months |
| Sprinter Jodi (80 Mbps) | Rs 810 | Rs 2,640 | Rs 9,720 |
| Popular Jodi (155 Mbps) | Rs 1,055 | Rs 3,750 | Rs 12,660 |
| Rockstar Jodi (305 Mbps) | Rs 1,374 | Rs 9,720 | Rs 16,488 |
You will need to pay Rs 2600 for a Set Top Box (STB) but it will come for free on an annual subscription.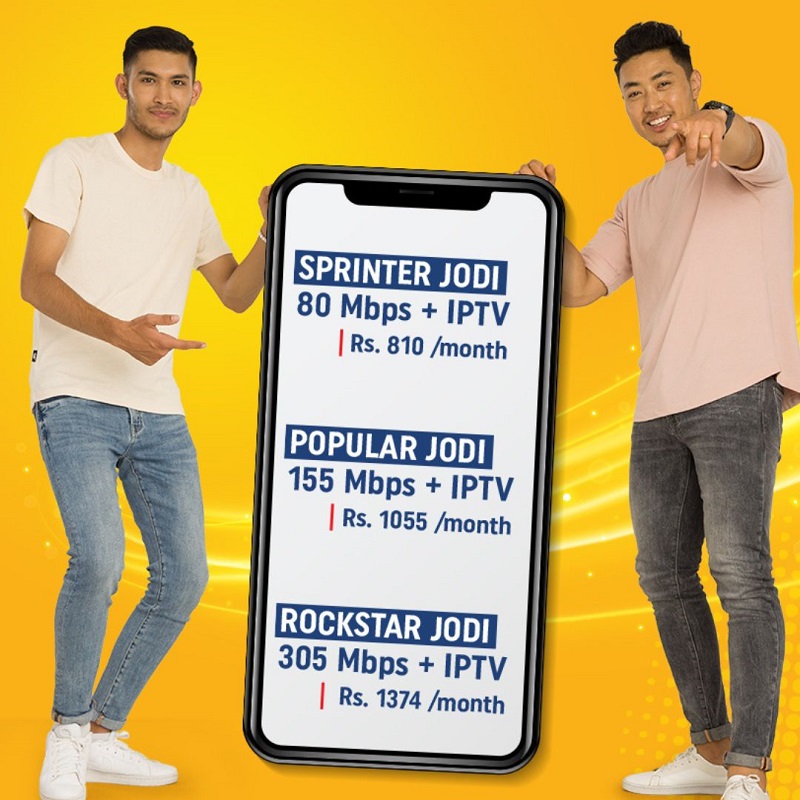 CG Net's IPTV brings a total of 257 TV channels including 125 HD channels.
Also see: CG Net Launches Super Value Plan, Up To 300 Mbps Internet
CG Grand Jodi Offer
With the launch of the IPTV service, CG Net has also launched CG Grand Jodi offer. Under this, the Chaudhary Group's internet subsidiary is placing television sets for affordable costs.
The company says that under the Grand Jodi offer, customers with an 80 Mbps internet plan can buy a 43-inch TV for just Rs 35,999 (without taxes).
Meanwhile, customers with 80 Mbps internet and IPTV packages can buy a 32-inch TV for Rs 25,499 (without taxes).  
You can purchase the "Grand Jodi Offer" from any CG Net store, website, phone call, or Daraz.
How delighted are you with CG Net finally launching its IPTV service? The ISP has begun expanding beyond Kathmandu and the digital TV could be a compelling draw to get one subscription for you. Do share your opinion in the comments below.