ChatGPT is a new sensation in the tech world. Incredibly comprehensive and fast chatbot, developed by OpenAI, was launched only on November 30, 2022, and has already taken the internet by storm. The advanced chat platform has obsessed users with many even claiming it to be better than Google (sic). And recently, the ChatGPT app has been rolled out on both Android and iOS platforms including for users in Nepal. In this post, you will find all the frequently asked questions (FAQs), and the premises of ChatGPT in detail.
The chatbot of OpenAI was first released in 2015 by Elon Musk and Sam Altman which in recent weeks has become the next big thing on the internet. Not just responding to queries, the AI chatbot is able to understand human speech and can also produce in-depth text responses. The GPT (generative pre-training) is an online tool for users to engage in conversation-like chat service.
In essence, ChatGPT is an online chat service that responds with answers on prompts. It automatically generates answers to questions/queries asked by users. You can ask "How do I make pancakes", and it comes up with a step-by-step recipe and ingredients. The ease of use and how comprehensive it can be has made it awfully popular recently. Plus, it is deeply engaging too.
Experts are telling that it is much more advanced than other chatbots Silicon Valley has produced in the past.
Tech firms have been pouring money into generative AI, and the ChatGPT is a high-time reflection that the investment does have potential in the future. And while we talk about ChatGPT's exceptionally valuable response capability, OpenAI has also launched its next-generation language model GPT-4 with an incredibly hot set of features. Let's get back to our own topic of discussion.
Let's know more about ChatGPT:
What is ChatGPT?
ChatGPT is a language model AI chatbot developed by OpenAI. It is a highly intelligent online chat platform that has the ability to respond to user queries on multiple topics with a thorough response.
How does ChatGPT work?
ChatGPT uses machine learning techniques to process users' queries and generates responses. It is intelligent to understand the pattern of queries so that it caters to the right information for the users. More important, it can understand natural language too. It is trained on an extremely large set of data written by people on the internet to understand the context and meaning of words and phrases.
Conversational chat that is comprehensive and convincing
What makes ChatGPT so thrilling and fun is that as you ask your queries, it doesn't feel like 'Googling'. It brings answers comprehensively. You can even resort to it for making notes. You don't look for websites, you get direct answers saving you clicks and a hassle. Is it better than Google? Maybe not a time to judge. They are starkly different as well. But the conversational feel of the chatbot makes it truly an immersive experience.
These ranks then served as training data for the reward model. In order to maximize the output of the reward model, a refined language model will then be further trained using reinforcement learning to respond to prompts.
Check out: Google Discontinues 'Translate' Service in Mainland China
Similar to InstructGPT, the ability to acknowledge its errors
ChatGPT is advanced and seeks to be more detailed for users. The developers have tried to attribute it to human-like characteristics to make it more user-friendly and reliable. But not all the time it can produce the right answer. For that, it has the ability to own up to its errors, and also reject false assertions. It is similar to InstructGPT.
Has answers to many types of queries
ChatGPT is capable of delivering information on most queries. It is built for that purpose. You can ask it questions of all types, and faculties, mathematical solutions, writing, stories, essays, etc. It has an answer for almost all in detail.
But if you have something definitive, such as "When is 5G launching in Nepal?" then it will admit not to having much information on the topic. Its AI won't certainly produce an answer. But it's available now thou. More on that later down below.
However, even if it fails to answer with something definitive, it does compensate with some helpful information. What it says about the requirement for 5G is true. The launch of 5G, requires multilateral coordination between operators, regulators, government, and other stakeholders. Just take a look at the query below.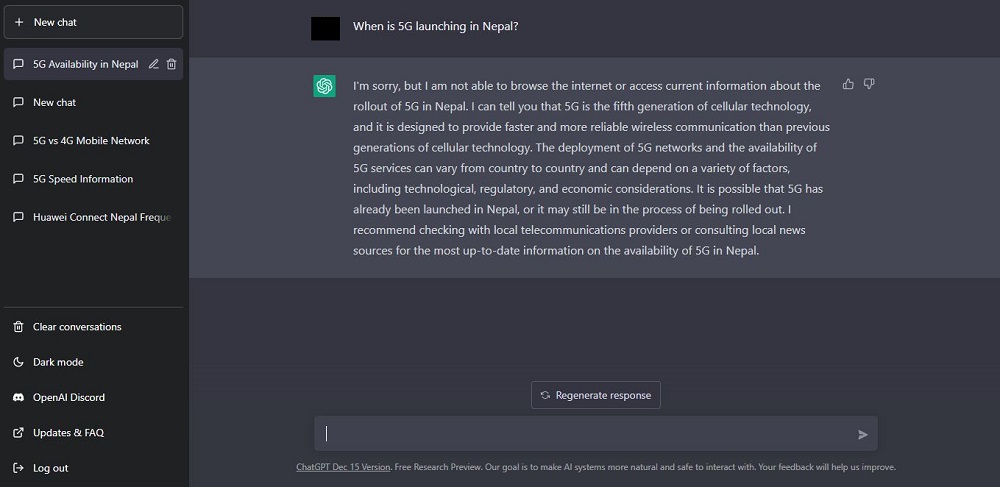 Also read: WhatsApp Windows App Launched For Desktops and Laptops
Built on GPT-3.5 language technology
ChatGPT employs the GPT-3.5 language developed by OpenAI. It is designed to use text-based data from various sources to respond to human prompts. It has the ability to engage in a wide-ranging of topics with in-depth information.
A possible human replacement?
As with any innovation, there is a concern that ChatGPT could also undermine humans and replace them. Its AI can generate a sophisticated essay or a note deep enough to qualify for a college-level assignment. Therefore, some are vexed that the chatbot could replicate journalists or even programmers.
Just to illustrate how helpful it can be, upon the query "What are the use cases of 5G mobile network?", ChatGPT gave a decent response. But only time will show how far it will go. The service has just started and is a viral thing on the internet for now.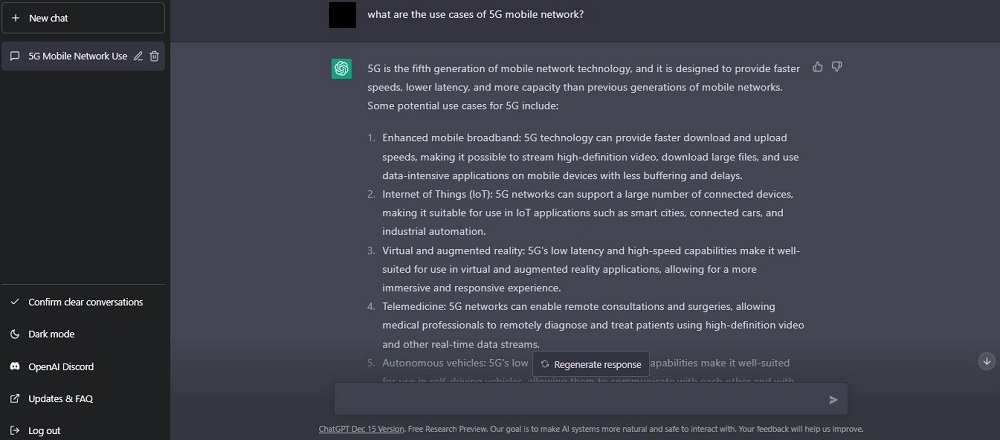 Check out: Creative Voice Begins, Send Voice Messages in Bulk
It does have limitations though
Despite how good it is, the AI chat is not a one-stop solution for information of all genres. Rather, it has some limitations and credit to the developer, it is also owned up.
ChatGPT can at times bring incorrect information on queries. Worse, it is susceptible to providing biased content too. What is also most important to know is that the program is "not connected to the internet," and so it is not flush with "knowledge of world and events after 2021." For now, its future looks solid to be a genuine source for information on many different types of queries with serious in-depth information.
Google (search engines) vs ChatGPT
Due to how good ChatGPT is and its potential, some are compelled to draw a comparison and wonder whether the chat service is better than Google. But essentially, they beg to differ in utility. In simple terms, Google is a search engine that produces websites, images, and videos on users' queries. ChatGPT is designed to deliver answers to the prompts of users. It can't They are both versatile in what they do but a comparison with Google doesn't seem fitting as yet.
Do read: SMS or Instant Messaging apps, Which One Do You Prefer?
On the future of SEO (ChatGPT vs SEO)?
Writers on the web optimize their content with Search Engine Optimization (SEO) to get better traffic for their content on search engines such as Google and Yahoo when people run queries on specific topics. But with an advanced chatbot AI such as ChatGPT, it does raise a question about the essence of SEO in the long run. The sheer depth with which the OpenAI chatbot responds to user queries might compel users to directly ask ChatGPT than go to search engines for information.

There is a credible possibility that the rise of ChatGPT could undermine the need for SEO for online content creators. While ChatGPT is still new and would require multiple features to disrupt giants such as Google, it has managed to draw comparisons already. Anyway, it is the latest reason Google and SEO can worry about their significance in the fast-growing AI-reliant world.
ChatGPT is available in Nepal
Open AI has finally made ChatGPT available in Nepal. The chatbot service is now available on both Android and iOS apps from their respective app stores.
Initially, the ChatGPT app was rolled out for iOS devices and gradually expanded to global markets, then slowly Google's Android platform also got the app. Recently, Nepal ranked 2nd in Google search driving ChatGPT's growth so it's likely the app will become an instant hit among Nepali smartphone users.
How to use ChatGPT?
ChatGPT is free to use. You need to create an account and start using its chat service. You need to visit this link and create an account and then you can start asking questions on ChatGPT.
If you haven't tried the viral ChatGPT, then we strongly recommend you give it a try once and share your experience in the comments below.