Ncell Axiata has updated its site with many exciting features. The upgraded site simplifies customers' mobile activities on the web with multiple features and an easy interface. Along with the website update, Ncell brings many offers for the COVID-19 Pandemic data requirements.
Ncell's new website is lighter, faster, and offers a cleaner look that makes browsing through very smooth. In one perspective, the site feels like the replacement of Ncell's USSD dial service albeit, on the web.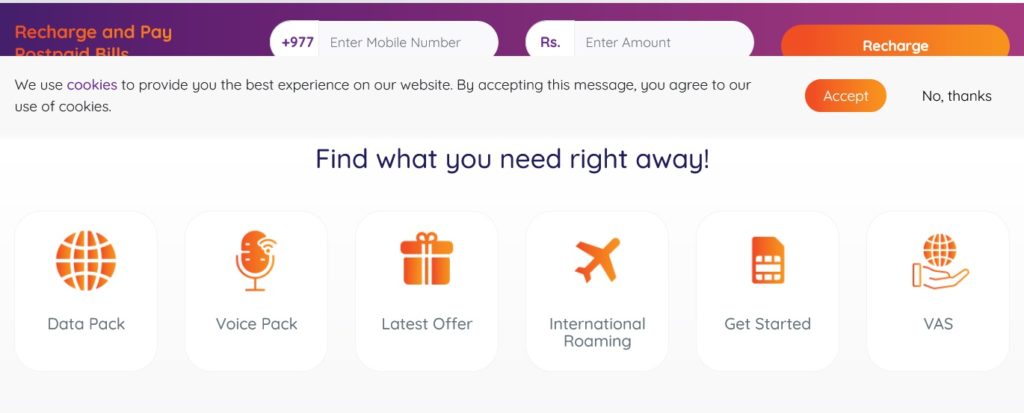 An App Like Experience
Ncell's updated site works like a smartphone app. It now features an easy interface that lets you buy voice packs, data packs, VAS acquire other services in a few clicks. Check out: New Ncell Mobile App Features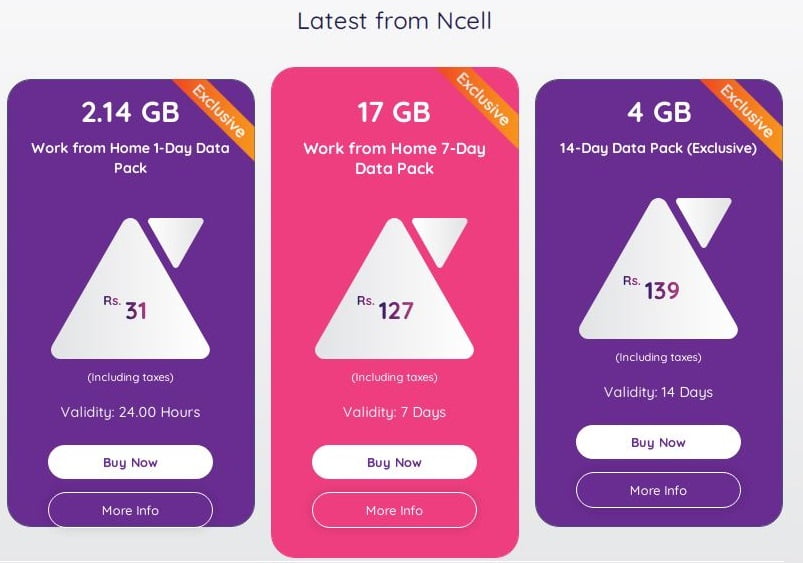 With this update, Ncell has also revamped its Self-care Ncell App with multiple new features.
Earn Up To 100% Bonus Volume
As part of the promotion, Ncell is offering a special 100% bonus on the purchase of various packs. The initiative is focused on people staying home due to COVID-19 restrictions who need more bandwidth to utilize their time online.
For example, customers will be subject to bonus data ranging from 150MB to 2GB on the subscription of 1-day (Rs. 18), 7-day (Rs. 98), 14-day (Rs. 139) packs, and 0.5 GB to 0.75 GB.
Customers are entitled to more bonus data in Triple Majja 7-day (Rs. 109), 10-day (Rs. 147), and 30-day (Rs. 459) packs. In addition to this, customers can earn double data on selected packs and three times more daytime data with Always-on Data Pack while purchasing them on the site or the app.
Check out: Ncell data packs
An Extension of COVID-19 Relief Pack
Ncell's new offers come as an extension to its generous COVID-19 relief pack. Its bonus offers will greatly help customers reeling from the lockdown ease their day through online gaming and works.
Ncell's new offers will also help customers remain connected to their loved ones during the tense times of the COVID-19 pandemic. Ncell has reported that it will increase features on the site to further enhance customers' web experience.
Don't miss: Ncell Brings Lockdown Packages: Work From Home, Bonus, Double Data, Sapaati, & More
The private telecom has also planned to launch the site in the Nepali version soon to incorporate all of its customers within its online service. The Nepali version of the site will be especially beneficial to those section of customers who are more comfortable with the lingua franca.
Furthermore, Ncell is extending various offers under the #OnlineKoKhusi promotion to customers who purchase services on digital platforms including the site.
Ncell hopes its updated site will inspire a digital transformation of its mobile services by porting manual services towards the web.
Have you visited Ncell's site yet? It feels faster and lighter. If you have, then kindly let us know your take on it in our comments section below.