Nepal Telecom (NTC) has completely shut down its traditional CDMA (Code Division Multiple Access) services (sky phone and C-phone). As per the plan, the government-backed operator phased out the dated wireless cellular communication system in FY 2079/80 as it seeks to transition its mobile services fully towards modern GSM (Global System for Mobiles) technology.
As per sources, the state-backed operator has switched off all the CDMA base stations (BTS) across the country. The telco is now returning the 850 MHz spectrum back to the regulator Nepal Telecommunications Authority (NTA). Check out: Frequency bands and spectrum for Mobile network in Nepal
The company now has a modern GSM network for operating mobile services. If you didn't know, CDMA is capable of only 2G and 3G networks for voice and mobile internet. GSM, on the other hand, provides 4G broadband service which is far better and more efficient and with VoLTE can also offer High Definition voice service to subscribers.
Nepal Telecom had already planned to retire its CDMA network by the end of 2020 but due to several issues, it ended up postponing the date. Besides, still having a substantial number of users on the traditional network posed a practical hurdle to shut down the long-running service.
Ntc introduced CDMA technology to provide communication service in rural areas for its ability to provide higher coverage however, with time it has gone of out prominence worldwide and remains a liability for Ntc too.
By cutting off CDMA, the telco will have more resources to use and improve newer technologies such as 4G LTE and 5G in the near future. In addition, it has also shut down WiMAX broadband service already.
Telcom operators have widely expanded GSM-based services including in rural areas which have made CDMA almost obsolete. Additionally, being an old technology, it is proving costly and hard to maintain for the company which is why it is being discarded.
The Radio Frequency Policy Determination Committee earlier decided to discontinue the CDMA service provided by Nepal Telecom before 2022. Not only Ntc, but several telcos around the world are also shutting down CDMA service. Let's find out why.
Why are telcos shutting down CDMA?
Ntc introduced the CDMA service back in 2006. One of the great technologies at that time offered a wide range of frequency spectrum of 850 MHz and 1900 MHz, better call quality. That time, CDMA had more potential than then GSM technology in terms of wide coverage and voice quality.
But there are still some areas where only CDMA mobile service is available. That's why the telco kept on expanding CDMA to all parts of the country, but was later put on hold as the company decided not to invest in CDMA and WiMAX in 2017.
As time passed by, technology changed rapidly, and so did GSM technology. We saw an evolution in GSM whereas the CDMA network got stuck at one point. The focus went more on 4G LTE, which is compatible with international standards of GSM family and further evolution.
Find: Latest Ntc Data packs with price, volume, validity
CDMA has become a liability in times of 4G and 5G
Similarly, the world is now shifting towards 5G network. At this point, the telcos are not finding it economical or worth an investment to operate the CDMA service. That's why several global telcos are switching from CDMA to GSM. Likewise in Nepal too, Ntc has started an internal trial of 5G which means older-generation mobile services will gradually see their decline.
At the same time, many global operators have also started shutting down either 2G or 3G technologies. European telcos such as Vodafone have discontinued 3G throughout Europe between 2020 and 2021.
Similarly, Deutsche Telekom, Swisscom, and Telefónica have pulled the plug on their CDMA service by 2020. However, none of them has publicly stated to shut down 2G. In contrast to European telcos, most of the Asian telcos have already shut down 2G and are also in plans to shut down 3G. Find why 4G is better than 3G mobile networks.
What's the benefit of GSM over CDMA?
Though CDMA has some better aspects, the benefits of the GSM network overshadow them. Here are some benefits of the GSM network over CDMA:
Generally, with a 3G CDMA network, making voice calls and transmitting data at the same time is not possible but, a 3G GSM network provides simultaneous voice and data service.
4G LTE network provides greater coverage and better call quality at lower costs.
GSM network support is available on all mobile phones whereas, for CDMA, there are limited handsets available. So, switching to new phones with CDMA R-UIM cards is also limited.
GSM supports 4G and 5G networks, unlike CDMA, which only supports 2G and 3G. That is there is no further evolution of CDMA technology.
Check out: 2G, 3G, 4G, and 5G mobile technologies explained simply.
Ntc migrated users from CDMA to GSM
As part of the shutdown plan, Ntc has migrated most of the existing CDMA users to GSM technology. The latest NTA data shows Ntc having 3 lakhs, 19 thousand, and 626 CDMA subscribers. But many of these users have presumably been migrated to 4G or are in the process of it. However, the number of CDMA users at the time of shutdown are minimal.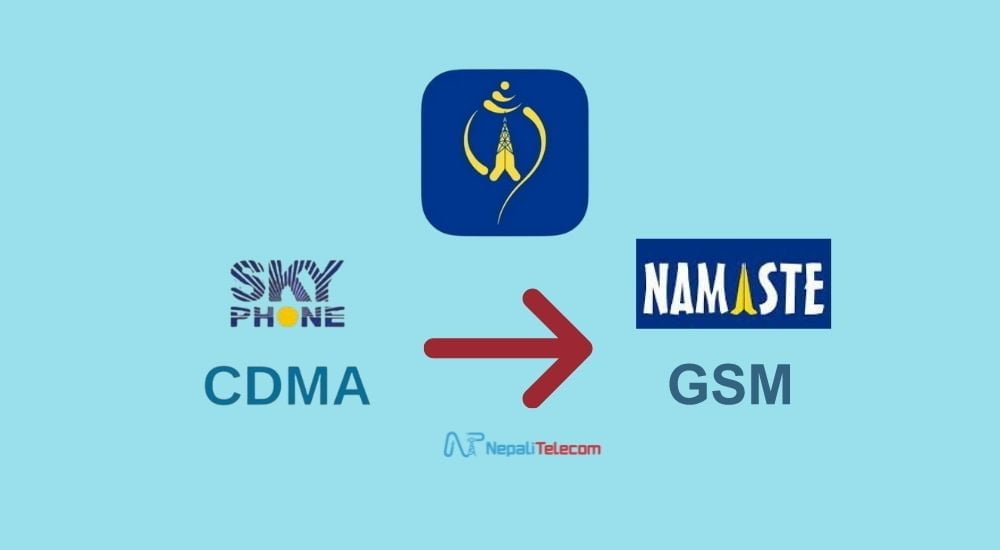 Ntc has carried out the following initiatives to migrate its CDMA users to GSM.
Has established more GSM towers in new areas.
Provided packages to encourage them to move to GSM, with or without keeping the same mobile number.
Thought of providing a package with a handset for those who can't afford a GSM phone.
Has made 4G routers available for CDMA data customers.
The end of CDMA means more resources for Ntc
Ntc has covered 98% percent of local levels across Nepal with over 4,000 4G towers while more expansion and improvement work is ongoing. As the company has closed down the CDMA service, it now can utilize funds for 4G or 5G while also driving down the operation costs spent on maintenance of telco infra.
We recommend you read about the challenges of telecom operators in Nepal.
How do you feel about the Ntc bringing the legacy mobile service CDMA to its end? And do you think Ntc should focus with more zeal on 4G expansion/improvement and expedite public access for 5G trials? Do share in the comments below.