Nepal Telecom (NTC) has announced it has begun to adjust the postpaid service deposit amount into the bills as advance.
Releasing a notice, the telecom giant said it has started integrating the deposit amount on various services installation into the bill from Shrawan 01, 2079 BS. It is the beginning of the new Fiscal Year 078/79.
The company said it has replaced the current deposit provision and will charge the amount required in deposit in advance.
Ntc said the new policy applies to services such as GSMA CDMA, FTTH, ISDN, Toll-Free (AFS), VSAT, etc. The policy has already become effective from the beginning of the current fiscal year.
"The existing deposit of existing customers will be gradually adjusted to the remaining charges by the end of Shrawan. At the same time, the remaining amount will be maintained as an advance," Ntc said in its notice.
Do Read: Prepaid Vs Postpaid SIM; Which one to prefer?
Here's Ntc's notice regarding the postpaid service deposit: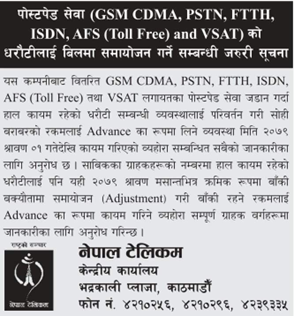 Also see: Nepal Telecom's Summer Offer for Mobile And Internet Services
Ntc lowers service charges!
Recently, the company has gone on revising its service charges. A few weeks ago, the telco lowered lease line internet service tariffs. Similarly, it has also lowered the cost of its telecom services following a 3% TSC cut. Cheaper and convenient payment and services will delight any loyal subscribers.
Ntc has been charging a small sum upon installation of its services mentioned earlier. But with the beginning of the new FY, the company will adjust them in advance. This would be welcome news to subscribers as they do not have to submit the amount in deposit.
Other service providers also stipulate a fee in deposit on their services. They might follow Ntc's suit later.
Check out: How to take a loan in Ntc?
Do you approve of the decision by Ntc to adjust the postpaid service deposit into the bills? You can share with us in the comments below.