Nepal Telecom's TV service, NT TV service launched on Jan 1, 2021, was first available in Kathmandu, Banepa, and then gradually expanded to several other regions. The NTTV service is now available on NT fiber service. So, the same fiber provides triple-play service (Voice, data, and IPTV). Find the process to subscribe to Nepal Telecom TV and the latest price of the NTTV service below.
Firstly, Nepal Telecom's TV service was made available in select areas of Kathmandu, due to the network availability of Fiber and also due to some technical capacity issues. As they upgraded their network to support the TV service, it is now available in almost all locations where Nepal Telecom's fiber net is available.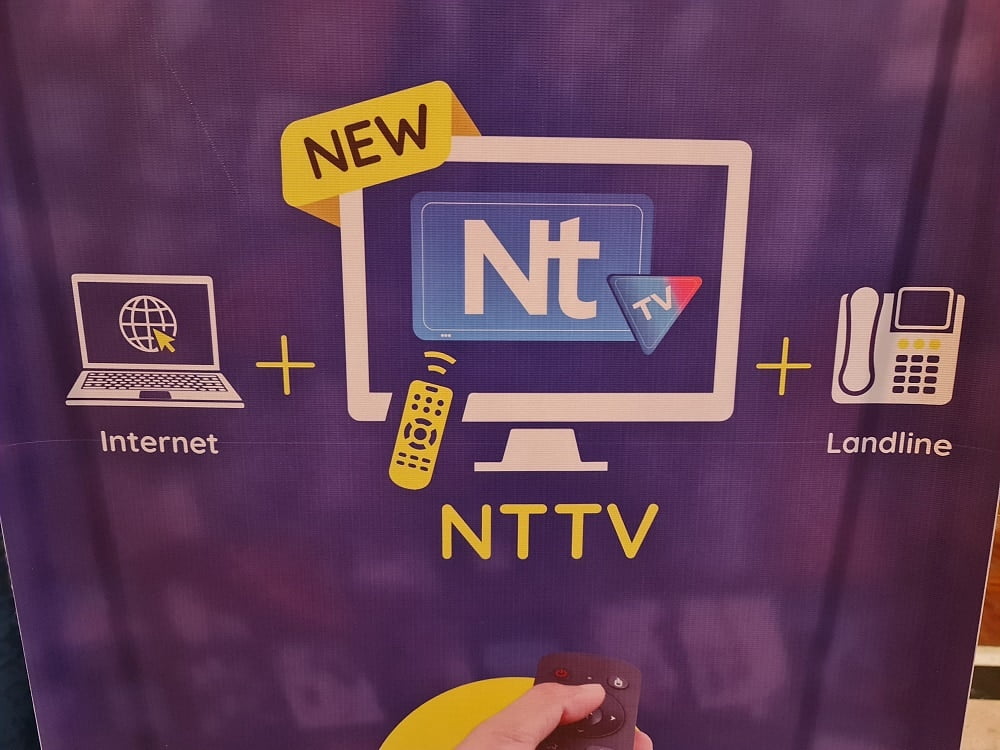 Recommended Read: FTTH Vs ADSL Comparison
How to get the NT TV service on your FTTH?
To get the NT TV service (IPTV) on your FTTH line, follow the steps.
You need to contact the Nepal Telecom by dialing 198 and pressing 1, or visiting Nepal Telecom office.
You need to buy an additional device called STB (Set-top box) with which you can access the TV service and subscribe to either combo packages for basic or premium TV bundles. Remember you need STB for each TV set at home. The maximum no of TVs that can be connected with a single connection is 3.
Then you can watch regular TV channels and more services in the future by connecting the STB to your TV (either Smart or Traditional TVs).
Price/Cost of NT TV packs on Ntc FTTH Fiber
The price of NT TV service depends on the TV subscription type, and internet speed. Similarly, you may want to purchase NTTV service with a bundle of High-speed internet and telephone, Or you can subscribe only to NTTV and a telephone line.
Internet + NT TV + Telephone
NT TV + Telephone (for free)
If you are a new user (without a fiber connection), then you need to first pay for one time as:
Installation charge: Rs 1165
FTTH router: Rs 2825 (Free for 12 months subscription) (Not required for NTTV + Telephone package)
Set top box: Rs 3800, free for 12-month TV+Internet+telephone subscription
Drop fiber at Rs 10 per meter (100m for free)
NTTV+ Internet + Telephone Subscription package price.
Check out: How to watch Nepali TV channels online?
Whereas if you already have a fiber connection at your home, you need to pay for a set-top box and subscription package.
Cost of Set-top box (STB) for NT TV: Rs 3800 (free for a yearly subscription)
Here is the price/tariff of NTTV+Internet+telephone subscription on Nepal Telecom FTTH.
| | | | |
| --- | --- | --- | --- |
| Internet Bandwidth Package (NT TV+Internet+Telephone) | Cost for 1 month | 3 months | 12 months |
| 20 Mbps | – | – | 12000 |
| 30 Mbps | 1386.71 | 4059.92 | 13,886.67 |
| 40 Mbps | 1,828.43 | 5,434.16 | 16,682.64 |
| 80 Mbps | 2,417.38 | 7,102.87 | 21,541.54 |
| Without Internet (NTTV+ Telephone only) | 796.75 | 2,338.67 | 8,252.45 |
If you want to connect multiple TV at your place, then the charge is Rs 508.5 per month for additional TV subscriptions. And the subscription cost for additional TV will be Rs 1448.66 for 6 months and Rs 4881.60 for 12 months. But, you need to pay extra for an additional STB for each TV connection.
The Telephone line that comes with the package has a balance of Rs 100 and you can make 250 calls per month to any Nepal Telecom number.
Premium Internet service with 1 NT TV
You can also subscribe to NTTV together with premium internet over the FTTH fiber line. The NTTV package comes in three packages; 50 Mbps, 80 Mbps, and 100 Mbps which costs Rs 5178, Rs 6678, and Rs 8178 per month. If you subscribe for 3 months and 12 months, it will be a little cheaper.
Premium FTTH internet with 1 NTTV package
1 Month (Rs.)
3 Months (Rs.)
12 Months (Rs.)
 
50 Mbps
5,095.17
14,291.10
30,852.56
80 Mbps
6,567.56
18,119.31
38,705.32
100 Mbps
8,039.97
21,554.90
46,558.06
Nepal Telecom's Television service (NT TV) includes several national and foreign TV channels that abide by the clean feed policy.
The addition of the TV service makes Nepal Telecom's FTTH service more attractive. For now, only the live TV feature will be available, and more peculiar features known to be integrated into the IPTV platform soon.
Checkout: IPTV Vs Digital TV: Differences and Which one to Choose?
Nepal Telecom has recently launched a mobile app for NTTV, which allows you to watch several TV channels on the go. If you are Ntc user, you can even watch some free TV channels via the mobile app. Using ISP login (with TV subscription), you can get the premium TV channels (all those available in NTTV) on your mobile screen for free.
Tell us what do you think of NT TV service and the cost/tariff of the television combo package either with Internet+Telephone or just with Telephone? Similarly which TV package do you like the most, do provide feedback in the comment section below.