Nepal Telecom launched its IPTV on 1st January from select areas that come with its unique Triple Play service. Besides, digital TV, this inclusive service brings high-speed internet and voice calls over Nepal Telecom's FTTH Fiber.
The trend of internet-based television is not new, but the idea of Triple Play is and it raises a few questions. In this post, we will delve deep and find out what Triple Play is and its benefits.
Before We Begin …
What is IPTV and How it Works?
IPTV stands for Internet Protocol Television. In layman's terms, the content we see on television is delivered to us over the internet and not satellite, the traditional way. It is an extended form of digital TV. You can find differences between IPTV and regular digital TV here.
IPTV is a complete overhaul over traditional setups. It sends content to your devices over an internet connection. You can watch videos on demand, stream content lives, or watch exclusive content with pay. You watch what you want. The viewer has complete authority over what he chooses to watch. Let's cut to the chase now.
What is Triple Play?
With the launch of IPTV, NTC also introduced the Triple Play for the first time in Nepal. It is a kind of package that integrates broadband internet, television, and telephone service all over the single fiber cable.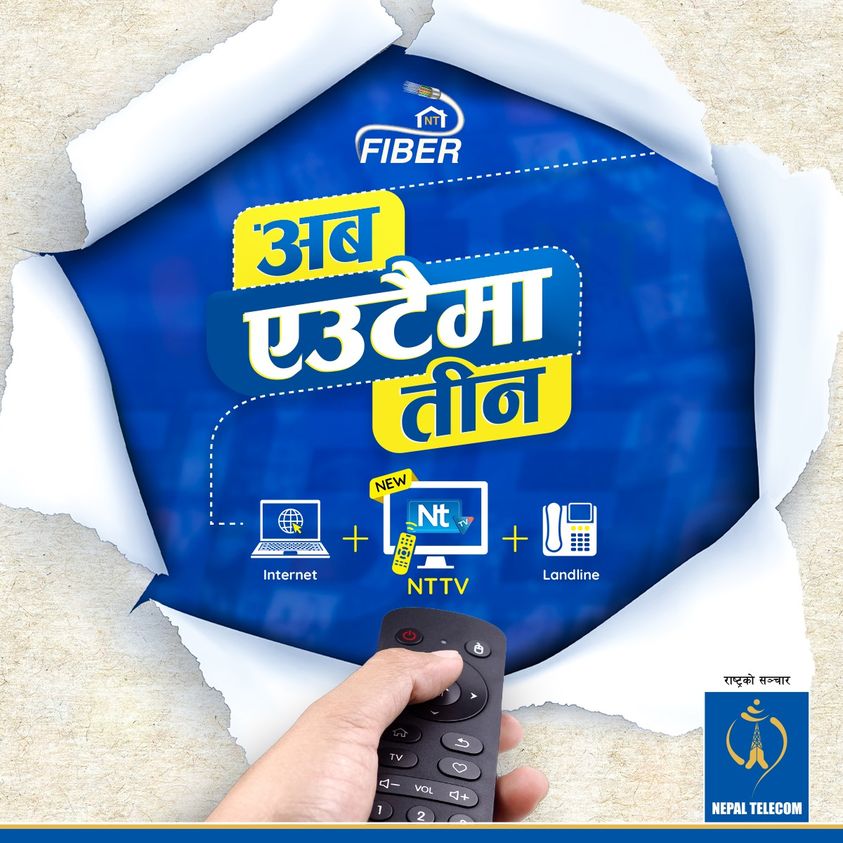 What are the advantages of Triple Play Service?
As this technology binds three separate services, it brings a host of conveniences and benefits to the customers. Nepali households for long put up with unreliable cable TV connections. As for the internet, they subscribed to ADSL on very low bandwidth which offered low bandwidth and less reliability. As for movies and series, they used DVDs and Torrent.
But all has changed at the expense of pioneering services. Nepal entered into digital television six years ago and hasn't looked back since. Dish Homemade DTH mainstream and now Worldlink, Subisu, and Vianet have become households when it comes to internet and television combo. But where they stall Nepal Telecom's NT TV takes off. Find the Best Internet Service Providers in Nepal.
What Does it Have for The Service Provider?
Triple Play extends the current norm internet and TV combo further. Adding voice calls over the telephone raises the bar among other competitors. Now Nepal Telecom will play around its benefits as a cost-cutting measure on its part too.
The approach is cost-effective in the long run for the operator. The burden of constructing infrastructures from utility poles to land lease and erecting towers will be reduced. Maintenance will be easy and less expensive due to the integration of various services over a single cable.
Thus, the operator; Nepal Telecom could use its time and resources on catering appealing content over time. It will be able to offer a plethora of content via streaming, video on demands, apps, and other smart features. The add-ons will help to boost its economic base while maintaining its basic package at a modest price.
How Will it Benefit the Customers?
It Provides One Extra Service: Telephone
While limited ISPs are bundling combo packages of internet and television, Worldlink and Vianet for example, Nepal Telecom will offer customers telephone service too. Not only will they be getting a reliable broadband connection and Television, they will also get telephone service.
Its cost effective
Nepal Telecom has been generous enough in rolling out this service at a fairly cheap price. The basic package kicks off at NRs. 1250. Normally, this would get internet and television service but Nepal Telecom is also giving telephone service.
It's Convenient
With Triple play service, you will no longer have to seek different companies for their distinct services. All you have to do is fill up a form at the Nepal Telecom office. The rest comes together. Payment will be easy and simple. When you make a payment after every expiration, you are paying for all three at once.
Its Hassle Free
Our houses are equipped with many electronic devices and most of them are wired. We have cables for telephones, Television, music system, router, repeater, and the list goes on and on. Our houses have literally become littered with wires.
But with Triple Play enables three services with one fiber, which will significantly reduce the number of different cables running into your house. It will be easy to manage those cables and help to retain the aesthetics of your interiors too.
It's Just Better
Triple Play embeds three different services together. It eases hassles on the customer's part and also simplifies the service. Households don't have to call separate companies for services or make different transactions. They all rely on a single company for three services. As this also comes at a comparatively cheaper rate, it simply makes for a plausible choice.
Our Verdict
Though the Triple Play is not a newer concept, it took a lot of time to arrive in Nepal. It is better than their past approaches in providing television service (remember WoWTime!). This will certainly generate interest among the customers especially those who have upgraded their internet from ADSL to Fiber, it should be an easy choice.
For those out of Nepal Telecom's horizon, they will also get drawn to triple Play and its attractive concept of three services over a fiber optic. Maybe it's a giant leap towards a new mode of connectivity and home entertainment in Nepal. Our verdict let's embrace it, if you are lucky enough to have Ntc Fiber network at your place.
For more information on Nepal Telecom's IPTV subscription and the packages, you can find detailed information on NTTV Price.
Tell us what do you think of Nepal Telecom's Triple play service and the benefits, in the comment section below.