Nowadays, Xiaomi devices create buzz on an equal level to Samsung and Apple. The Xiaomi Redmi Note 10 Pro justifies my point perfectly. When it launched, Twitter exploded with tweets and so did the market when it went on sale. I felt fortunate to get my hand into this amazing device for a whole week. So, I am sharing my experience with the Redmi Note 10 Pro with you all. This is the Xiaomi Redmi Note 10 Review and here we go.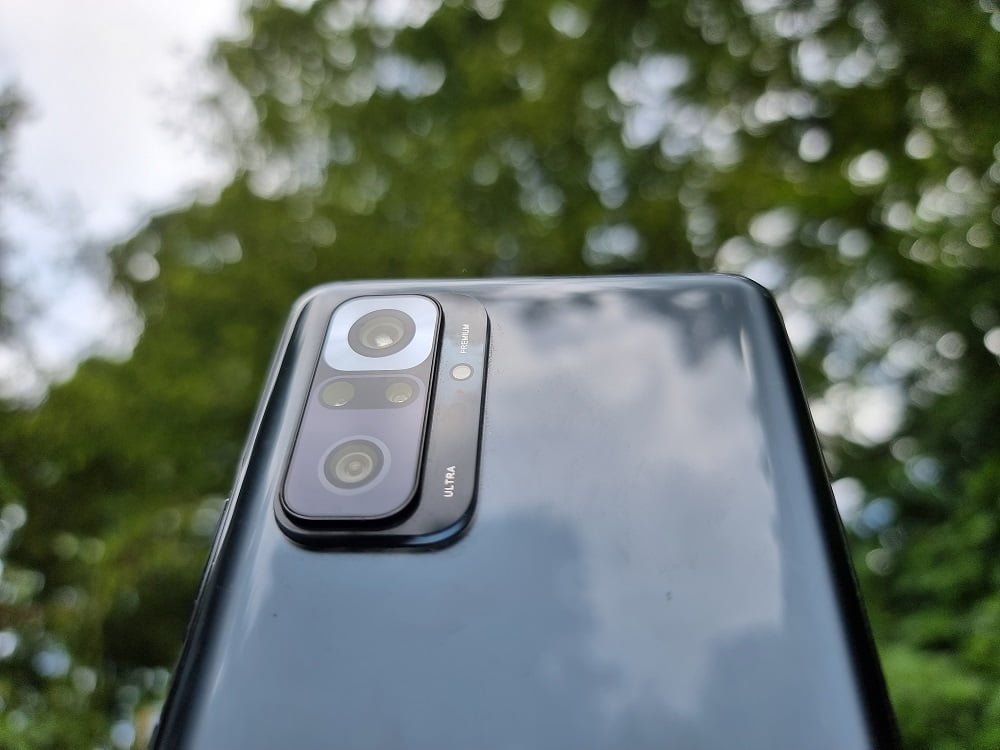 | | |
| --- | --- |
| The Good | The Bad |
| Magnificent 120Hz Super AMOLED display | Fingerprint marks friendly rear panel |
| Great 108MP Camera | Super Macro Mode focus mode takes a bit of a hassle |
| Great 5020mAh Battery | Heats a bit while gaming |
| Great Performance | The not that great front camera |
| Great Speakers | |
| Fast 33W Charging | |
Don't Miss Out On: Xiaomi becomes No. 1 Smartphone brand for the first Time
Xiaomi Redmi Note 10 Pro Review
Bang On 108MP Quad Camera Setup
Only one word is enough to define the 108MP Quad Camera Setup of the Redmi Note 10 Pro 'Great'. Even in Normal Mode, the photos come Clear, Contrasty, and Vivid. Well, when you shift to 108MP Mode, the photography level of the device uplifts 10 times better. Might be because of the 108MP Samsung HM2 Sensor. But the best part is its AI Enhancement that takes few seconds after snapping a photo but the results are just great. The level of colors, clearness, and details pops up substantially. Dual Native ISO might be the reason behind it.
Coming to Portrait Mode, it's great. The backgrounds are nicely blurred and so are the edges of the subject. However, you can adjust the level of blurriness according to your satisfaction. Night Mode 2.0, its super good. Photos snapped with Night Mode 2.0 show the difference between snapping a photo with Night Mode 2.0 on and off. The photos are bright, vibrant and the details are well preserved. But we haven't talked about the Ultra-Wide Mode. The 8 MP Sony IMX355 Ultra wide-angle Sensor can go super wide and capture the whole thing in a single shot.
However, when it comes to Super Macro Mode, it becomes a bit of a little hassle. To focus your subject, you have held the camera steady in the same position for a while. Sometimes, it is easy and sometimes it becomes frustrating. However, it produces a satisfactory level of Macro photography. But I really loved the software sides of the Camera System. Sky Changing, Filters, are all there. Nonetheless, you will have to download most of the stuff before using it. The same goes for Vlog Mode and other few Modes. Talking about the video recording, the device shoots well stabilized and vivid 4K videos. Even if I shook the device while recording, the video was nicely stabilized and everything felt smooth.
The 16MP In-Display Selfie camera is good but not that great. You can click some ready to social media post selfies with it. The same opinion goes for video recording. However, while snapping selfies, AI Beauty Enhancement enhances your beauty for a glowing and smooth skin shot whilst keep the detail intact. Overall, the camera performance during the Xiaomi Redmi Note 10 Pro Review was Bang On and Truly Great.
Check out: Redmi Note 10 Price in Nepal
Amazing 120Hz Super AMOLED Display & Design
One of the main protagonists of the Xiaomi Redmi Note 10 Pro is its amazingly magnificent display. It delivers what you expect from a top-notch 120Hz Refresh Rate Super AMOLED panel. As we always say, Super AMOLED never disappoints. Its 6.67-inch FHD+ panel is super bright, super crisp, and filled with contrast. Therefore, from gaming to watching videos on Youtube to streaming anime, the experience was on a flagship level.
This display is big and has a center confined punch-hole that merges with content like a ninja. In my whole week of device usage, the notch never disturbed me, not even once. Rather, I really loved the true black colors of the display along with other vivid colors. Even in bright sunlight, I had no problem whatsoever when turned brightness into max. When in a closed room, 40 Percent brightness is enough, but at the night, you can go all the way up to 10 Percent and be more than satisfied.
Talking about the design, the design of the phone is modern from every angle. But the rear panel is quite fingerprint-friendly. The stains from your finger get over it very fast. Furthermore, I got my hands onto the Onyx Gray color finished which was really nice. The finishing was glossy and shiny but on a moderate level that looked just picture perfect. The device is comfortable to hold in hand and the Side Arc fingerprint sensor is very easy to reach.
The interesting part of the design is the device is light, thin, and is IP53 Water/Dust Resistant. It makes carrying around the phone easier and simpler. I especially loved the camera module. It looks beefed with the main sensor encircled with a steel color ring followed up by other sensors and an LED flashlight. But when you keep the phone on a table or plain surface, the camera module doesn't let the device lay flat. But rather device moves sideways when touched. This problem is getting bigger and bigger with every smartphone at the moment.
Don't Miss Out On: Latest Poco Mobile Price in Nepal List
Overall Performance
The performance of the Redmi Note 10 Pro is great. There are tons of features that come in really handy. First of all, let's talk about the stock Cleaner app. This app shows you information about Cache files, Battery, Data usages, Blocklists, and let's manage apps. The good part is it has a Security scan that acts like Anti-virus. This apps further boasts tools like Deep Clean, App lock, Dual Apps, Second Space, test Network, Solve Problems, and Privacy.
Next comes Game Turbo, which optimizes performance specifically for games. The Game Turbo offers you In-game shortcuts, Hands-free calls, Turn off auto-brightness, Restrict screenshot gestures and turn off Reading Mode. While playing a game, you get a Game Turbo Notification center from where you can do literally everything that gamers wish to do. From boosting to screenshot to recording videos. Plus, Hi-Res Certified Speakers add more to the gaming experience with its good quality sound.
Switching apps, and Multitasking in the Redmi Note Pro is very smooth and fast. The switching between apps is smooth as a hot knife going through butter. This is all because of the Qualcomm Snapdragon 732G chipset (The same chipset as Poco X3). However, after some time of gaming or some time of heavy tasking, I found the device to heat a little bit. It wasn't too hot but surely, I could feel the device sort of heating. This was with the 6GB/128GB variant that I used.
But, this flaw is overshadowed by the software experience. In terms of software experience, the UI is clean and kind of minimalistic. The control icons on the notification bar are iOS-like. It's because they are big yet pretty handy. The app icons are very good and so is the style of how the Recent apps section is presented. Nevertheless, the home screen, Menu section, and lock screen feel very clean. A big shout out to Xiaomi for upgrading MIUI 12 OS so virtuously.
Beast 5020mAh Battery & 33W Fast Charging
Currently, there are devices coming with a 5500mAh battery and a 6000mAh battery. There are even devices with 7000mAh batteries. But even though the Redmi Note 10 Pro comes with a 5020mAh battery which is still massive, the juice that comes from this battery is beast-like. Furthermore, you get a Battery Saver stock app that can literally save your battery life for more extra juice. If you're low on juice, you can turn on Battery Saver Mode or Ultra Battery Saver Mode. It also shows which app consumes the most to least battery juice as well as optimize it accordingly.
Nevertheless, I played PES 2021 for 30 mins straight with just 5 Percent of juice. Moreover, I also Played PUBG for 30 mins that used 6 Percent of Juice. And both apps are heavy graphics games and takes a lot of power from the device. But, they couldn't still beat the beast-like 5020mAh battery. During my charging test, it took just 20 mins to charge 20 Percent. If you do that maths, that's 1 hr 40 mins for a full charge. Well, this is all because of the 33W MiTurbo Charge Technology. Not forget to mention, I loved the animation on the lock screen that pops up during charging. Overall, the battery performance and charging speed were beast-like in this device.
Don't Miss Out On: Xiaomi Mi 11 Lite Price In Nepal
What's in the box?
Xiaomi has kept the unboxing experience as minimal and simple as it should be in a smartphone. When you open the box, everything is in white that makes it very clean. Plus, the USB Type-C cable and the transparent back cover comes wrapped in a nice plastic. I loved the way how Xiaomi did the packaging in this device.
If you are worried about all the accessories, keep calm, there's everything in the box, from Charging Adapter to USB Type-C Cable to SIM Toolkit Ejector, you will get everything. Apart from this, you will also get a transparent phone cover, a warranty card, and manuals. What else can you ask for?
Don't Miss Out On: Poco X3 Pro Price in Nepal
Redmi Note 10 Pro Review Conclusion
There may be still some questions in your head. Should I really buy this device? Does it offer all the features for its price? Well, my answer to all these questions is very positive. All the exciting hardware & features wrapped up to make a complete beast, that you don't want to miss. Definitely, a must-go on that price segment. For a price tag of Rs. 29,999 for 6GB/64GB, Rs. 33,999 for 6GB/128GB, and Rs. 36,999 for 8GB/128GB, the device offers everything it can. And yes, if you want to buy this device, you should do it ASAP! You can buy it via online shopping sites, or Xiaomi Official Showrooms.
Hope our Xiaomi Redmi Note 10 Pro review has been of great information to you regarding the very device. In my time span of experience with the device, all my opinion regarding the device was very positive. However, if you have any questions or queries about the device, you can just leave your questions in the comment box down below. We will surely look at it and get back to you as always. Until next time, Hasta la vista!
Don't Miss Out On: Lastest Xiaomi Mobile Price in Nepal List