Nepal crosses 38 million phone subscribers for the month of February 2017. The data is the total no of telephone distributed in the country, including landline phone, WLL, VSAT phones and different mobile subscribers. Out of which, the total no of mobile subscribers in the country is above 37 million, with 35.38 millions in GSM and 2.02 millions in CDMA. Find the reason below for the sudden decline in all of the telecom indexes like Fixed penetration, mobile penetration and broadband penetration.
By the total no of phones distributed, Ntc leads the telecom market with around 18.94 million subscribers. Whereas Ncell stands second position with 16.7 million subscribers. Smart Telecom comes the third with 1.76 million subscribers. Find the graph of the telecom market share of Nepal with all the telcos.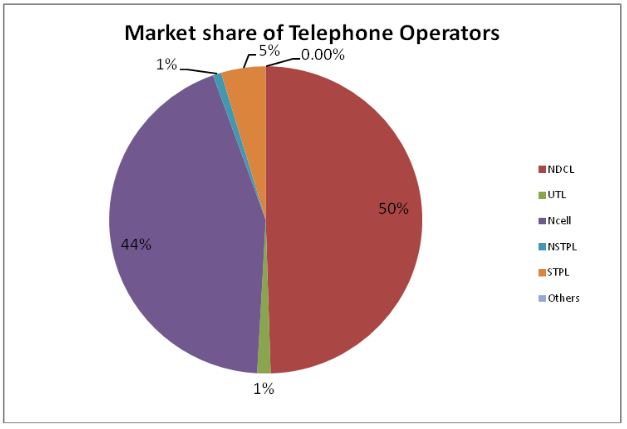 Some of the major indexes for the telecom market are:
Tele-density: 130.64 %
Mobile penetration: 127.70 %
Fixed: 2.94 %
Broadband penetration: 27.17%
Fixed Broadband penetration: 9.46 %
Mobile broadband penetration: 17.17 %
Also Read: 3G, 4G and FTTH drives the broadband penetration in Nepal.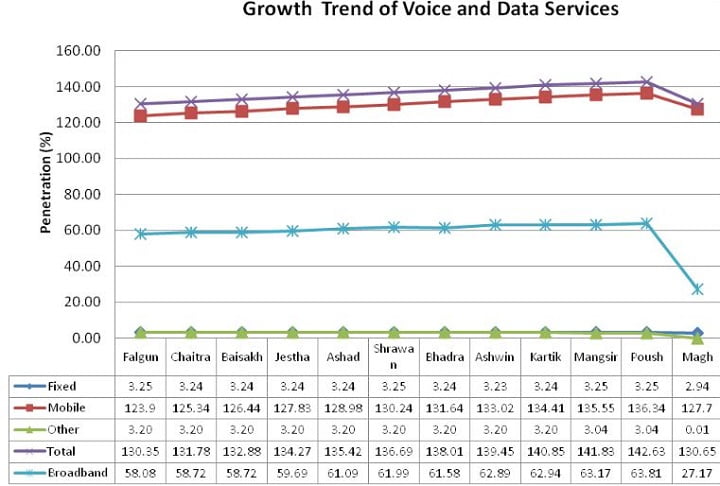 Why the trend of telecom indexes goes down?
According to the latest MIS of NTA, the trend of voice and data services shows drastic decline in the major indexes (shown in the figure above). Take an example for the Mobile penetration which was 136.34 % in the month of Poush and the same figure shows 127.7 % in the month of Magh.  This is a sudden change which can only happen if huge customers campaign for no mobile usage or some other disaster situation. The same trend is for the other data as well.
When we performed an analysis for this trend, we found that the drastic change is actually due to the consideration of the population of Nepal. Previously, up to the month of Poush, NTA has been considering the flat population of  26,494,504 as per the 2011 CBS. But now they have corrected the population to 29,291,746 which is based on the population projection from the CBS. It is better to consider the population growth in each year average for the realistic result. If we take the higher no of the population, of course the penetration will go down. That is what had happened with the trend, but some people might feel different of the sudden change.