Prabhu Group starts Prabhu Pay mobile wallet app
Prabhu Group has launched another mobile wallet platform called Prabhu pay. They say they will provide up to 10 lakhs of accidental insurance for the users of Prabhu pay. With the launch, they have also started a referral offer where people will get Rs 30 in their Prabhu pay mobile wallet if they refer the app to another person.
To use the mobile wallet, people need to download the Prabhu pay app on their mobile. Once you load funds/money in your account, you can use the app to pay for utility bills like electricity, water supply, online shopping, Prabhu TV and more bill payments.
Prabhu pay mobile wallet app can perform the union pay and QR code scanning pay. They are launching the app with their slogan "Wallet now on mobile". Prabhu Group Chairman Devi Prakash Bhattachan said they have brought unique features which will enable easy payment for the customers.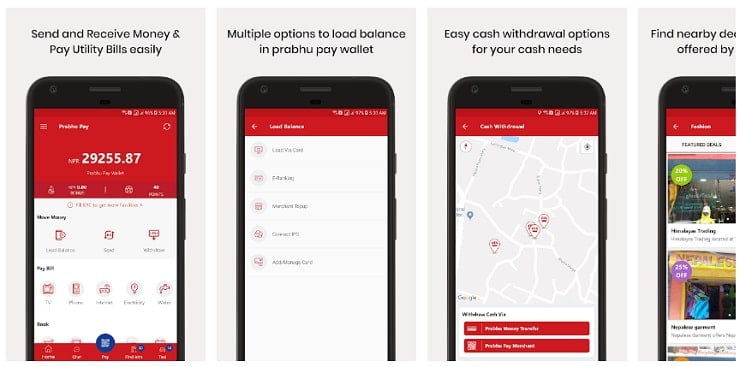 Applications
They say they can perform the digital payment very simply and easily. Here are the following applications of Prabhu pay app.
Consumers can easily make payments for the goods purchased and services rendered.
Quick recharge and easy payment of various utility bills makes this App more users friendly and on top of that consumers can also transfer the small value fund to the consumers within PrabhuPay network.
Newly added unique features such as Near-by-deals and Near-by-taxi make this App unique and multipurpose. Near-by deals is a geo-location based customized automated notifications send to the users advising of nearby deals based on their current or last known locational proximity to the businesses.
Near-by-taxi is a geolocational based feature through which the users can track the available taxis nearby them. They can easily book the taxi and even make payments by using our application.
What can Prabhu pay mobile wallet can do?
Fast, easy and a convenient way to make payment in the stores for the goods purchased or any services rendered.
Send money instantly to the existing PrabhuPay users using their QR Code and Phone numbers.
Skip the line and make quick payments of electricity, cable TV, internet bills and phone bills such as postpaid and prepaid bills (NTC, NCell, UTL).
Notifications on personalized offers through Nearby Deals.
A convenient way to track/ book Taxis nearby.
Easy access to the records of your transactions.
Get the locations of various ATM withdrawal centers to withdraw your PrabhuPay wallet fund.
Top-up your PrabhuPay wallet easily through PrabhuPay registered Merchants.
Link your bank account to make payment from your debit card.
Prabhu Group is one of the leading business group which has its own bank, insurance company, money transfer, TV, IT and management services.
Download Prabhu pay android app here.