Google has launched RCS Messaging with its own 'Messages' application in Nepal. 'Messages' is a Rich Communication Service (RCS) enabled chat application along with the ability to send SMS, MMS. It is believed to be the future of all mobile communications as it facilitates enhancing the user experience of SMS users, with more advanced messaging options. Find the details of the RCS messaging, its features, and the process to enable RCS in Nepal.
It is a beta version of the application that Google has made available in the Play Store for Nepal recently. Previously, users could download the app and need to check a few settings themselves but now RCS messaging is available easily. This comes as per Google's plan to rollout the RCS messaging to users worldwide sans few exceptions.
As we checked with two of the telecom operators, Google RCS messaging app works with Nepal Telecom and Ncell mobile number. But as known, the Google RCS is independent of carrier. Whereas some of the telcos in the worlds already support the advanced messaging protocol.
What is RCS?
RCS (Rich Communication Suite) is an advanced messaging protocol that enables instant messaging like features from your native messaging app. You can chat over the Wifi/data, share good quality videos, pictures, and more in a very convenient way. Find more features of RCS messaging below.
RCS is not only the alternative for your legacy messaging but also puts a serious threat to instant messaging and chat apps like Viber, WhatsApp, Facebook Messenger, and more. I am sure people will cling to this app more often as they are stuck at home due to the pandemic.
Google has enabled the SMS, MMS and RCS Chat features in their "Messages" app with the use of Jibe Cloud (Google Hosted Infrastructure).
How to enable Google RCS Messaging on your phone?
Here is the process to confirm the availability of RCS for your phone and enable the chat features in Nepal.
For Stock or Pure Android phones, as they use the Messages app on their phone, it comes as an update to the existing default messaging app. If you have already installed the Google Messages app due to your preference, then you could just do the recent update. You need to make sure the Google messages app is your default messaging application on your phone.
Whereas for those smartphone with the manufacturer's own Messaging app, you need to install the Messages from the Google Play Store. In some devices, there will be a popup asking you to enable the chat features on your phone.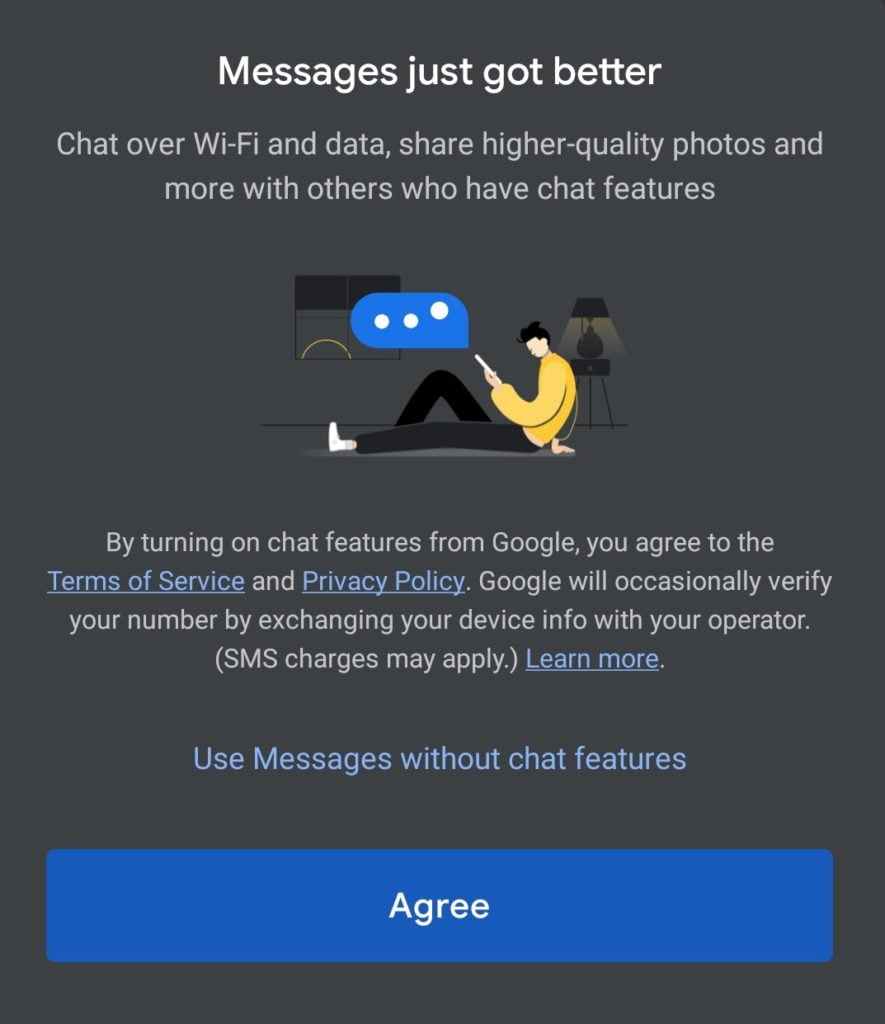 After installation/updating the app, you should first make 'Messages' as the default messaging application. After this, you should go the Settings>General>Chat features and enable the Chat Features.
You also need to verify your phone number in there. As you enter your phone, it will take some time to get the number verified. After verification, your status will be shown as connected whenever you are connected to the internet.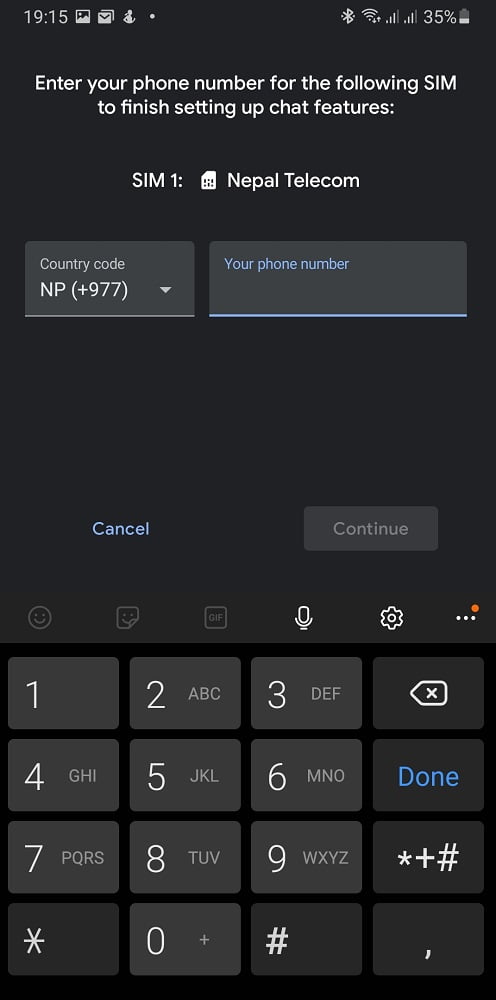 Users need to note that, all the devices does not support RCS feature for the time being. You could check this again in Settings>General>Chat features. Where it shows whether the Chat feature is available for your device or not.
It seems the RCS feature is not available in some Chinese handsets, even if you can download the "Messages" app. If RCS is enabled in your device, you could learn more about the features offered by RCS.
Features of Google RCS Messages app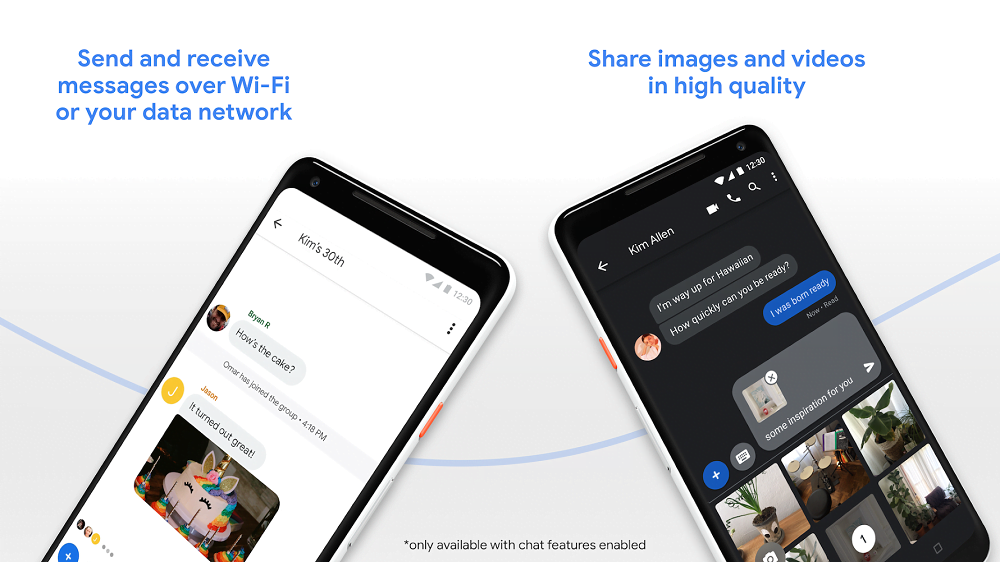 If you have reached here by now, you might have known a few exciting features of the RCS messaging. Whereas we are here to tell you all of the features of the Google "Messages" app below.
Save your SMS bills: As the messages are delivered via the internet and Google's own server to the recipient, it won't incur the regular messaging cost and saves your mobile balance.
Send Multimedia messaging at ease: Sharing files, Stickers, Location, large pictures, videos, audios becomes very easy.
Smart Reply: The application will tell you recommendations for your reply to a message based on the AI algorithm.
Interactive communication: You can find the read receipts, typing indicator while you communicate with connected contacts.
Group Chats: You can send a message (text/multimedia) to a group of people and start chatting.
Send via Wifi only or both Wifi and data: You can also choose to send messages or large multimedia files over Wifi only. As mobile data consumes some data from your balance, some of you might not opt to use it for this messaging.
Send and receive messages from the computer: You can send and receive messages like the traditional SMS/MMS from your computer with the Messages for web features on the app. You just need to browse https://messages.google.com/web on your computer and scan the QR code picture there to pair your phone with the computer.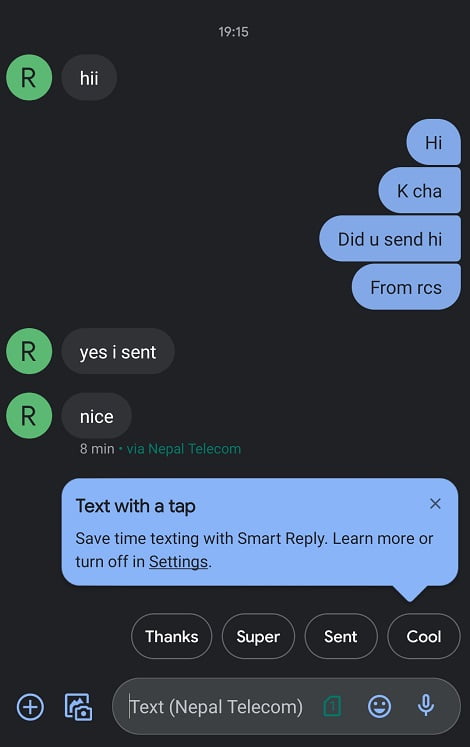 My view on RCS in Nepal
The arrival of the RCS is very good news for the android users here in Nepal. It surely benefits Android users with a better alternative to traditional SMS or even instant messaging apps. It works in the same way as the cloud messaging service like Apple's iMessage and Xiaomi's Mi message. You can now chat, share files with your Android friends residing in any part of the world where RCS is available.
As the advanced messaging comes this easy to your default messages app, it seems this will put more pressure on the already troubled telcos for revenue and profit. Although the SMS revenue has slimmed by a huge margin than before, it had some relevance until now. But with the arrival of RCS messaging, the SMS revenue will be further trimmed.
We cannot stop or discourage technology/service innovations in any way. We also need to be optimistic as there could be more opportunities that RCS might bring to telcos and customers in the future.
Suggest Read: How to save mobile data on your phone?
Tell us if the Google RCS messages app works on your phone and SIM card. Do comment which feature of RCS do you like the most in the comment below.