Ncell Presents Nepal's Largest All-Female Hackathon: Hacking for Humanity hackathon organized by Shequal Foundation and supported by Ncell has concluded successfully. The event that ran for three-day brought together 48 participants from across Nepal together working on ideas that make an impact on society.
On the final event held last Sunday, February 12, Team Code Crafters secured the first position. The team also won a cash prize of Rs 1,50,000. The team developed a solution that could people understand sign languages used by differently able people.
Likewise, Team Sahayatri became the 1st runner winning a Rs 1,00,000 cash prize for their innovative idea on tourism promotion solution. Team Pi came 2nd runner-up and won Rs 75,000 for their alert system.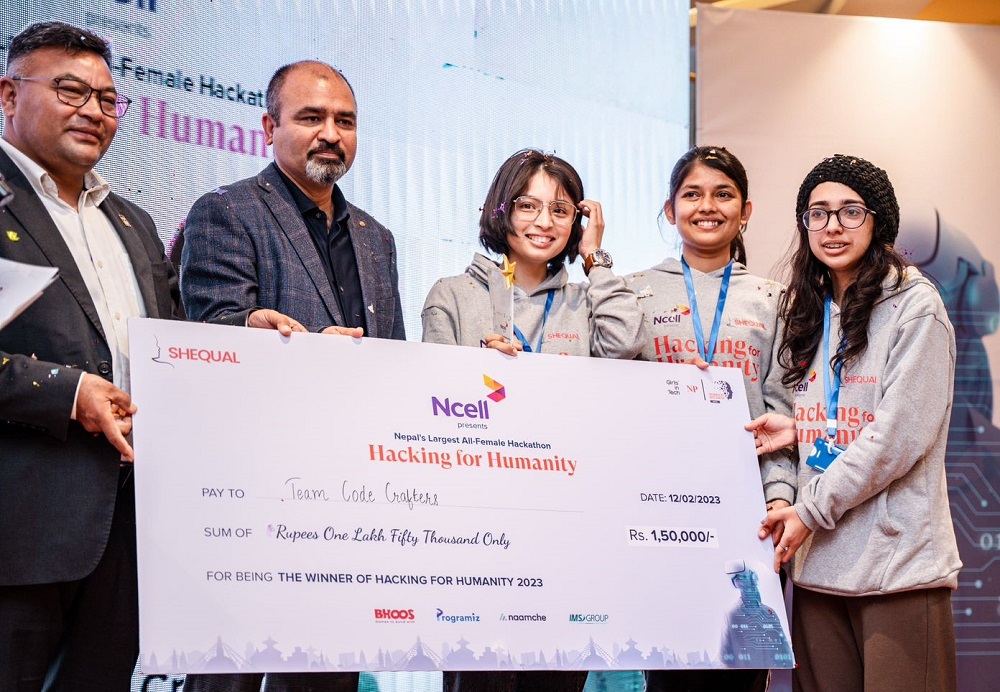 Shequal Foundation organized the Hacking for Humanity Hackathon supported by Ncell winners list
| | |
| --- | --- |
| Ncell and Shequal Foundation Hackathon winners | Cash prize |
| Team Code Crafters (winner) | Rs 1,50,000 |
| Team Sahayatri (1st runner-up) | Rs 1,00,000 |
| Team Pi (2nd runner-up) | Rs 75,000 |
The hackathon is a part of Ncell's vision for diversity, equity, and gender inclusion
Ncell partnered with Shequal Foundation for the hackathon which aligns with the operator's vision for diversity, equity, and inclusion. The company stresses support for women in the ICT field. The hackathon also had the support of Girls in Tech Nepal and Women in Big Data. The program provided an opportunity for developers, designers, and entrepreneurs alike to collaborate and devise new ideas.
Andy Chong, CEO of Ncell shared his excitement at the hackathon event. He opined that such an event will foster collaboration and creativity among enthusiastic females from the IT industry to demonstrate skills and ideas. "This event has proven to be an inspiring and innovative experience to contribute towards career growth of the females in the IT sector, providing exposures and opportunities by creating a much-needed space for female and non-binary students," he added.
The hackathon for humanity began last Friday. At first, participants were provided with skills in workshops necessary to create projects. Over the weekend, the teams worked tirelessly on their projects which were presented to the panel of judges. Similarly, they were also able to meet some of the highly influential figures in the industry who participated as mentors, judges, or guests.
Also read: Ncell spreading awareness on cyber security with video series
Shequal Foundations co-founders express their gratitude
Astha Sharma and Melisha Ghimire, Co-founders of the Shequal foundation extended their gratitude to all the participants for their hard labor and enthusiasm. She also said that she is looking forward to the next edition of the hackathon. The event provided a space to encourage female and non-binary hackers to coordinate and innovate together for a human cause.
The hackathon was a great success which provided participants with a platform to surface their ideas. Such initiatives are significant for enhancing female representation in the ICT sector in Nepal and promoting gender equity in the digital economy. The idea is that an event with such a novel motif is to benefit, not just individual women and their families but also society and the economy.