In this post, you will find out ways and reasons to use 4G wireless internet for a home connection, which is ideal when you don't have a fiber-based WiFi connection or you don't want to. We have also included routers with their price and links to buy to make it easy for you to set up a 4G WiFi hotspot anywhere at your home or outside using a cellular SIM card and a 4G router.
It's possible that you may not have access to a regular fiber WiFi internet or ISPs haven't expanded fiber service in your area. In such a situation, you can make use of 4G wireless internet as an alternative. You can easily set up a wireless 4G broadband using a phone SIM card and get efficient connectivity for your phones or computers.
You may need this solution because fiber broadband coverage hasn't reached all parts of the country. It is also possible that your internet need is limited and can do away without regular fiber-based WiFi. Plus, a 4G router lets you connect multiple devices at once. Anyway, a 4G SIM card for wireless home internet is a cool trick handy for many.
The advantage with it is that, unlike fixed-line fiber internet, 4G mobile network is available in many areas across the country, from urban to remote areas thanks to the ruthless expansion by the telcos and the policy by the government and the regulator. And 4G delivers reliable and consistent performance with diverse capabilities.
Check out: How to Set Up a Secondary Router? Learn the Steps
You can use Namaste WiFi to use 4G connectivity for a mobile hotspot
To cash in on the 4G ability for areas without fiber internet, telcos have provided their solution. Among them, you can choose the one from Nepal Telecom (NTC). The state-backed telco offers 4G wireless broadband called Namaste WiFi which you can use with a 4G-compatible card to meet your broadband needs. The device lets you set up a mobile hotspot which allows you to connect multiple devices to its network and enjoy high-speed internet.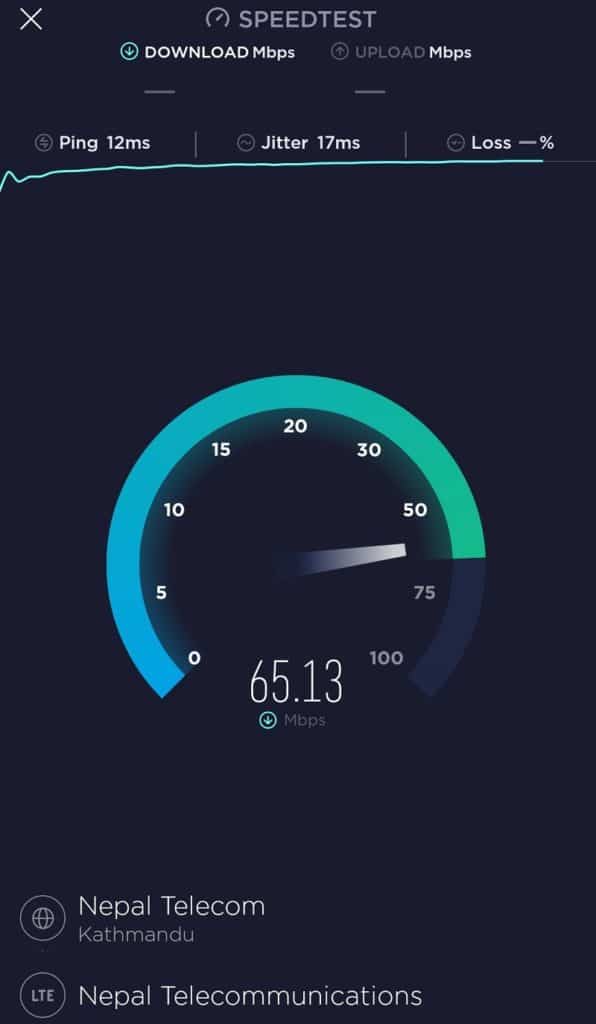 To benefit from the wireless 4G service, you need to buy a device. Fortunately, you won't need to go through a hassle for it. You can find many such devices on eCommerce platforms or from retail stores without much hassle. But before you decide on purchasing the device, you must ensure that your house or the place where you want the wireless 4G gets strong network signals from the operator.
First, make sure you get a consistent 4G network signal in your area
Check for 4G's network strength, consistency, and speed. It's highly recommended that you ensure that your area gets an optimum 4G performance before you buy a router. The best way is to check the signal from your smartphone. Not finding a desirable performance later might compel you to regret the time effort and cost you invested. So, just make sure the network works well and put the 4G router (that you can buy with links below) in a higher position of that area. Check out the factors that affect 4G speed.
Now to buy a device for wireless 4G internet. You can buy such a device on eCommerce platforms such as Daraz (device list is below), or in the market. Then you can buy a 4G wireless broadband SIM line for a year subscription. You can slot your Ntc 4G SIM inside the device and start enjoying high-speed mobile broadband on multiple devices including smartphones and computers. Here, you can find Namaste WiFi packages and other details. You can choose the package that suits your need.
Buy a router to set up wireless 4G internet at home
Here is the list of pocket WiFi you can use to set up the 4G wireless internet at your home. The devices are priced reasonably and they vary based on some extra features they come with. For instance, if the device supports band 20, it can also deliver performance soundly in remote areas too. The band 3 4G is available in every device but you need to check for band 20 support which makes the device slightly more expensive. Besides, the one which supports carrier aggregation also comes at a higher price than those that won't.
Find the WiFi hotspot routers available in Nepal to use 4G like regular WiFi. We have also provided the links for each device to help you get them easier.
| | |
| --- | --- |
| 4G wireless internet devices with links | Price |
| Pocket Router 4G WiFi | Rs 5,500 |
|  H&H 4G LTE Wireless Pocket Router |  Rs 6,500 |
|  4G LTE Portable Pocket WiFi |  Rs 3,600 |
|  Zyxel 4G LTE Portable Router |  Rs 6,500 |
|  Pocket Router 4G WiFi |  Rs 3,700 |
Configure the SSID of your 4G WiFi router
After buying a pocket WiFi router, do ask the seller to configure its WiFi SSID and password or you can do it by yourself too. Insert a 4G SIM card and connect the router to your computer. Then, log in to the router on any browser using the default gateway IP. Set up the WiFi SSID and password of your choice to connect your devices to the router's network. You can also start using the internet with the default SSID and password which you can find on the back of the router or in its catalog.
Find out: 4 Reasons You Should Upgrade to a Dual-Band Router
If you need the internet for a desktop computer, you may need an ethernet cable. But a small side 4G router might not come with support for ethernet cable so be sure to check that out. the safest bet is you buy the one with the port so that serves you as future proof in case you might need one in the future.
If you are seeking to get a 4G WiFi router for your home internet using 4G mobile broadband, this is the best time as you get multiple discounts and offers with Daraz 12.12.
You can buy either of these routers as per your desired specifications and budget. If you have further queries regarding the post, let us know in the comments below.