We have been writing posts about Nepal Telecom's data packs and internet registration procedure. But people are also regularly asking about the process for data configuration in GPRS(2G)/3G/4G. NTC started GPRS service in 2009 and then added 3G and 4G service later.
NTC GPRS configuration process has changed from manual to SMS query. Still, people are confused about the process. So we are here to provide information on how to configure GPRS to 4G data in Ntc GSM mobile.
Find the latest data packs in Ntc SIM.
How to subscribe data service?
If a customer wants to use NT GPRS/3G or 4G service in their GSM mobile, they should first confirm the registration of their SIM for GPRS/ 3G. These days, the data service comes as a default. But if there is any issue, People can register easily by
sending a message VGPRS or 3G to 1415.
To subscribe 3G in Ntc, you need to
send a message 3G to 1415.
Similarly, for 4G, customer need to
Read more: How to activate and put 4G in your phone.
Process for Ntc GPRS configuration
After the registration, the subscriber needs to configure their handset for GPRS service (which is the same for 3G or even 4G in GSM mobile) as below.
You can simply add the access point by going to Settings-> Mobile networks or Cellular Networks -> Access point name.
put the name as "ntc" and APN as "ntnet"
you have to save it and
use it as default by selecting it.
Ntc MMS settings
For MMS settings in Ntc, you have to put the following.
MMS APN: ntmms
MMS home page/server address: 192.80.11.180
Earlier they used to provide another APN named "ntwap" with some ports and proxy information. Now after the upgrade of Ntc core system, they request all people to use "Ntnet" as the APN as stated above in the process.
These days, NT also sends a message to a customer from 1408, once he/she switches on after putting the new SIM card. In the message, NT has asked to put "ntnet" as an access point name. You will also be informed about this if you take out the SIM for any reason.
Here is the format of the message: "Dear Customer, To activate NTC internet service, please add a new configuration named 'ntnet' for GPRS, set access point name as ntnet, set home page as 'http://www.ntc.net.np', you can enjoy the GPRS service".
Also Read this: Easy Ntc GPRS settings or configuration.
Well, you can name the access point as NTC or any other name but the app should be 'ntnet' without the inverted. See the picture below for what to do after you go to settings-> mobile networks -> Access point names. Add new.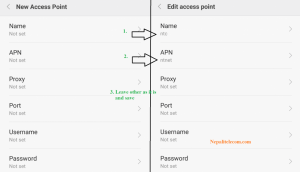 We suggest you to follow the steps in the article for best way to use mobile data.
Tell us what do you think of the NTC mobile internet GPRS configuration? If you have any queries, do feedback us in the comment below or through our Facebook page.