With the ever-growing traffic jams inside Kathmandu Valley, we thought it would be appropriate to review some of the taxi and ride-sharing apps available here. Public transport isn't getting any better and taxis always tend to charge more. This is where these services come to play. The ride-sharing and taxi services have crossed the early phase now but still, there is a lot more to do on these. As more and more players come in, these apps in Nepal have started to become worthy for easy, comfortable, affordable transport.

1. Pathao – still as popular as ever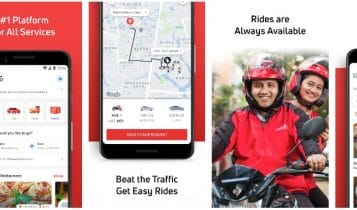 Pathao is Nepal's most popular ride-sharing service. Launched in 2018, September, Pathao becomes instantly rose to success. Its initial popularity was so raving, that the service even started taxi-hailing with Pathao Cars.
Pathao has earned praise from the daily commuters for its scientific fares and use of the application. This algorithm is soundly efficient to find the rider and has a simple layout and the app runs smoothly.
Likewise, the taxi/bike availability is ensured throughout the day and also at night times.
Pathao also keeps on sending some coupons to people, which is also one of the reasons to make it popular. For the bike ride, Pathao charges the same rate as that Tootle. But for the riders, the earnings are 80 to 85 percent of the total ride charge. There is no service charge in the case of Bike service.
For the taxi ride, Pathao charges Rs 100 for the service charge that they say is for the makeover for pick up from long-distance, data pack/call charge, waiting, and more. The taxi ride charge is the same as that of the government rates as in the genuine taxi meters. But they do charge high sometimes based on congestion and peak demand times.
Find the Pathao app here. Remember there is a separate mobile app for riders. You can either visit them or they will come to your place to register if you are in a group.
2.inDriver – set your own fare

inDriver is the new and a grand entry to the second in our list of the best ride-sharing apps in Nepal. It has been in Nepal for a while but has already created a reverberating stir thanks to its efficient service potential and commission-free policy. Most uniquely, it allows the passengers to set the fare themselves.
The service was formally launched in May and looks like it could soon give a run for money to the top ranker in the business.
What makes inDriver so unique and appealing is that, unlike many others, it allows passengers to set the fare themselves. That is as a passenger, you can set the price for a trip, and take the course upon the approval of the rider.
Besides, you can avail for courier, and freight services from this startup ride-sharing company.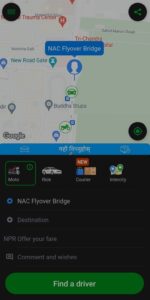 For this, the app uses the Real-Time Deals (RTD) model that allows passengers to set the price of their choice for a trip. In addition, they can get counter offers from nearby riders helping you to get a further cheap ride.
But for the riders, can also approve or deny the trip request based on the price set by you. But the trip is decided upon mutual consent of both the rider and the passenger. The cost for the trip is not determined by an algorithm, but by the RTD system.  This allows both the rider and the passenger to negotiate. This makes the ride 30 percent cheaper for the passenger as claimed by the company.
inDriver is now available in 600+ cities across 42 countries and is fast growing. You can become an InDriver rider by signing up for the service. You can set your own schedule, and enjoy a transparent riding economy with it. For your convenience, you can check on the drop-off locations, and approve of your passenger's far and accept the request t earn cash.
3. Taximandu -growing through the ranks
Taximandu ists at third with a healthy network of riders and its strong popularity within the valley. It was launched in 2019 by Arjun KC 2019, a tech enthusiast who returned to Nepal after a long stint at a business in Hong Kong. Upon his return, he devised a plan to begin a ride-sharing service which came to be known as Taximandu comprised of "taxi" and "mandu" from Kathmandu.
The service came into operation when others were already thriving but it also made resounding strides. People loved the idea of hiring taxis on their smartphones.
Since growing as a startup, the company tied in 3,000 drivers for the service and is still growing. The company has worked on expansion beyond the valley but the founder KC also cherishes the idea of going abroad.
In terms of service, Taximandu offers unique and innovative services. You can take a city tour or book a taxi for a ride to any city such as Pokhara, Chitwan, Dhulikhel, etc. Besides, you can also use the Airport Transfer service to book a taxi for a pickup and you can get yourself dropped off at any airport.
Taximandu says it is available 24*7 for clients. Use the app to book your ride anytime, and anywhere and reach your destination.
4. Tootle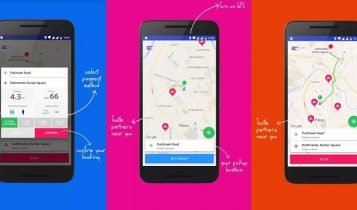 The bike ride-sharing app lets users share a ride if on the same/similar route. The setup is fairly easy. Simply download the app from the play store, sign up and log in. The app lets you choose the pickup point, and destination point and generates the shortest possible path. Now, you have to wait until someone accepts your request.
On the biker side, you need to install the tootle partner app, the app lets you choose between various nearby clients.
The ride fare is charged according to the distance covered.
First 3 km: Rs. 60

3-6 km: additional Rs. 18/km.

More than 6 km: additional Rs. 25/km
Payments can be done through cash or tootle wallets at the end of the ride. Before Tootle used to give an Rs. 200 balance for the first sign up but now it seems removed. The Tootle balance top-up can be done through eSewa, IME, Sct moco, or Tootle voucher.
Read more about Tootle.
5. Metro Online Taxi – ride at Rs.99
Metro Online Taxi, another taxi-hailing service was launched in 2021 in Kathmandu and deservedly rests fifth on our list. Despite being relatively a new startup, it has become prominent for its groundbreaking policy. It allows commuters to book their trip for the base price starting from Rs.99 only eroding the notion that taxis are for those with purchasing powers only.
The stigma of riding a taxi is that it is expensive and beyond reach for most in the presence of public 4-wheelers. But taxi-hailing service such as Metro Online Taxi has successfully overcome such notoriety. Syndicate, the infamous stigma of public transport is being slowly displaced thanks to such affordable online-based services.
To book a ride with Metro Online, you need to download a mobile application. Then, you can book your trip on the application. Within minutes, you will get a taxi at your doorstep to pick you up.
Despite starting humble, it has already garnered over 5,000 taxis for the service.
Mr. Surya Tamang, the Chief Marketing Manager, says the company is committed to services to bring reputation to the taxi riding services. Metro Online also keeps records of the driver and the passenger for future reference to ensure a safe service for both. In addition, taxi drivers also need to register with the government agency before entering the company's network.
6. Sahara –  up to 6 lakh insurance
Released back in 2019, Nepali startup Sahara takes up 6th position on our leaderboard. It offers bike, taxi ride booking, and food delivery services.
In three years since its inception, the company has steadily grown. Recently initiatives certainly play a role to uplift it to new heights in the ride-sharing fraternity in Nepal.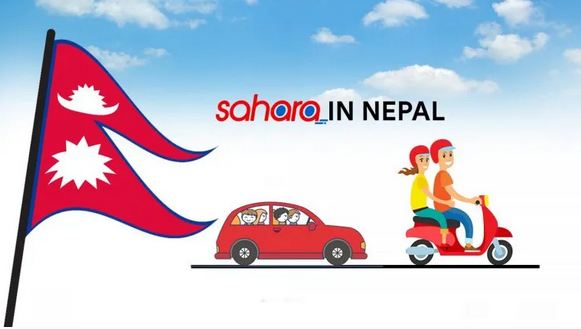 It has announced an insurance plan of 6 lakh for passengers and Sahara partners. This includes a partnership with Ajod Insurance that will provide 5 lakh in case of an accident and 1 lakh for medical treatment. This scheme applies to both the rider and passengers.
The company says it is adding hundreds of new riders daily marking a solid base of network for ride-sharing service. It has already amassed over 1 lakh app users, and 20 thousand partners.
People have loved it for the cheap riding rates and various usual offers it brings for the passengers. Likewise, Sahara also has a Sahara Wallet enabling cashless payment for passengers.
Besides, ride-hailing, Sahara also offers online shopping for the app users. The company says it will add more features in coming days to promote its "Super App" status.
7. Gyre – with security features for women
Launched on International Women's Day, Gyre is a trendsetting ride-sharing app for women and we have placed it at 7th. The female-centric service comes with many unique features to ensure a safe riding experience for the passengers.
The company has begun service in cooperation with SunBi, a tech company, and offers some interesting features. To begin with, it is charging 0 commission in the initial months from the riders.
The app features Gyre Pink, an unprecedented inclusion that allows a female and female service. Under this, a female rider can only request a female rider. This is convenient for commuters who find it more comfortable to ride with their own sex.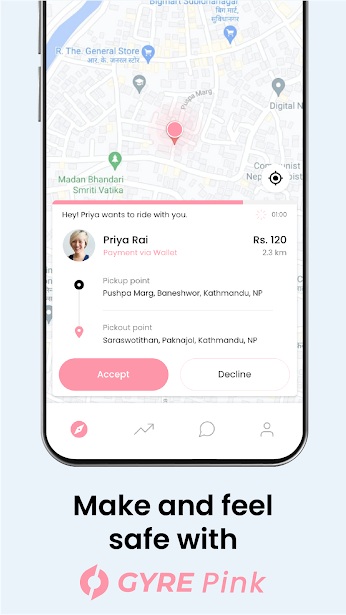 At times, we hear complaints of inappropriate touches, and discomfort felt by women passengers with males. Gyre Pink displaces those situations by arranging a ride for a female with a female passenger.
Likewise, there are Gyre Points that you can earn plying quizzes and redeeming to gain access to other features. Gyre Sapati lets you borrow points. Offline Service and Gyre Delivery is also launching soon.
8. Sajilo – win cashback and discount for rides
Formally launched early this month, Sajilo has been in Kathmandu for a while and has been providing affordable riding services. With this app, you can hail a ride with a taxi or a motorbike in the three districts of the Kathmandu valley.
Similarly, Sajilo also offers vans for the delivery of goods. The company says it won't charge a commission from riders for 6 months. After this, "a new strategy will come in the place that will still offer riders a good income," Sajilo Sathi CEO Amir Lama says.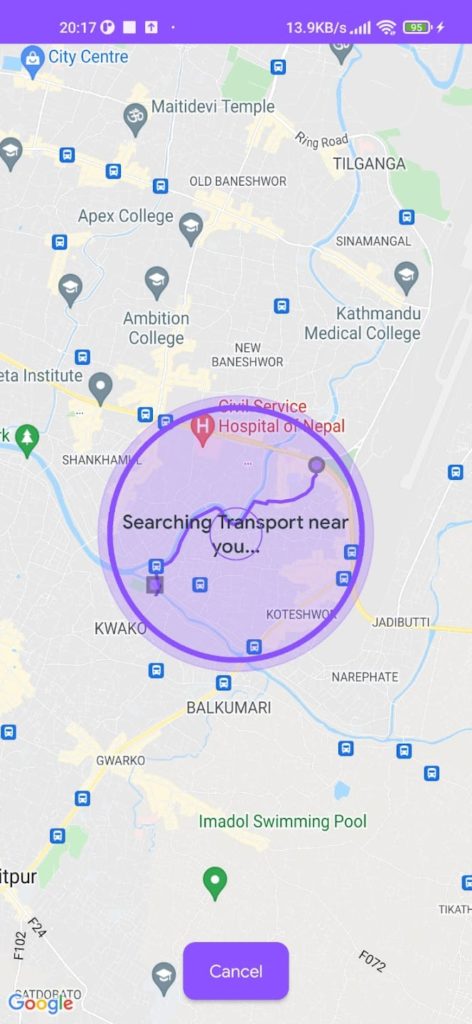 Likewise, Sajilo is also offering Rs.20 discount to customers on every ride. Those who make 10 trips, will also receive a 15 percent cash back. But you can also legitimately ask for a free ride if you don't get a rider after making a ride request. For this, you need to call the admin who will arrange for another driver for you.
With Sajilo, you can also book a ride for someone, or a group of your friends.
Verdict
Some of the aforementioned services have crossed the development phase and some have already begun differentiating their services. After the mushrooming of digital payment platforms (which are still running), digital taxi apps are the next trend in Nepal. For some, the mixing of the two is becoming more fruitful as it brings the convenience of cashess payment.
Compare to before, people like Gen Z have started preferring online booking services and the drivers of all ages also started to adopt due to the ease and more income. So, these apps come as a great relief when in need. There is still a lot of room for improvement; in this case, some of the apps still crash frequently when trying to select the destination point. They also need to optimize their app's algorithm for nearest driver identification and efficient selection.
Bike riding apps are quite cheaper and easier if you want to find an instant ride to your destination. But to avoid the dusty breeze on you, you need to spend some extra bucks for the taxi service. The extra 100 NRs service charge of the taxi will, of course, go down if there is a healthy and open competition after the entry of upcoming players. Metro Online has attempted at that by introducing the Rs.99 starting fare for a ride.
There is also a big complaint that the drivers ask us to cancel the booking after their approval. Sometimes it happens multiple times when you need the ride instantly. At first, the platforms need to educate their drivers well. Later if the riders are found to cancel the ride, in the same way, they should penalize in some way. After all, the availability, the instant comfort ride, and the affordable cost are what people expect with these services.
For now, the best ride-sharing and taxi apps available in Kathmandu go to Pathao. They have managed their simple layout and efficient algorithm to make the service available as per our needs. As there are people who do not care about the service charge, We expect them to start Express service which is more like a premium taxi service with less waiting and extra comfort.
Now we also wait for these apps, and platforms to go beyond Kathmandu City. As there are cities like Pokhara, Biratnagar, Bhairahwa, Butwal, Dhangadi, Nepalgunj, Hetaudha, and many more where they have a big prospect, We expect them to expand any time soon.
Well, since Uber or Ola, or Lyft are not coming to Nepal anytime soon, these apps are trying their best to fill the void.