Operating with electric vehicles only, the new ride-sharing service "eDrive Nepal" inaugurated its operation on Thursday, November 09, 2023. Committing to safe and affordable riding, providing accident insurance, and using GPS, the company says it will appeal to many.
EDrive Nepal's ride-sharing service was inaugurated with UML Parliament member Mahesh Bartaula cutting the ribbons, Nepal Electricity Authority (NEA)'s Managing Director Kulman Ghising and Deputy Speaker of Bagmati Province Apsara Chapagain waving green flags that reflected eco-friendliness of the company's EV services.
At the program, Bartaula said that EVs will utilize Nepal's electricity, and do its part to help conserve the environment and save money spent on fuel imports.
The company has started operation with a Rs 14 crore investment and will provide ride-sharing/ride-hailing service with electric taxis and scooters. During the inaugural program, 52 electric taxis drove around Tundikhel in Kathmandu.
With its launch, eDrive Nepal has joined the list of many ride-sharing apps serving in Nepal. It will now compete with not just the existing popular ones but also fresh entrants such as InDrive and Sajilo.
EDrive Nepal ride-sharing service launches
Currently, eDrive has already brought 20 electric taxis into operation and will soon add 100 more. The procurement for the extra four-wheelers is almost at the final state, as per the company. Over time, other EVs from the market will also be part of its lineups. Company Chairman Rajesh Maske said that the main purpose of eDrive is to take customers to their destinations.
The company maintains that its service fees are "extremely affordable" than what's existing in the market. To make ride-sharing secure, the eDrive Nepal app has a one-time passcode (OTP) feature. Only when the user's and the driver's passcode matches, a ride-sharing service will be available. The company says that it has established its own fast-charging station for its operational EVs.
Check out: Traffic police will now accept the digital driving license on the Nagarik App, but there's a catch
EDrive is promoting Green Transport with its ride-sharing service. "Unlock the future of affordable, green transportation in Nepal with eDrive! Request a ride for yourself today and experience the convenience and sustainability of eDrive at an unbeatable rate," the company says.
Besides ride-sharing, the eDrive Nepal app will also provide Nepal Yatra and Food Delivery. But they may require some time before launching commercially for all.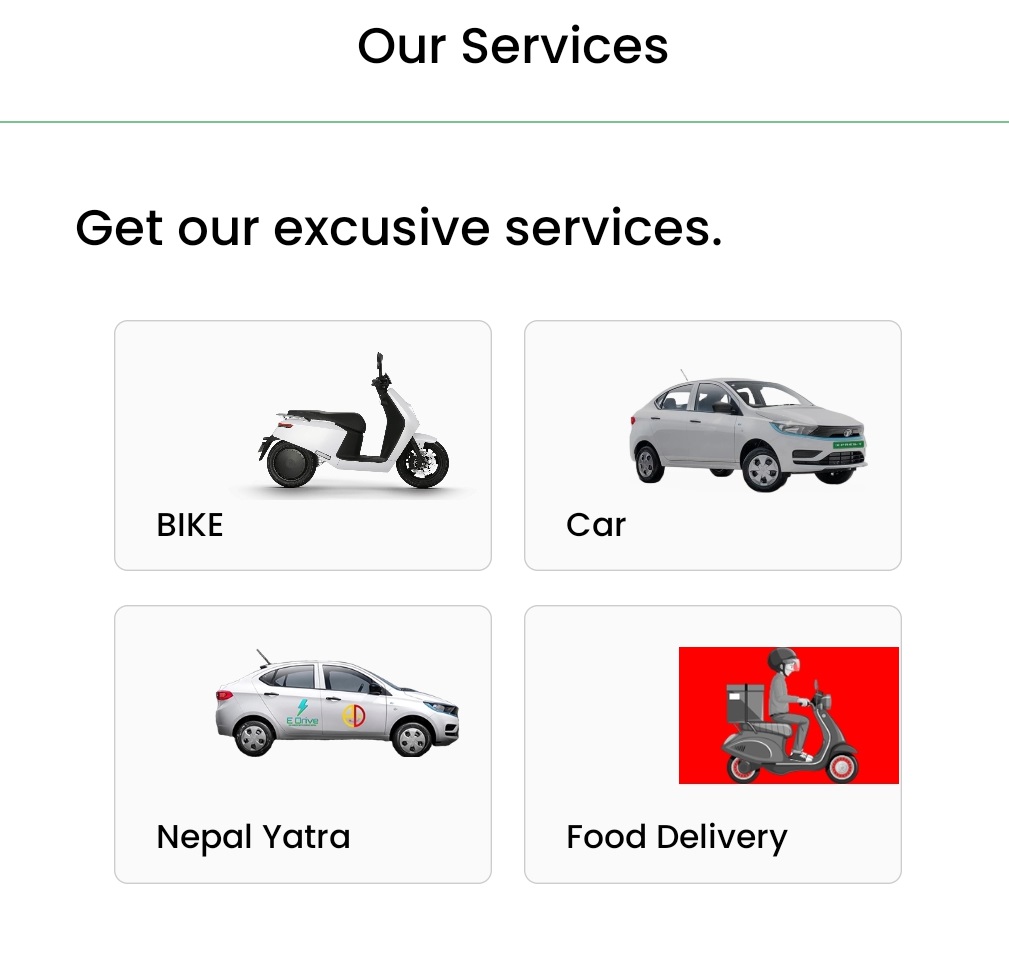 You may also be interested in: Europe's Ride-Sharing App Bolt enters Nepal with No Commission from Drivers for 6 Months
Standout eDrive Nepal Features & Services
Being eco-friendly with its commitment to service with all-electric vehicles, here are the key eDrive Nepal features:
Safety first
One of eDrive Nepal's priorities is safety. The company has a real-time ride-tracing feature to keep a check on its operation. Additionally, a service can only start if an OTP code matches between the rider and the passenger. When it comes to eDrive Nepal, safety takes the first precedence.
Faster service
Crucially, the mote of eDrive Nepal is to take their customers to their homes right now time. The company emphasizes quality customer service as well as punctuation. Likewise, the company is also quick enough to respond to queries for electric taxis and scooters.
Scientific fare
eDrive Nepal says that its ride-sharing service is extremely affordable as compared to the market. The company says that it charges fairly as per the destination and it should be price-friendly for the commuters.
Made in Nepal
One of the good things about the eDrive Nepal ride-sharing app is that it's completely a made-in-Nepal app made by Nepali engineers. It's user-friendly and easy to navigate through the services.
Effective customer support
Another highlight of the company is its dedication to customer support. Apart from live tracking, the company is committed to providing optimum support to its customers for ride-sharing and other related services. Do note that eDrive Nepal provides food delivery, and Nepal Yatra services besides ride-sharing on electric taxis and scooters. 
The company will offer a taxi purchase with a low down payment
The company will also play an important role in generating employment. It will offer special discounts for women who want to join the company as a driver. Those who want to operate the service and buy an electric taxi but are barred by limited resources will be provided with an opportunity to buy a taxi with a very low down payment.
Likewise, the company says that drivers have to pay a very low amount of commissions to the company as compared to the existing market trend.
How to use the eDrive Nepal App?
Follow the steps below to download and use eDrive Nepal ride-sharing app on your phone:
Download and launch the app.
enter your phone number.
You will receive an OTP code. "Submit" it.
Allow permission to allow the app to send you notifications (you may also opt not to).
Choose your preferred language.
Register for either "Passenger" or "Driver".
Enter your personal information such as name, phone number, email, and gender, and "Update".
Update where you are currently living. You can choose among Kathmandu, Lalitpur, Bhaktapur, and Kavrepalanchok.
Permit location services.
Now you can choose your ride- scooter or taxi and seek nearby EDrive riders for your service.
Note: There are no charges to sign up for eDrive Nepal ride-sharing services. You can register free of cost.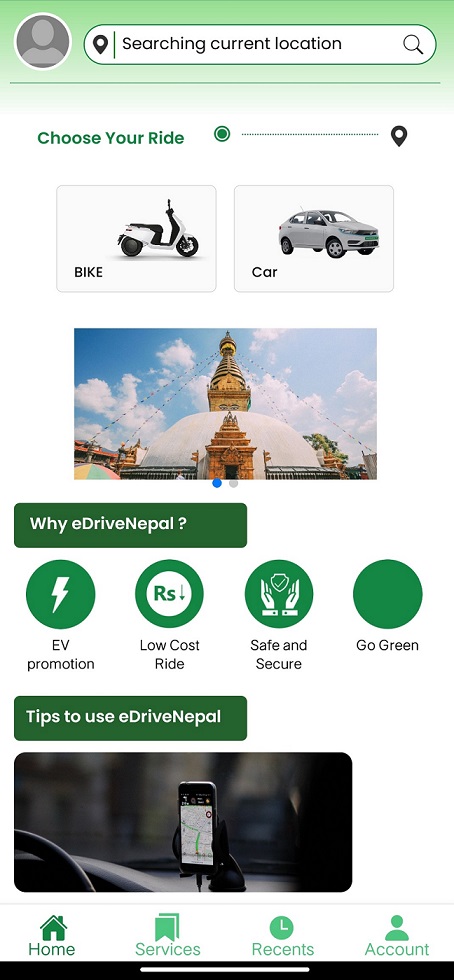 Availability
The EDrive Nepal app is available on both Android and iOS apps. Customers can download, make a profile, and contact nearby drivers for a ride-share. Find the app's links below to download it:
EDrive Nepal app: Android | iOS
Promoting electric vehicles for green transport
EDrive's motif of using only electric taxis and scooters marks a benchmark move towards eco-friendly transport in Nepal. Gradually, the EV trend is setting in in the country and more consumers these days are attracted to the prospect of switching to electricity-powered vehicles. High costs for fuel, harmful gasses, and costlier maintenance have deterred many from using traditional rides. At the same time, ride-sharing platforms committing to using only EVs further promote the growing fascination and affinity with EVs.
How do you feel about the growing EV trend in Nepal? Do you think the country should now be ready to transition away from fuel-run vehicles? Drop your insight in our comments below.