Telecom regulator NTA is working on a digital KYC (Know Your Customer) system with centralized biometrics. With this system, mobile subscribers won't have to carry physical documents while buying a new SIM card. Their data will be transferred online from National IDs into eKYC. For this, the regulator has invited consultants to develop the system.
The online KYC system will alleviate the public's inconvenience of filling up similar forms while buying SIM cards. And managing the paperwork is also a waste of time and paper. Likewise, service providers also face the challenge of multiple subscriptions or fraudulent subscriptions with physical documents.
Nta, meanwhile, has identified electronic KYC with the centralized biometric system as the solution to those challenges.
The digital eKYC will basically authenticate users based on "features of National Identity and capture biometric KYC data of telecom subscribers," NTA says. The regulator says the system will serve as the 'master data repository' that will help verify when users swap SIM or change ownership.
Also read: MDMS To Secure Mobile Devices: Won't Hurt Current Grey Phones
Nta implementing eKYC on SIM cards
With the eKYC, NTA will receive real-time or file-based subscriber data from telecom operators in Nepal. The regulator says the operators will be able to authenticate user data through the National Identity system (NID). In addition, this will consist of biometric and demographic data of individuals and companies. Nta says the data will be securely stored on online servers.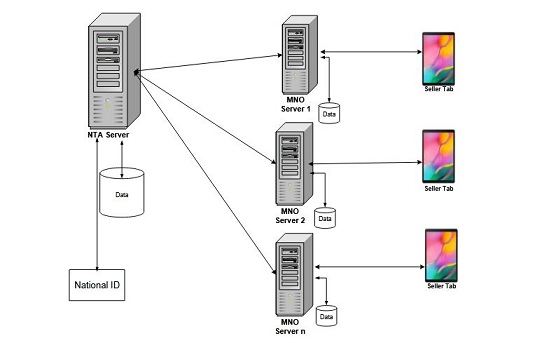 Nta will have an interface developed that will allow telecom companies to perform the following:
Register details of new SIM card subscribers
Re-registration of existing SIM card subscribers
Mobile number porting of SIM card subscribers
SIM replacement of SIM card subscribers
Change of ownership; Additional SIM registration
Fetch the registered information record of the SIM card subscribers
Terminate the registered information record of the SIM card subscribers
The goal is to facilitate an easy way of buying a SIM card, essentially without physical documents, online KYC will do the rest. However, the system will also help curb misuse and possible sinister plans which could involve communications over a mobile network.
NTA says it won't require subscriber verification once the electronic KYC starts off. The interface will "automatically accept and reject KYC data in real-time." It adds that the system will support verification use cases such as below:
SIM swap
Change of ownership
The system will also control what users and SIM dealers perform during the subscriber KYC capturing process.
Don't miss: Nta Warns Against Random Sale of SIM Cards
Minimizing crimes
Police even found 200 SIM cards to have been registered in a single person's name. Where do all of these SIM cards go !! The chances are high of using these SIM cards in crime. The other person will not be held responsible for any misbehavior or crime. So, the chances are higher. Some people even intentionally make copies of others' identification to use for more SIM cards. Actual owners are not aware of what level of crime is happening through the SIM cards registered in their names.
KYC (Know your customer) provision needs customers to put their three-generation (tin paste) name for the new SIM card. The database for this three-generation along with photos and signatures will help them to keep the no of SIM cards within the allowed limit. The government is planning for digital identification for all citizens. Which if realized, will avoid the need for a separate database for this purpose. It will also be easy the distribution of SIM cards.
The eKYC system for SIM will be backed by biometrics and will allow carrier providers to store information n their system for future use. It will also help them cross-verify the subscriber data when one tries to buy a new SIM or swap or changes ownership. Don't forget: How To Check If Current SIM Is Registered On Your Name?
The system will facilitate secure communication between licensees and the NTA. This, in return, will help licensees share and transfer the subscribers' data to the NTA.
Will it be convenient for you to buy a SIM card with an eKYC? Or are you skeptical about the centralized biometric storage for the process? Do share your insights in the comments below.