Embossed Number Plate, How Is It Different From Old Number Plates
We see vehicles plying in the roads with new number plate in Kathmandu Valley these days. Those number plates do not have any Nepali letters on them. They look different from previously used number plates, still present in most of the vehicles in the roads.
The new number plate replacing the existing number plates in the vehicles are embossed number plate. It is a special type of number plate, contains digitally signature of the authority. The plate also contains all the information about the owner and the vehicle status. These types of number plates are being implemented in the vehicles all over the country soon. The government of Nepal has planned to replace all the old number plates in the vehicles by new number plate from the vehicles all over the country within five years.
What is embossed number plates?
More scientific than traditional number plates, embossed number plates are traceable and electronically prepared. The metal plates in the embossed number plates have lettering and numbering raised unlike the traditional number plates. Instead the existing number plates are handwritten.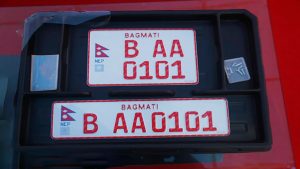 Such embossed number plates will have a chip fitted to it that will help the government keep records of all vehicles plying the domestic roads, as per Department of Transport Management (DoTM) officials. As such plates will have to be fixed onto the vehicle with a 'one-way' screw, DoTM claims vehicle owners will not be able to change such number plates on their own.The best aspect of such license plates is that we will be able to track vehicles anywhere at any time.These number plates have GPS fitted on them which makes it track-able. This will significantly help the government control vehicle thefts, crimes or any type of offense committed by a vehicle owner.
How to get the number plates?
There's only online system for the application of embossed number plate. The form is available in DoTM's website. Applicant has to deposit a fee at Rashtriya Banijya Bank to fill the form. The filled up form along with the voucher from the bank need to be submitted to Bagmati Transport Management Office (BTMO). After the submission of the form, BTMO office notifies the applicant via SMS about the acceptance of form. Similar is the case for other district and areas. Another SMS about the date of installation will be sent after the plates get ready. This takes some days to process.
Rs 2,500 for two-wheelers, Rs 32,00 for light four-wheelers and tractors and Rs 3,600 for heavy vehicles has been set for the charge of registration of plates.