Buying books in shops require a lot of time from going to the shop, searching for the book and checking price. It can be more troublesome if the books are available in limited shops. Amazon service is also not available here in Nepal now. So, most people buy paper books (hard) either online or in a book shop. As Nepal is undergoing some digital change, we can find many ways to order/buy books online with some websites. Here is how to buy/order books online in Nepal.
Buying books online will not only save precious time, but you can also select the best sellers, a new arrival at very ease. Online shopping in Nepal is currently undergoing massive change with the entry of various players and payment options. Almost all of the online shopping sites have books as a category to sell on their website. There are some specific sites like Kitabyatra, Sastobook, buynepalibook which sells only books online. Out of them, we recommend Kitabyatra which delivers books freely all over Nepal and has payment options with Khalti. They also deliver books worldwide.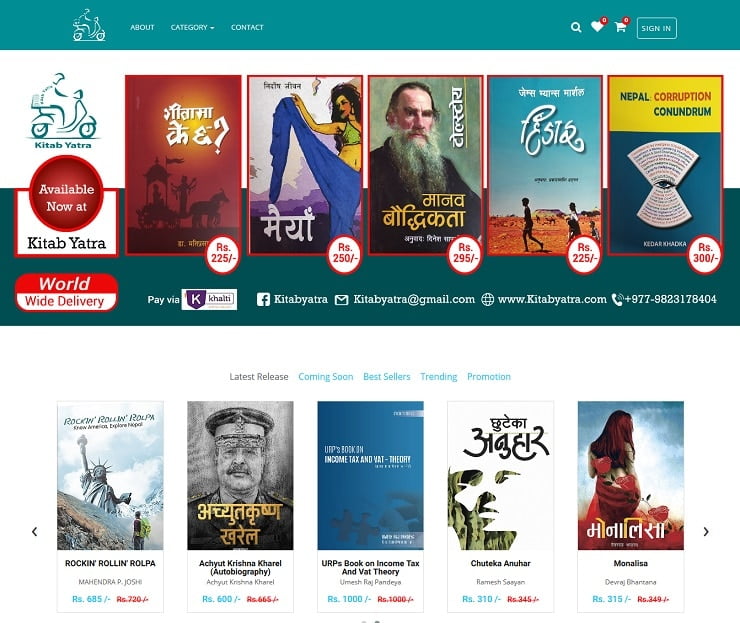 Some other platforms like Hamrobazar, Sastobook also sells second-hand books, but you need to check if books of your choice are available there. So, Sastobook also gives a platform to sell your books if you want to earn some money out of your books.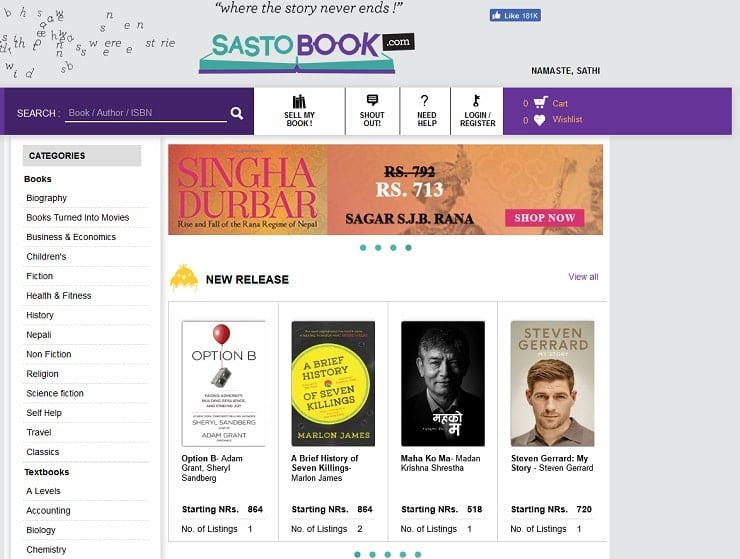 Now some of the book shops like Mandala Book Point also sell books online. Then come various book publishers like Ekta books, Pilgrims books, Nepalaya who also distribute books through online. Recently not only international books but local Nepali books are also getting popular which are available in those websites readily. Some books get sold out immediately when they are released, not only in stores but also online.
Buying books online can also cost you less as they give you offers frequently.
ALSO READ Top Mobile wallets and online digital payment providers in Nepal.
How to order/buy books online in Nepal?
Here are the steps to order books online in Nepal and get it at your doorstep without any hassle.
You can select either of the top online shopping websites or their apps and go to books and stationery category. Or select the book specific online shops as mentioned above. Register and login in your account.
You can even find the new books, top-selling books or different category of books itself like Adventure, fiction, nonfiction, biography, Nepali, Religion and more.
After selecting books, put them in your cart.
Then check out to fill the shipping address and choose the delivery option (free or express delivery) afterward
Some people who are fond of reading books either in Laptop or Tab or in Mobile, download either pirate books online or ask friends to pay for it. This holds true for the international books only as the soft version or pdf version of books here in Nepal is still rarely available. A very small chunk of people also read books in an e-reader like Amazon Kindle. If Amazon service including online shop comes to Nepal, the Kindle reading or soft book reading people will increase.
If you have any queries for the online book shopping in Nepal, let us know.
ALSO READ