Samsung Tihar offer, special cashback for smartphone purchase
Samsung is one of the well-known smartphone manufacturer in the world. It is popular among all the age groups young as well as old in Nepal being stylish and easy to use. They offer different amazing features and functionality in affordable price. Samsung smartphones are popular for their product quality, reliability, and brand name. The plus point is that Samsung usually provides special offers and cash back on the purchase of Samsung smartphones. Find the Samsung Tihar offer below.
Samsung phones had a huge discount on its several products on the occasion of Dashain. Likewise, on this special occasion of Deepawali Samsung company is offering cashback up to Rs. 10,000 on six Samsung smartphones. They are Samsung Galaxy A6, J6 Plus, J7 Pro, On Nxt, J7 Nxt, and the J4 Plus. These phones are provided with a discount on all the Samsung stores around the country.
1.Samsung Galaxy A6
OS: Android 8.0 (Oreo)
Chipset: Exynos 7870 Octa
CPU: Octa-core 1.6 GHz Cortex-A53
GPU: Mali-T830 MP1
RAM: 4 GB, 3 GB
Storage: 64 GB, 32 GB microSD, up to 256 GB (dedicated slot)
Battery: 3000 mAh Non-removable Li-Ion
Display: 5.6-inch HD+ Super AMOLED Infinity display
Wi-Fi: Wi-Fi 802.11 a/b/g/n, WiFi Direct, hotspot
Bluetooth: 4.2, A2DP, LE
Ports: 3.5mm Jack
Rear camera: 16 MP (f/1.7), phase detection autofocus, LED flash, check the quality
Front-facing camera: 16 MP (f/1.9), LED flash
Sensors: Fingerprint (rear-mounted), accelerometer, gyro, proximity, compass
Colors: Black, Gold, Blue, Lavender
Price in Nepal (Rs.): Rs. 39,890
Tihar Offer Price: Rs. 29,890
2.Samsung Galaxy J6+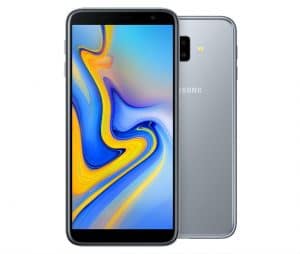 OS: Android 8.1 (Oreo)
Chipset: Qualcomm MSM8917 Snapdragon 425
CPU: Quad-core 1.4 GHz Cortex-A53
GPU: Adreno 308
RAM: 4 GB, 3 GB
Storage: 64 GB, 32 GB
Battery: 3300 mAh Non-removable Li-Ion
Display: 6.0-inch HD+ IPS LCD display
Wi-Fi: Wi-Fi 802.11 b/g/n, Wi-Fi Direct, hotspot
Bluetooth: 4.2, A2DP, LE
Ports: 3.5mm Jack
Rear camera: 13 MP, f/1.9, 28mm, AF 5 MP, f/2.2, depth sensor
Front-facing camera: 8 MP, f/1.9
Sensors: Fingerprint (side-mounted), accelerometer, gyro, proximity, compass
Colors: Black, Gray, Red
Price in Nepal (Rs.): 31,790 (4/64GB) / 26,990 (3/32GB)
Tihar Offer Price: Rs. 23,690 (3/32GB) | Rs. 27,990 (4/64GB)
3.Samsung Galaxy J7 Pro
OS: Android 7.1 (Nougat)
Chipset: Exynos 7870 Octa
CPU: Octa-core 1.6 GHz Cortex-A53
GPU: Mali-T830 MP1
RAM: 3 GB
Storage: 32/64 GB microSD, up to 256 GB (dedicated slot)
Battery: 3600 mAh Non-removable Li-Ion
Display: 5.5-inch FHD Super AMOLED display
Wi-Fi: Wi-Fi 802.11 a/b/g/n/ac, dual-band, WiFi Direct, hotspot
Bluetooth: 4.1, A2DP, LE
Ports: 3.5mm Jack
Rear camera: 13 MP, f/1.7, autofocus, LED flash
Front-facing camera: 13 MP, f/1.9, LED flash, 1080p
Sensors: Fingerprint (front-mounted), accelerometer, gyro, proximity, compass
Colors: Black, Gold
Price in Nepal (Rs.): Rs.30,900
Tihar Offer Price: Rs. 25,900
4.Samsung Galaxy On Nxt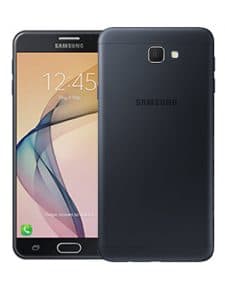 OS: Android 6.0.1 (Marshmallow), upgradable to 7.0 (Nougat)
Chipset: Exynos 7870 Octa
CPU: Octa-core 1.6 GHz Cortex-A53
GPU: Mali-T830 MP1
RAM: 3 GB
Storage: 32 GB microSD, up to 256 GB (dedicated slot)
Battery: 3300 mAh Non-removable Li-Ion
Display: 5.5-inch FHD PLS TFT display with Corning Gorilla Glass 4
Wi-Fi: Wi-Fi 802.11 b/g/n, Wi-Fi Direct, hotspot
Bluetooth: 4.1, A2DP, LE
Ports: 3.5mm Jack
Rear camera: 13 MP, f/1.9, 28mm, autofocus, LED flash
Front-facing camera: 8 MP, f/1.9
Sensors: Fingerprint (front-mounted), accelerometer, proximity
Colors: Black, Gold, Rose Gold
Price in Nepal (Rs.): 23,990
Tihar Offer Price: Rs. 19,990
5.Samsung Galaxy J4 Plus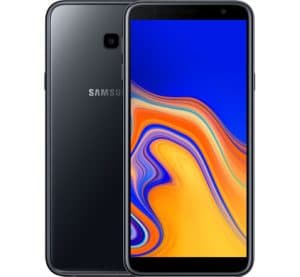 OS: Android 8.1 (Oreo)
Chipset: Qualcomm MSM8917 Snapdragon 425
CPU: Quad-core 1.4 GHz Cortex-A53
GPU: Adreno 308
RAM: 3 GB, 2 GB
Storage: 32 GB, 16 GB
Battery: 3300 mAh Non-removable Li-Ion
Display: 6.0-inch HD+ IPS LCD display
Wi-Fi: Wi-Fi 802.11 b/g/n, Wi-Fi Direct, hotspot
Bluetooth: 4.2, A2DP, LE
Ports: 3.5mm Jack
Rear camera: 13 MP, f/1.9, 28mm, AF
Front-facing camera: 5 MP, f/2.2
Sensors: Fingerprint (side-mounted), accelerometer, gyro, proximity, compass
Colors: Black, Gold, Pink
Price in Nepal (Rs.): 23,490
Tihar Offer Price: Rs. 19,390
6.Samsung Galaxy J7 Nxt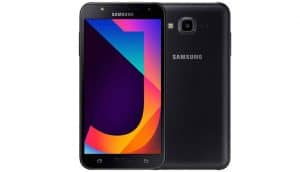 OS: Android 7.0 (Nougat)
Chipset: Exynos 7870 Octa
CPU: Octa-core 1.6 GHz Cortex-A53
GPU: Mali-T830 MP1
RAM: 2 GB
Storage: 16 GB microSD, up to 256 GB (dedicated slot)
Battery: 3000 mAh removable Li-Ion
Display: 5.5-inch HD AMOLED display
Wi-Fi: Wi-Fi 802.11 b/g/n, Wi-Fi Direct, hotspot
Bluetooth: 4.2, A2DP, LE
Ports: 3.5mm Jack
Rear camera: 13 MP, f/1.9, 28mm, autofocus, LED flash
Front-facing camera: 5 MP, f/2.2, 23mm, LED flash
Sensors: Accelerometer, proximity
Colors: Black, Gold
Price in Nepal (Rs.): 20,990
Tihar Offer Price: Rs. 18,990