Ever-increasing Nepal's internet bandwidth has now touched 1 Tbps. As we spend more time online, the import of internet bandwidth has also inflated as of late.
The total bandwidth is largely shared among the handful of leading ISPs and carriers for their internet services.
The rise in bandwidth demands spiked ever since the COVID-19 lockdowns began. Before the pandemic, Nepal was importing around 400 Gbps of bandwidth. Since the lockdown struck, services largely took online.
Activities such as E-learning, business meetings, and seminars are all featured online. This forced service providers to import more bandwidth to keep their internet services smooth. As per Meolagani, Nepal's total internet bandwidth has doubled since COVID-19 began and is now touching an insane 1 Tbps.
Must read: How Is The Internet helping Deal With The COVID-19 Pandemic In 2021?
Nepal's Total Bandwidth Share Among the ISPs
Nepal has over 50 ISPs providing fixed broadband services but with a wide gulf in their customer base. The bandwidth share is determined by how many subscribers each have.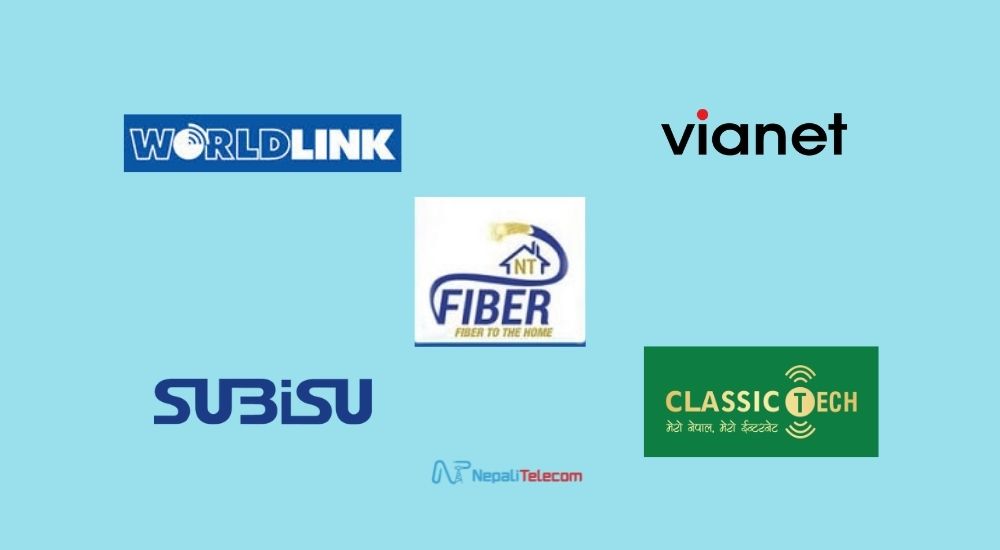 WorldLink, Nepal's largest ISP in terms of subscribers at least, imports the highest internet bandwidth to Nepal. As per the data, the private ISP is importing 300 Gbps of internet to deliver its broadband service. Currently, the ISP serves over 5 lakh and 50 thousand in Nepal.  
| | |
| --- | --- |
| ISPs | Internet Bandwidth Import |
| WorldLink | 300 Gbps |
| Subisu | 100 Gbps |
| Vianet | 100 Gbps |
| Tech Minds | 100 Gbps |
| Nepal Digital Services | 80 Gbps |
| Classic Tech | 55 Gbps |
Meanwhile, other prominent ISPs' counts are within a similar range. Subisu, Vianet, and Tech Minds are all importing 100 Gbps internet bandwidth. Their total is significantly lower than that of WorldLink which is because of the gulf in the number of their subscribers.
Classic Tech's customer base is soaring right now but its number is less flattering. The ISP is importing just 55 Gbps bandwidth for now. But it has just launched a 1 Gbps internet plan and in the coming months, it might have to widen the bandwidth to cater to more subscribers.
Meanwhile, another company Nepal Digital Services is bringing 80 Gbps bandwidth.
Also read: Nepal's Fiber Internet User Base Surpasses 1.6 MN, But What About CG Net?
Telcos Standing Up to the ISPs
While ISPs dominate the charts, the carrier network operators have also fared competitively with the mid-tier ISPs in their bandwidth imports. NTC, the state-backed carrier is importing 200 Gbps of internet bandwidth. Meanwhile, Ncell, a private operator, is importing 120 Gbps internet bandwidth for its mobile broadband services.
| | |
| --- | --- |
| Carriers | Internet Bandwidth Import |
| NTC | 200 Gbps |
| Ncell | 120 Gbps |
Nepal's ISPs and mobile network operators import their bandwidth from Indian companies. While, NTC did start importing a portion of its bandwidth from China, bursting Indian companies' complete monopoly, the Chinese share has remained nominal. Currently, Nepal's ISPs and carrier operators import their internet bandwidth from India's  Airtel, Reliance, and others.
Don't miss: 4G vs 3G Mobile Network: Find the differences?
Both NTC and Ncell are popular for their high-speed 4G and 3G mobile broadband across the country.
Nepal's internet realm is going through a most transformative phase with the ongoing internet speed war. The leading ISPs have upgraded their internet speed with one launching Nepal's fastest ever, a mighty 1,000 Mbps internet plan. These high-speed packages, coupled with growing OTT services, and the growing internet entertainment will likely further mount internet bandwidth in the coming months.
Related: NTC Steers Ahead of Ncell on 4G, Adds 8 Lakh Users in a Month
Currently, there are 51 ISPs and 3 carrier network providers in Nepal while, with around 81 lakh internet subscribers of the ISPs. Meanwhile, total internet penetration has reached 116.91% (as per NTA).
What is your take on Nepal's soaring internet demands? Is internet dependency growing or we are shifting digital for more productivity? Do leave your valuable opinion in the comments below.