DTH provider Dish Home has launched a 4K Streamer. This Android-based TV stick will bring smart features to any non-smart TV.
As its name suggests, the Streamer is capable of broadcasting 4K contents in ultra-high 4K resolution. That also means it can run any video content below that resolution without a hitch.
The device slots into the HDMI port on a TV. Once connected, the users can enjoy apps and services such as Dish Home Go, YouTube, Sony Liv Hungama, etc on any TV. But these are possible only with an internet connection.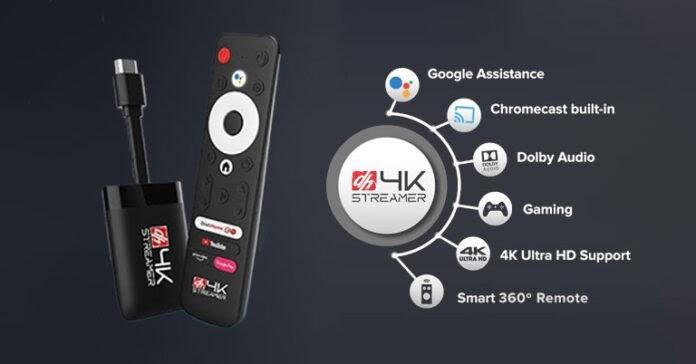 The company's Broadcast Operations General Manager Sachin Basyal provided information about its new product. He said, "Dish Home's 4K Streamer will turn the customers' any TV into a smart TV with 4K resolution support."
Check out: Xiaomi Mi TV Stick Price in Nepal
Dish Home's 4K Streamer Features
Dish Home's 4K streamer is capable of streaming videos with 3840 x 2160 pixels or variations. This means has 4 times higher pixel counts than Full HD resolution 1080×1920. The result is extremely clear and detailed images still rare on many devices.
To render images at 4K, Dish Home has brought Google certified video player. It's Android 11-based and runs on Quadcore Cortex – A53 SoC. To support a smoother run of apps, it comes with 8 GB RAM, and 2 GB ROM for apps storage. For superior audio rendering, it comes with Dolby support. There is a dedicated "Dish Home Go" button to give users easier access to its services.
Besides the aforementioned apps, users will also earn access to many smart device features such as Google Assistant, Chrome cast, etc. The Play Store app allows users to download apps and enjoy them on the TV just like on a smartphone.
Don't miss: Dish Home Launches Campus WiFi For Crowded Areas
However, the users won't have the option of Netflix yet. The company says the option for the famous OTT platform will be added once the streamer gains traction.
Besides, the streamer has Bluetooth and WiFi 5 for connectivity. These options allow users to connect their smartphones, tablets, or laptops to their TV and enjoy the apps.
Availability and Price
Dish Home says the streamer will roll out in phases. In the first phase, the device will be available only to the subscribers of Dish Home and Dish Home fiberNet services. Later, others can also purchase it for their TV.
Also read: Dish Home Launching WiFi 6 | With Potential 9.6 Gbps Peak Speed
Dish Home has set its streamer for Rs.7,999. The cost might be a deal-breaker for some but it is a premium device that upgrades a TV into a smart one and brings several entertaining features and services.
The TV sticks are a very popular accessory for LED/LCD TVs these days. With an internet connection, they can turn any TV Smart while upgrading a Smart one TV with a host of exciting features. Dish Home's 4K Streamer will be another commendable option.
Check out: Dish Home Internet Speed, Offers, Packages
Are you a fan of TV sticks for an added range of entertainment over traditional TV channels? Do leave your opinions in our comments below.