South Korean tech giant Samsung has published its white paper on 6G highlighting its plans to obtain 6G frequency bands worldwide. The company discussed the next-gen network's potential at its first 6G forum.
The concept paper is titled "6G Spectrum: Expanding the Frontier". It discusses methods it could use to get the spectrum and take the lead on the next-gen cellular communication.
Samsung also declared that 6G would be much faster than the current 5G standard. 5G has been claimed to deliver up to 20 Gbps speed. 6G meanwhile can go as fast as 1 Tbps.
"We started working on this new tech long ago to visualize, understand, develop, and update the 6G network. We will dedicate our complete time and efforts to bring a high-speed environment around every corner." Samsung's Executive Vice President and Head of the Advanced Communications Research Center, Sunghyun Choi stated.
6G for a truly immersive XR
The white paper also talks about adapting new spectrums to realize a true 6G potential. The company stresses ultra-wideband contiguous bandwidth from MHz to the tens of GHz for a truly immersive (extended reality) XR and "3D High-Fidelity Mobile Holograms and Digital Replica".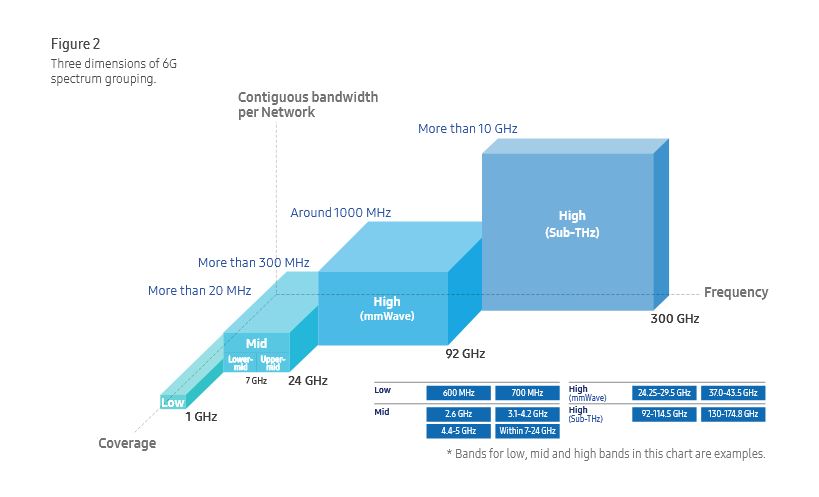 For these, Samsung has purposed low-band frequencies under 1 GHz to mid-band frequencies in the 1 – 24 GHz, and mmWave frequencies in the 24 – 300 GHz range.
The telco gear maker also discussed the need for new bands for the commercial deployment of 6G. It expects 6G to go live when 5G will remain ostensibly dominant the mobile technology.
Also read: 6G Arriving By 2028? South Korea Might Make It Possible
Refarming existing bands
Samsung also teases refarming existing bands currently used for 3G, 4G, and 5G for the 6G network. The company says it would help fulfill the need for spectrum to proliferate the sixth-gen mobile standard more efficiently. 
It then talks about its 6G candidate technologies. Mostly it discusses sub-THz band communications, reconfigurable intelligent surface (RIS), cross-division duplex (XDD), AI-based nonlinearity compensation (AI-NC), AI-based energy saving (AI-ES), etc.
The Sub-THz is a spectrum candidate for 6G communications. It can support data transmission of up to 1 Tbps.
"RIS improves beam sharpness and can steer or reflect the wireless signal to a particular direction with a metamaterial surface. It thus reduces the penetration loss and blockage of high-frequency signals, e.g., mmWave.
Similarly, XDD can improve the propagation distance of the uplink signal up to two times in the TDD system. It is capable of extending the coverage of the TDD system in high-frequency bands. 
Recommended: 2G or 3G? Which Mobile Network Will Shut Down in Nepal?
Samsung 6G Forum
Likewise, the company held its inaugural Samsung 6G Forum to discuss the upcoming mobile standard and its impact. The event hosted under the theme 'The Next Hyper-Connected Experience for All' had figures from academia, and businesses discuss the potential of this super-fast mobile communications tech.
The forum was divided into two sessions – The morning Session and the Afternoon Session.
The morning session ran under the theme '6G Air Interface'. In this early session, Jeffrey Andrews, Professor at the University of Texas at Austin gives a keynote speech, titled 'Deep Learning in the 6G Air Interface.' In his speech, he claimed deep learning (DL) will play a key role in enabling 6G and will provide layers of the air interface. 
Similarly, Charlie Zhang, Senior Vice President (SVP) at Samsung Research America, Takehiro Nakamura, SVP and General Manager at NTT DOCOMO, and John Smee, SVP of Qualcomm Technologies, Inc. chimed in with depth.  
Intelligent Network for 6G
This session went under the theme, 'Intelligent Network for 6G'. Tarik Taleb, Professor at the University of Oulu, Finland, delivered a keynote speech regarding '6G Networking — The Journey Towards a Novel Vision of "Service of Services". In his speech, the professor touched upon AI, Network Function Virtualization, etc. He expressed that 6G is likely to harbor cloud-native mobile networking.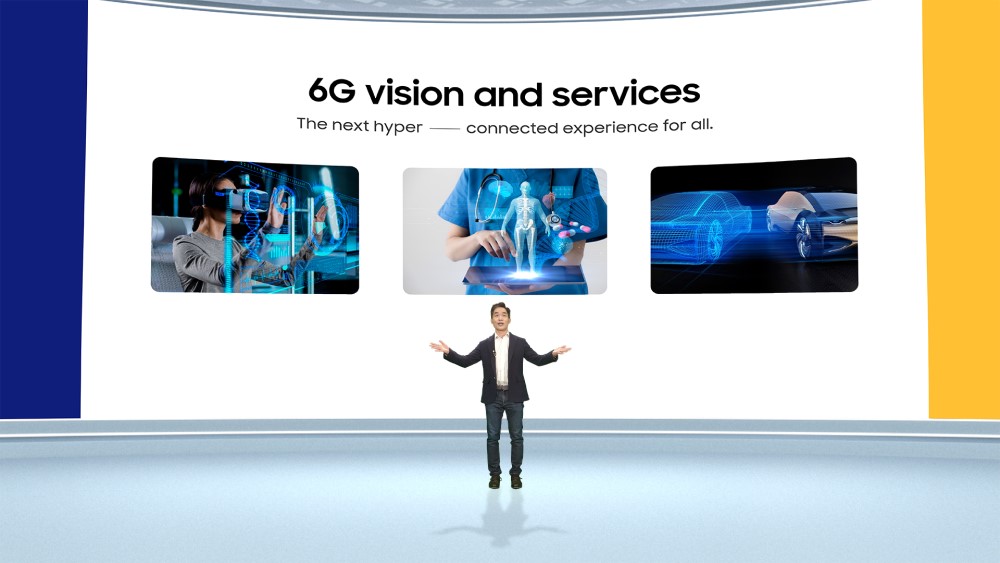 After this, Seungjoo Maeng, Master at Samsung Electronics, delivered his speech. He focused on 'Challenges in Applying AI/ML Technology to Improve Performance of Mobile Communication Systems'. Likewise, he also discussed the application of AI, and ML to improve the performance of mobile communications.
There were several experts who delivered keynote speeches, and presentations on 6G under various themes.
Do you feel the need for 6G or is it just inevitable? You can share your inputs in the comments below.