Global telecom service revenue will fall by 4.2% monthly between 2022 to 2027. However, the service providers will see a 14% revenue growth during the same period from mobile and fixed broadband services, research firm Omdia claims.
The research firm attributed the mixed figures to new techs' failure to "deliver enough value".
The report states that the total revenues from telecom services will reach €1.2 trillion in the next five years. Meanwhile, ARPU (Average Revenue Per User) will fall from €7.48 in 2022 to €7.16 in 2027.
The mobile market's earning decline is blamed for the underwhelming adoption of 5G. "Unlimited data and video streaming services bundled exclusively on 5G contracts have had some success, but this only gives the industry the illusion of a 5G ARPU uplift," the report notes.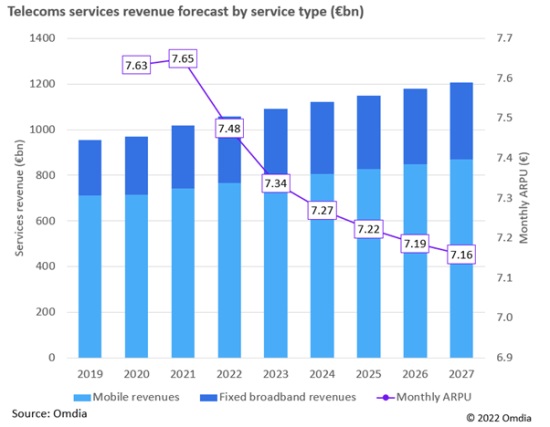 Also read: 5G Users to Exceed 1 Billion in 2022, India to Add 30 MN
Fiber broadband will also draw in mixed financial results
Fixed-line broadband will meanwhile witness mixed financial rewards. The shift to fiber connectivity had harbored a "net positive impact" in most cases, especially during the pandemic. But, markets with high fiber coverage are seeing a remarkable drop in ARPU. The report mentions France, Spain, and China that are overseeing revenue drop from fixed-line broadband services. It further states points to the lack of "a clear monetization" path for the customers once fiber broadband is adopted.
Check this: 4G vs. 5G: Differences Between Two Mobile Networks
Omdia Research Director Ronan de Renesse said: "People don't buy technology; they buy fun exciting new experiences. There is a misconception that operators should be reselling the technology they buy directly to customers, and it doesn't work. The network is the bedrock on which innovation and creativity can flourish like 4G and mobile apps. It is not just up to operators to solve the ARPU growth challenge but rather the rest of the digital services ecosystem."
Omdia estimates that 5G will represent 5.9 billion subscriptions in 2027. That is 70.9% of the total population will be covered by the fifth-generation cellular network. At the same time, Fiber-to-the-Home (FTTH) technology will account for around 1 billion subscriptions in the next five years which will be equivalent to a household penetration of 41.9%. 
Do read: Mobile penetration, Internet penetration and broadband penetration in Nepal
How much do you spend on your monthly internet bills? Are you satisfied with the service costs or want to offer suggestions? You can share in the comments below.