The nail-biting Nepal-UAE cricket match on March 16, 2023, Thursday inspired a record for the highest-ever local internet bandwidth traffic which clocked over 60 Gbps, as per Nepal Internet Exchange (NPIX). The fateful World Cup qualifier match which Nepal eventually won also made a record for the highest local bandwidth consumption in Nepal.
Already much talked about, the interest towards the match surged internet bandwidth consumption from the beginning. In total, NPIX said that the total bandwidth usage rose by over three times.
As per the NPIX figures, during the ICC World Cup league two fixture, the internet traffic reached 60.18 Gbps. Rupesh Shrestha, Managing Director of NPIX stated that it was the local bandwidth consumption.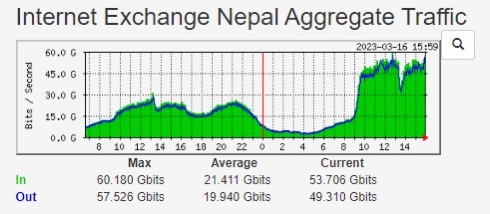 As per the reports, Kantipur TV's official website drew the highest traffic. As the trend shows, the internet traffic mostly ranges from 15 to 20 Gbps on average but soared three times higher due to the tough WC qualifier in Kirtipur. The match was houseful with 25,000 spectators rooting for the national Nepali cricket team.
Also read: Find out how much international bandwidth ISPs bring to Nepal
Sports events are creating internet traffic record in Nepal
Sports have usually drawn huge traffic numbers in Nepal. The same happened during the World Cup match in Saudi Arabia, while the Euro 2020 also created record of internet traffic. With mobile devices and social media dominating all the talks and activities relating to sporting events, such as from using streaming apps to discussing, and posting information and other content from the games, the internet traffic and bandwidth consumption graph will only continue to produce eye-catching records in the coming days too.
Following their heroics at the Tribhuvan University Ground, Kirtipur, Nepal's national cricket team has claimed their place for the 2023 Cricket World Cup Qualifier in Zimbabwe.
Does your internet bandwidth consumption get higher during intense sporting events? Do share with us in the comments below.