Vianet Communication, Nepal's pioneer of fiber internet and IPTV services, and also a leader in the industry is proudly celebrating its 24th anniversary. Being a key proponent of reliable communication services, the company is marking its successful years of delivering reliable and affordable digital services to its valued customers across the country. And to share this joy with its customers, the private ISP has announced some internet speed upgrades, and super exciting discounts on its internet package, among other offers.
Vianet started its service in 1999 and since then the company has dedicated itself to enhancing the digital lives of its customers with cutting-edge broadband internet and IPTV services.
Also read: Vianet CEO Sewa Pathak Bohra Wins Professional Woman of the Year 2023 Award
Vianet 24th anniversary offer:
Celebrating the occasion, Vianet has announced a special anniversary offer- a 3-month subscription of 125 Mbps internet package for just Rs 2,424 (plus VAT). The offer is valid for a limited time. Also, new subscribers of this package will get a hefty discount on installation charges.  
Additionally, Vianet also has a festive Dashain offer ongoing. In this, all the 3-month and above subscribers of Vianet internet will get up to 50% discount on Ultima Wireless Earbuds and Himstar appliances.
Your Internet Speed Boosted for Free!!!
And there's more. In an expression of its gratitude, Vianet has upgraded the internet speed of its loyal customers on yearly plans. Now, the 200 Mbps internet plan has been raised to the even faster 250 Mbps. The 300 Mbps plan will now blaze at the blistering speed of 400 Mbps.
Vianet has a history of pioneering technologies in Nepal. In 2011, the company brought for the first time fiber internet (FTTH) in Nepal which stirred the country's internet speed to the next-generation capacity. Likewise, in 2016, the ISP revolutionized the TV viewing experience of Nepalese by launching the IPTV service.
ViaTV offers over 175 TV channels at an affordable cost. The company has also launched Nepal's first multi-gig 2 Gbps XGS-Extreme package powered by the XGS fiber technology. In sum, Vianet Communications is redefining and revolutionizing internet connectivity in Nepal.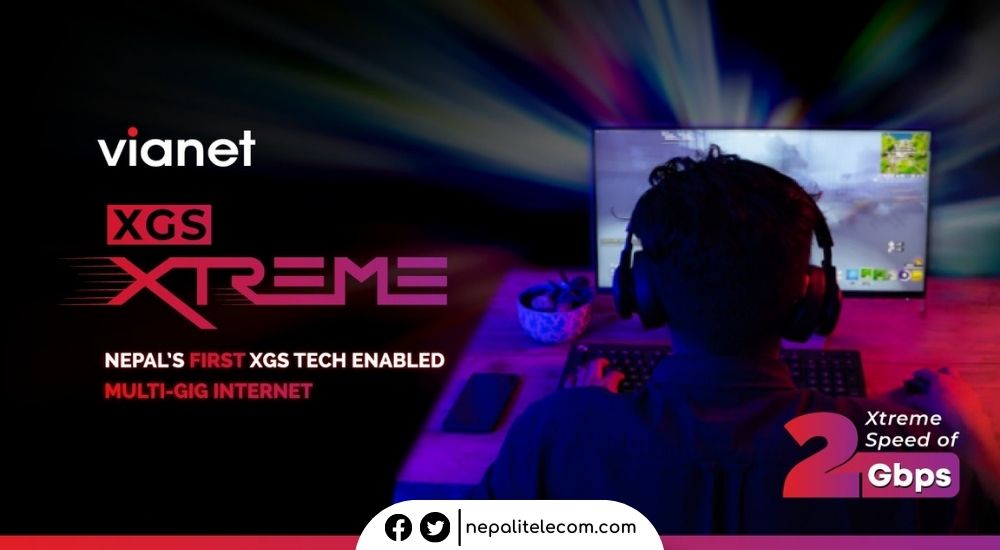 As the company enters its 25th year in service, it has expressed a heartfelt thanks to its dedicated employees, loyal customers, and all the stakeholders for making the journey remarkable.
DON'T MISS: Vianet is also planning on issuing its IPO!!!
Commitment to the future
Looking ahead, the Kathmandu-based ISP has expressed its commitment to enhancing and expanding its services to meet the ever-evolving demands of internet, TV, and digital services for both residential and corporate customers.
On this glorious occasion, Nepalitelecom.com extends its heartiest congratulations to Vianet on its remarkable accomplishments and contributions in the past 24 years enhancing the digital experience of Nepalese. We hope the company remains one of the key architects for the digital transformation of Nepal in the foreseeable future.