The Apple Watch Series 9 is now officially launched in Nepal. It was launched globally back on September 12, 2023, along with the iPhone 15 series. The smartwatch is the successor to the Apple Watch Series 8 launched in Nepal. The smartwatch comes with new and exciting features. So, here in this article, we will have a detailed discussion about the specifications, features, availability, and Apple Watch Series 9 price in Nepal. 
Read: iPhone 15 Pro Max Price In Nepal And Availability
Apple Watch Series 9 Overview
Design
Starting off with the design of the smartwatch, the Apple Watch Series 9 truly embodies the spirit of choice and individuality. It offers a dynamic range of options, that allows you to select from two distinct case sizes – the 45 mm for those who favor a bold and prominent watch face, and the 41 mm for those who lean towards a more compact and understated design. 
This flexibility extends to the choice of casing material, with a selection between the lightweight and resilient aluminum case or the premium and enduring stainless steel case, enabling you to align your watch with your personal style and the demands of your daily life. In addition, the Series 9 is equipped with a speaker and microphone, adding a layer of practicality to its form, facilitating phone calls, voice messages, and hands-free interactions with Siri, thus seamlessly integrating technology into your unique style and daily routines. 
Display 
The Apple Watch Series 9 boasts an Always-On Retina LTPO OLED display. You also have two case options: aluminum and stainless steel. The aluminum version comes in five colors, including Pink, Midnight, Starlight, Silver, as well as Product Red. The stainless steel version is available in Gold, Silver, as well as Graphite. Depending on the case type, you get either Ion-X glass for lightweight durability in aluminum cases or a scratch-resistant sapphire crystal for stainless steel cases. It also has a brightness that can reach 2000 nits on sunny days. Likewise, it can be dimmed to 1 nit for discreet use in the dark. This display seamlessly integrates into your daily life, ensuring you can check the time or notifications effortlessly, no matter where you are or the time of day.
Performance & Software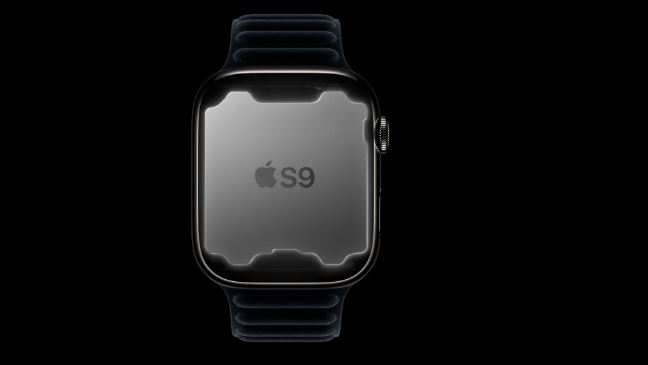 Under the hood, the Apple Watch Series 9 introduces a new era of performance with its revolutionary S9 SiP (System in Package) powered by the A15 Bionic architecture. It comes with a dual-core processor housing a remarkable 5.6 billion transistors, a 60% increase in performance compared to its predecessor. The Apple Watch Series 9 also integrates a cutting-edge 4-core Apple Neural Engine, processing machine learning tasks at double the speed, enabling real-time, intelligent interactions and highly personalized experiences. Further enhancing its capabilities, the Series 9 features an upgraded ultra-wideband (UWB) chip, providing precise location detection for UWB-equipped devices, enabling a host of advanced functionalities, including double-tap gestures, a swifter Siri with health data access, and precise iPhone locating. 
The Apple Watch Series 9 brings a noteworthy storage upgrade to the table, offering a generous 64GB capacity, a significant boost from the 32GB of its predecessor, the Apple Watch Series 5. This expanded storage capacity also creates room for a variety of apps, music, podcasts, and other digital content, eliminating the need for frequent content management and providing a seamless experience. Similarly, for software, it has a watchOS 10.
Health 
The Apple Watch Series 9 elevates health monitoring with its advanced sensors, including the accelerometer, gyroscope, and optical heart sensor enhanced by a machine-learning algorithm. This algorithm can detect specific wrist movements and blood flow changes triggered by a forthcoming double-tap gesture feature, set to launch in an upcoming software update. The Series 9 doesn't stop at physical health; it also provides mental health support tools. It also offers an array of health-focused apps and notifications, encompassing blood oxygen levels, temperature monitoring, ECG readings, heart rate alerts, irregular rhythm detection, and low cardio alerts, ensuring comprehensive health tracking and timely alerts. The Series 9 serves as a holistic health and wellness companion, blending advanced technology with user-centric features, making it your go-to device for enhancing well-being and staying active.
Double Tap Features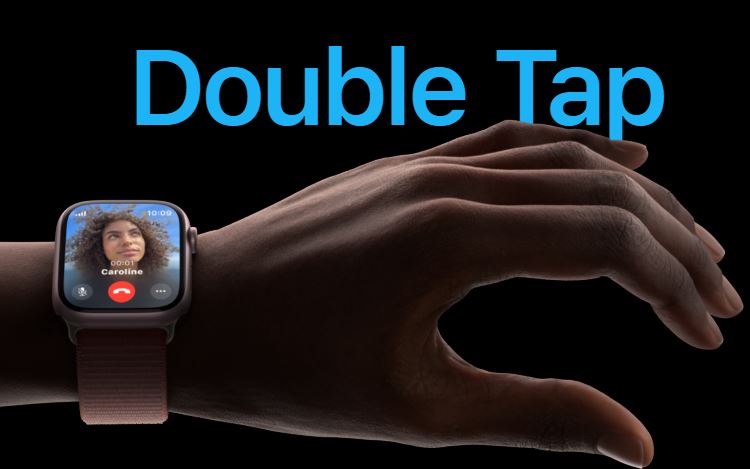 The Apple Watch Series 9 brings a novel and convenient double-tap gesture to the table, designed to streamline user interaction, particularly when hands are busy. By simply double-tapping your index finger and thumb together, the Series 9 responds with a suite of functions, including answering calls, opening notifications, and managing music playback. This intuitive feature also enhances daily tasks and ensures you remain seamlessly connected and in command. It's important to note that this feature is expected to arrive with watchOS 10.1, scheduled for release later in the year, further elevating the Series 9's usability and making it an even more user-friendly and helpful smartwatch.
Safety and Emergency Features
The Apple Watch Series 9 is all about keeping you safe. It has some important features like Emergency SOS, which lets you quickly call for help when you need it. You can also make emergency calls internationally, no matter where you are. The watch can even detect if you've been in a crash and alert emergency services, and it can tell if you've taken a hard fall and call for help automatically. These safety features are built into your daily life, making the Series 9 not just a smartwatch, but also a device that's there for your protection, whether you're at home or out and about.
Connectivity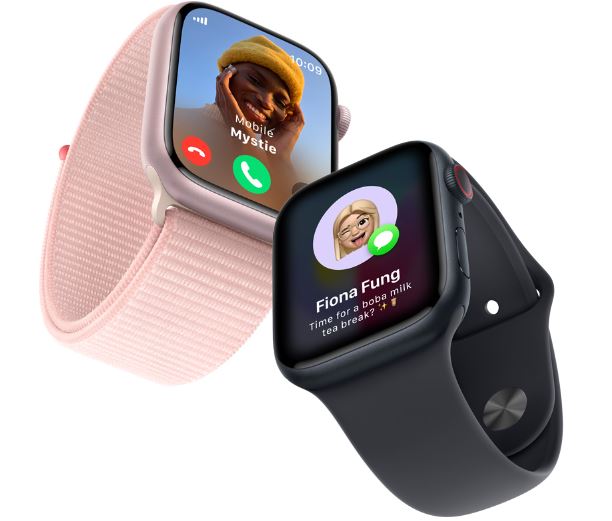 The Apple Watch Series 9 redefines connectivity with its diverse range of options. It is equipped with L1 GPS, GNSS, Galileo, BeiDou, LTE, UMTS, Wi-Fi 4, as well as Bluetooth 5.3, it ensures you're always connected and in control. What sets it apart is the second-generation Ultra Wideband chip, enabling precise spatial awareness and seamless interaction with compatible devices. This technology paves the way for innovative experiences, such as car unlocking with a simple wrist gesture. Additionally, the Series 9 offers the convenience of Apple Pay and GymKit integration, making it not only a smartwatch but also an indispensable tool for everyday life, from payments to fitness tracking.
Battery Life
Talking about the battery prowess of the Apple Watch Series 9, it is equipped with a robust built-in rechargeable lithium-ion battery. The device offers up to 18 hours of normal use, ensuring it can seamlessly support your daily activities. When you need extended battery life, the Low Power Mode can stretch it to an impressive 36 hours, providing reliability for more demanding situations and adventures. Similarly, the recharging is made effortless with the USB-C magnetic fast charging cable, allowing you to power up your Series 9 quickly and efficiently.
Also Read: Samsung Galaxy Watch 6 Officially Launched in Nepal | Price & Specs
 Apple Watch Series 9 Technical Specifications
Dimension: 

41 mm: 41 mm x 35 mm x 10.7 mm (Aluminum, GPS)
45 mm: 45 mm x 38 mm x 10.7 mm (Aluminum, GPS)

Weight:

41 mm: 31.9 gm (Aluminum, GPS) | 32.1 gm (Aluminum, GPS + Cellular) | 42.3 gm (Stainless Steel) 
45 mm: 38.7 gm (Aluminum, GPS) | 39.0 gm (Aluminum, GPS + Cellular) | 51.5 gm (Stainless Steel) 

Display: Always-On Retina LTPO OLED display, Edge-to-edge display, Up to 2000 nits maximum brightness, 1 nit minimum brightness, IP6X, Water resistance 50m (swim proof), Ion-X front glass (Aluminum cases), Sapphire crystal glass (Stainless steel cases)
Wrist Strap: Detachable strap
Processor: Apple S9 SiP with 64-bit dual-core processor
CPU: Dual-core
GPU: PowerVR
Software: watchOS 10.0
Storage: 64GB storage (GPS and GPS + Cellular) 
Sensors: Accelerometer, Heart rate, Temperature (body), Always-on Altimeter, Barometer, Compass, SpO2, Gyro, as well as VO2max
Battery: Non-removable Li-Ion 308 mAh 
Battery Life: up to 18 hours, Wireless charging, USB Type-C magnetic fast charging cable
Connectivity: Wi-Fi 4 (802.11n)Wi-Fi 802.11 b/g/n 2.4+5GHz, Bluetooth 5.3, L1 GPS, GNSS, Galileo, and BeiDou, NFC, LTE and UMTS
Apple Watch Series 9 Price in Nepal: Rs. 81,000 (41 mm) | Rs. 87,000 (45 mm)
Apple Watch Series 9 Price And Availability In Nepal
The Apple Watch Series 9 price in Nepal is Rs. 81,000 for 41 mm and Rs. 87,000 for 45 mm sizes. The watch is available for purchase in official Apple stores like EvoStore and Oliz Store in Nepal. 
| | |
| --- | --- |
| Apple Watch Series 9 | Price in Nepal |
| 41mm | Rs. 81,000 |
| 45mm | Rs. 87,000 |
Our Verdict
 In conclusion, the Apple Watch Series 9 is a testament to Apple's commitment to innovation and customer satisfaction. It seamlessly combines style, function, and cutting-edge technology. The watch offers a range of case sizes and materials to suit individual preferences. The Always-On Retina LTPO OLED display, the robust performance of the S9 SiP, and an expansive 64GB storage capacity deliver a top-tier user experience. The Series 9 excels in health and safety features and provides a versatile range of connectivity options. Whether you're a fitness enthusiast, a tech-savvy user, or someone seeking to enhance daily life, the Series 9 exceeds expectations. It is a testament to Apple's commitment to innovation and customer satisfaction, representing the future of wearable technology on your wrist.
Checkout: Top 5 Smartwatch Under 10000 in Nepal | Detailed Specs
So what are your thoughts about this new smartwatch? We're eager to hear your thoughts on the specifications, features, and pricing of this device. Please don't hesitate to share your insights in the comment section below.
Also have a look at the Latest & Official Apple iPhone Price & Specs in Nepal