In this post, you will learn about how to get earthquake alerts on your Android mobile phone in the context of the recent earthquake in Jajarkot, Rukum West, and most parts of Nepal. Find out how this system works on Android phones, and what you can do to ensure you get the alerts in detail.
The earthquake from Jajarkot, Western Nepal yesterday on Friday, Kartik 17, 2080 (November 03, 2023) shook most of Nepal with jolts felt as far as upper Indian states and parts of China. The shaking began around 11:47 PM at a magnitude of 6.4 Richter scale. Many found about the imminent earthquake on their Android smartphone via the crowdsourced Google-designed system. Nepal lies in the geography where the Indian and Eurasian tectonic plates are always in conflict and the surface remains suspicious to violate shaking. So, we must use all the possible resources and technology at our disposal to keep ourselves updated about this disaster.
In this post, I will write in succinct details on how to get earthquake alerts on Android phones which can be very helpful for mobile users in Nepal. We also learn in detail how the Android Earthquake Alerts System works which is hardwired in Android phones.
What is the Android Earthquake Alerts System?
First, let's begin with the basics. As I mentioned just above, the technology in concern I Android Earthquake Alerts System embedded in Android phones. Google has built this into the Android phone system to send alerts to users when a potentially life-threatening seismic activity occurs.
Earthquake takes place all the time and only a few of them can prove fatal. Since only a few of them require intervention, we never realize that the shaking of the Earth is a "normal" happening. Anyway, building infrastructures that pre-alert earthquake threats to the public could be costly. This is where Google says it saw an opportunity and built the system.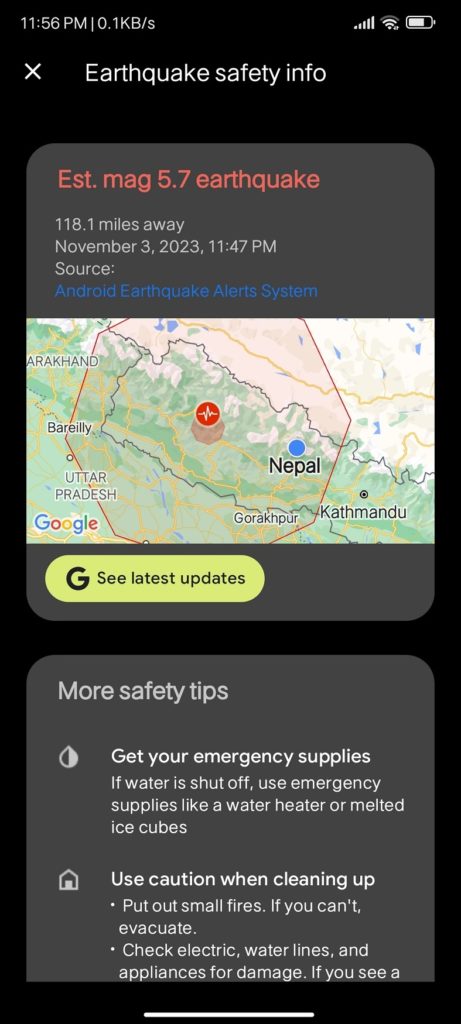 "We saw an opportunity to use Android to provide people with timely, helpful earthquake information when they search, as well as a few seconds warning to get themselves and their loved ones to safety if needed," Google says.
So, it's an advanced and innovative method to detect seismic tremors and send alerts to mobile users to aware them of the potentially deadly situation. The system was initially launched in the US and later expanded to more regions. In the US, Google operates its Earthquake alerts service with ShakeAlert® which is backed by its 1,675 seismic sensors for the detection of violent shaking. Outside the US, it's a crowdsourced practice.
Nepal Telecom has announced free voice, SMS, and Namate WiFi services in affected distractions. Find details: Ntc announces free voice, SMS and SIM in earthquake-affected Jajarkot, Rukum
Earthquake alerts in Nepal on mobile phone | Yes, we got it!
The Android earthquake alert feature is available in Nepal too. The majority of Android smartphone users received the "Jajarkot earthquake" on their mobile phones.
I received the alert just in time and felt the shaking after an odd 3 seconds. Depending on the situation, the system's working, connectivity, and other technical reasons, the earthquake alerts can arrive earlier or slightly later. In my case, I received it just before. Or let's say, the tremors had already begun in its epicenter. Anyway, I found this feature extremely beneficial. A good justification for using a "smart" device.
This is the alert I got on my Android and only managed to take the screenshot later at 11:48 PM. I had to run for my life first (chuckles).
How does it work?
Android Earthquake Alerts System uses accelerometers on Android smartphones to detect seismic activities. Accelerometers can sense shaking signals that might measure up to an earthquake. The signals are then sent to Google's earthquake detection server with a " coarse location" of where it happened. The detection server then combines the data from multiple phones to determine if an earthquake is taking place. The phones detect the vibration and speed of the shaking of the earthquake and send notifications to the users in the affected areas.  
You may find this process lengthy as tremors can inflict huge damages in milliseconds. Google says that its system runs the speed of light to get the whole thing done in time to send alerts timely to the users' end.
But you need to do a few things to receive real-time earthquake alerts on your smartphone. You need to keep "Earthquake alerts" on. You must also have either your data or WiFi connection on and location services (GPS) turned on to receive the notification. As per Google, its earthquake detection uses a network of 2 billion plus phones across the world as mini-seismometers building the world's largest earthquake detection network.
Now, let's find out how to turn on this feature on your phone. Remember though that we are exclusively talking about how this service works on Android. Similar features are available on iOS too. Apple iPhones have "Emergency Alerts" to get such alerts.
You may also be interested in: Google Maps brings AI-powered updates: AI features, Immersive View, local suggestions, EV charge Info, more
How to enable earthquake alerts on Android phones?
You can easily enable earthquake alerts on Android smartphones to get alerts following the steps below:
Open the Settings app on your Android phone.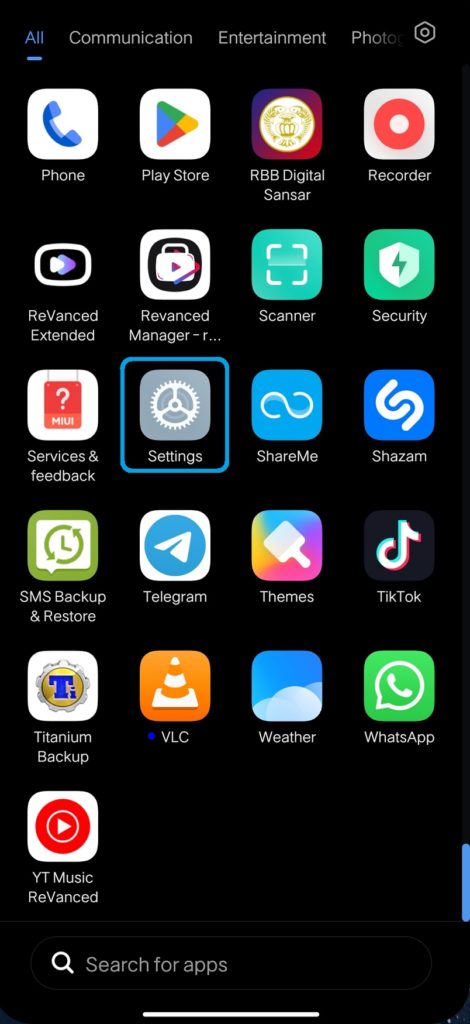 Scroll down to find and tap Safety & emergency.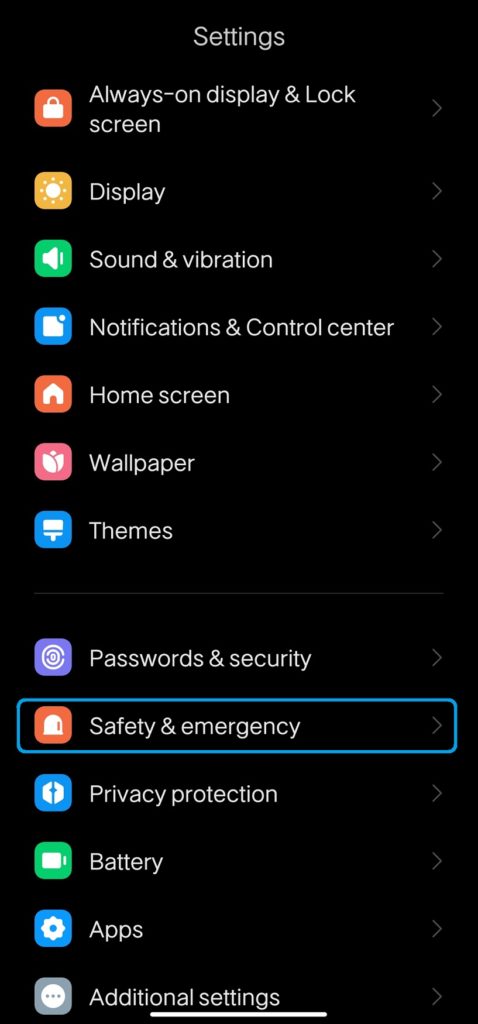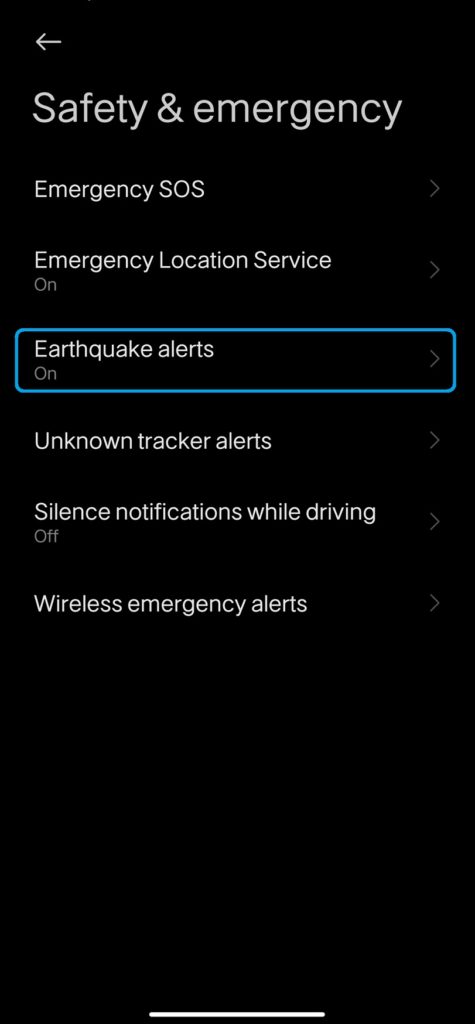 Activate Earthquake alerts.
Following these steps, you can turn on earthquake alerts on your Android device. I found that this feature comes factory-enabled so by default, you may not have to take any steps. Anyway, it's recommended that you still check to see the status of the feature.
Note: This feature requires smartphones to be running Android 5 or above.
Alternatively, you can go to Google Search and type "earthquake" or "earthquake near me" and get the most up-to-date information about the seismic activities that happened or are happening around your place.
Check out: How to transfer balance in Ntc to Ntc?
Use it as an alternative
But Google's system is to be seen as an alternative only. As it says, its alerts can arrive before, during, or after an earthquake. It's also possible that you won't get any alerts at all. Likewise, the immediate data it sends with respect to the magnitude may have errors. In my case, it was the first time I received the alert. But something is better than nothing. I found this system hugely advantageous because it helps other people who may not be on their devices to know the same.
Earthquake alerts on iPhones
Earthquake alerts or emergency alerts work slightly differently on iPhones. Unlike Google-backed Androids Android Alerts System, iPhones' earthquake alerts rely on government notices. So, it could be region-specific. That means, its availability is not guaranteed in all regions. However, you can follow the steps below to activate the feature (if it's available) for iOS.
Launch the Settings app.
Scroll down and tap on Notifications.
Tap on Emergency Alerts.
Turn on Emergency Alerts.
It seems iOS native earthquake alert does not work in Nepal, as I couldn't find the Emergency Alerts (based on government services) in the iOS notifications here (I would rather readers confirm me down in the comments). So, you can use third-party apps such as My Earthquake Alerts & Feed to receive vital updates and information regarding earthquakes that concern you.
Depending on the availability, government service provider, and iOS version, you will get alerts of tsunamis, earthquakes, and other possible disasters occurring or likely to occur in areas near you.
Nepal is prone to earthquakes and we need to stay forever alert to the possibility of it. Experts have mentioned repeatedly that a 2072-like event could occur again. The best we can do is to put maximum effort into staying prepared to escape the worst in case it happens.
Nepalitelecom.com expresses its sincerest condolences over the death of all those in this recent earthquake. May their family, near and dear ones have the strength to bear the irreparable loss.
Did you receive any emergency earthquake alert on your mobile phone? Don't forget to share with us in the comments below.