Leading private telecom operator Ncell Axiata built its advanced tier 3 Integrated data center (IDC) in Nakkhu, Kathmandu to provide a world-class data storage service. Furthermore, it is built at the cost of Rs 2 billion.
The tier-three rated data center is the first in South Asia, Ncell says. After the great earthquake in 2072, the operator had more reasons to build an advanced data center. Due to the lack of modern data centers and those below tier 3, cybersecurity issues have been prevalent. Ncell's state-of-the-art infrastructure could address many of those issues. The telco says it's the largest data center in existence in Nepal to date.
The data center came into operation in 2021 battling delays in its construction hurdles due to Covid-19. The telco also has its data center situated at Hetauda and Pokhara.
The leading private operator says it operates automatically which has lessened the human workforce by 30 percent as per the operator. It employs various Artificial Intelligence (AI) technologies to make it automatic.
Based on the container design, Ncell says the two-story data center is earthquake resistant. It has 250 rack capacity. Out of which, 88 racks are 220V and the remaining is of 48V capacity. For any power mishap, 5 generators are in place for the resumption of operation in case of a power supply cut-off. Each generator has a capacity of 1250kVA. The backup system can serve up to 48 hours. Likewise, the data center is built to withstand earthquake tremors up to 9 Richter scale.
Check out: Ncell launches eSIM service | How to activate?
Ncell data center in Nakkhu is fully secure and protected
Ncell has adopted stringent measures to keep the data center secure. There's a CCTV system, access control, and Data Center Infrastructure Specialist (DCIS) system for its protection from possible critical environments.
And to control unauthorized access, no entry is allowed without PIN authentication. At the same time, when someone slides a card or enters a PIN code, details are sent to the control room as SMS and notification. It's received an ISO 1496-1 standard certification as well.
Similarly, there's a system that detects smoke or fire to help minimize a disaster timely. When smoke is detected by the system, technicians on site can nullify the danger. The alarm system helps people inside to get out safely in case of a major fire breakout. The chemicals to be used in case of such a situation won't affect human health, the telco says.

The IDC's major fire-fighting characteristics:
Automatic fire alarm and extinguishing system
Fire alarm delay of 6 seconds maximum,
extinguishing agent release time of 8 seconds spray
Check out: WorldLink To Build 14 World-Class Data Centers Worth NRs. 3 Billion
Open for commercial use
Ncell is open to sharing its racks in the data center for any commercial use with other enterprises. Telecom regulator Nepal Telecommunication Authority has also encouraged infrastructure sharing in Nepal. It can lessen overhead costs and help maintain content more efficiently.
Telecom service providers, banks and financial institutions, and IT companies, can and are using the data center of Ncell.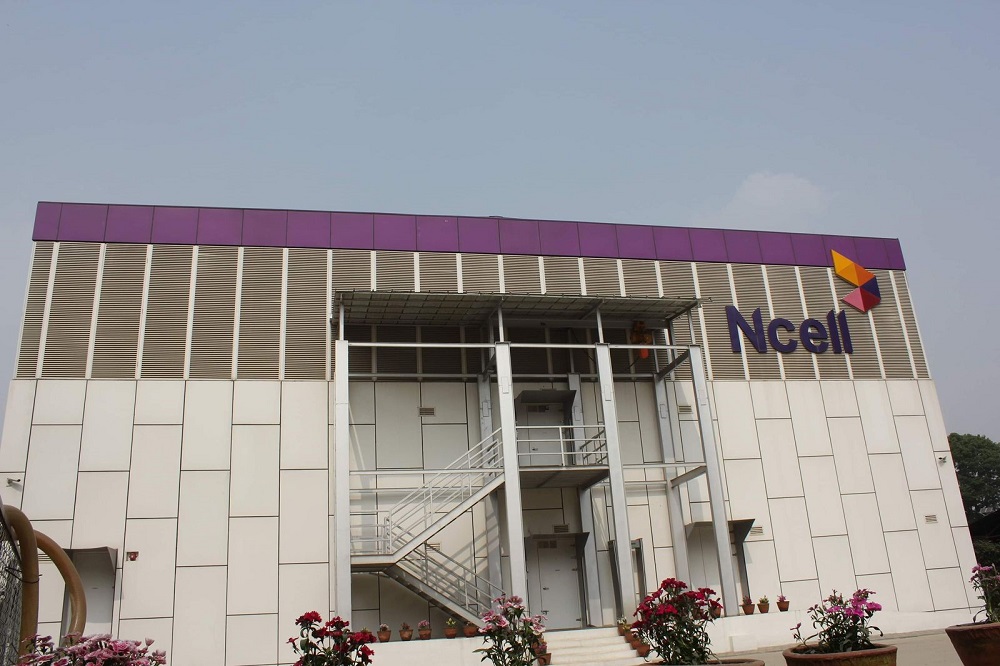 Additionally, it has an automatic fire-detecting technology called VESDA. The center is fully compliant with security standards. Ncell says its Nakkhu data center is eco-friendly and has over 97 percent efficiency. Technicians perform its on-site monitoring 24×7.
Also read: NTA Approves Infrastructure Sharing & Its Pricing Bylaw
Value to the business
The data center is perfectly valuable to enterprises due to its design characteristics. It has a scalable capacity design with DG, modular UPS, etc. The adaptable density design allows for increasing the power density capacity of the racks. At the same time, its anti-seismic (resists earthquake tremors) design adds more value to businesses to keep their data safe in times of a natural disaster.
Its design is smart and efficient. There are in-row cooling units in the rack module. The Novec 1230 green fire gas helps with the gas emission system. Effective Data Center Infrastructure Management (DCIM) allows for smooth operation and maintenance.
Scalable Capacity Design (DG, modular UPS, modular rectifier)
Adaptable Density Design (increasing the power density of ICT racks)
Anti-seismic design- Seismic resiliency for Zone V (Indian)
Check out: Ncell revenue declines in 2022; Data contribution grows
Major features of the Ncell data center in Nakkhu
The major features of the Ncell Integrated Data Center (IDC) are as follows.
Modular & Flexible Architecture
Seismic Requirement
Compliance with seismic requirements
Prefabricated Module (zone 4 in EUPstandard / zone 5 in India standard)
Reliability
2N (N+N) topology
Uptime Tier IIIstandard
Dedicated feeder for continuous Gridpower
Standard battery backup of 30 Minute
Addressable FAS, FSS + VESDA system
Security & Surveillance
CCTV system
Access control
DCIM system
Monitoring
24×7 Onsite Monitoring
Ncell says its data center in Nakkhu has a life span of 25 years.