Nepal Airlines International Flights' online ticket booking service has begun. This long-awaited service was unveiled by the airlines through a press release on September 26th, 2022. Now, the national flag carrier tickets could be bought directly from its website. Let's learn more about Nepal Airlines' online ticket booking service in this article.
Nepal Airlines Online Ticket Booking Service For International Flights
The national airlines of Nepal have commenced their online ticket booking system for all its international destinations. It has used the 'Internet Booking Engine' (IBE) which is a system that allows one to search for and book flights. Currently, the airlines fly to Mumbai, Delhi, Banglore, Dubai, Doha, Riyadh, Kuala Lumpur, Hong Kong, Bangkok, and Tokyo. From now onwards, customers can head towards the website and book a ticket online. One can book a one-way, round-trip, and multi-city ticket.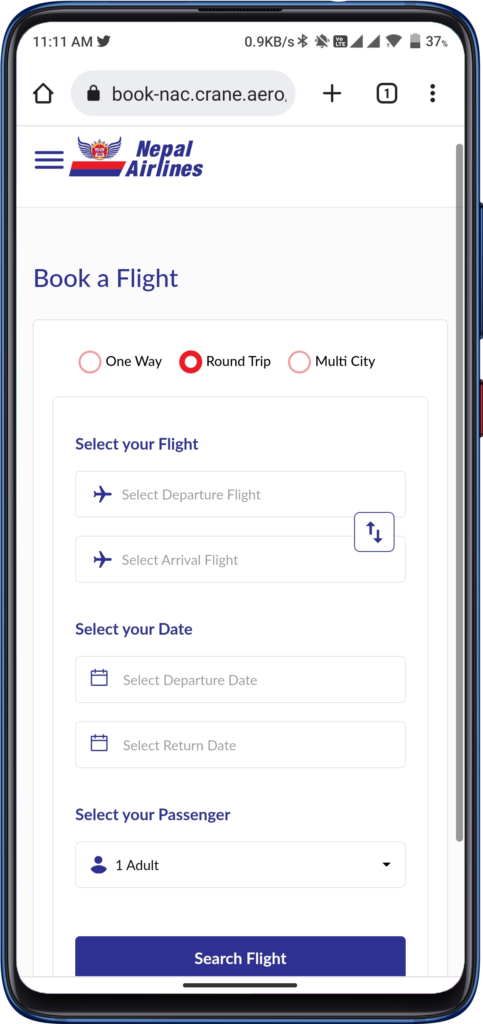 How to Do Nepal Airlines Online Ticket Booking For International Flights
Here's how you can do a booking of Nepal Airlines international flight ticket online;
First, you have to go to Nepal Airlines' website via a smartphone or computer/laptop.
Then, select the International Booking option.
After that, you can choose your preferred option for a one-way, round trip, or multi-city.
Choose the departure and arrival destination
And then, do select your preferred date of travel and return date (in case of a round trip).
Input the number of passengers and hit the Search Flight option.
You will be provided with the option of flight time and flight fares.
After selecting the flight of your choice, click on Continue.
Then, you have to fill up the passenger details such as name, nationality, passport number, expiry date, etc.
You can choose your preferred seats on the airplane.
Then, input additional services if required and head towards the payment option.
And the ticket fare is shown in US Dollars.
Currently, only the credit card or Union card payment option is available at the moment.
After payment, you can confirm the air ticket and it will send to you at your email address.
Also, Read:-FonePay Aiding Digital Payment, What is its advantage, and how to use it?
About Nepal Airlines
Nepal Airlines is a state-owned national flag carrier of the country. The airline was established in 1958 A.D. and was known as Royal Nepal Airlines in pre republic era of the country. Its IATA call sign is still known as RA. It also introduced an online domestic ticket booking service in 2018.
Operating via two Airbus 320 and two Airbus 330 aircraft, the national airlines recently added flights to Riyadh, Saudi Arabia. It is also seeking to fly to Seoul, South Korea, and Australia in the near future. Additionally, an inflight entertainment service is also arriving soon on Nepal Airlines international flights. The decision to add WiFi on its flight comes as part of the company's drive to improve its services.
Have a Read:- Nepal Airlines Corporation to Provide In-Flight WiFi
Since its online ticket booking system for international flights has begun, it will be more convenient to buy its air tickets directly. At the moment, it is only accepting international card payments. So, it is high time need to add digital wallet payments to the system for more convenience. That will increase more number of bookings as digital wallets have become immensely popular in Nepal.
So what do you think about Nepal Airlines' online ticket booking for international flights? How often do you book your air tickets online? Do write us your thoughts, views, and opinions in the comment section below.