Nepal Telecom has made an agreement with Kathmandu-Terai Fast Track highway project to lay Optical fiber along the road. The Fast track expressway project (managed by Nepal Army) is one of the most significant national pride infrastructure development for Nepal as it provides the shortest route from Kathmandu to Terai/Madhesh. The inclusion of the Optical fiber in the highway now makes it more crucial.
The distance from the Capital Kathmandu to Terai/Madhesh is just 72.5 km which is beneficial for both the road connectivity and digital connectivity. The optical fiber will enable the information highway along the shortest route.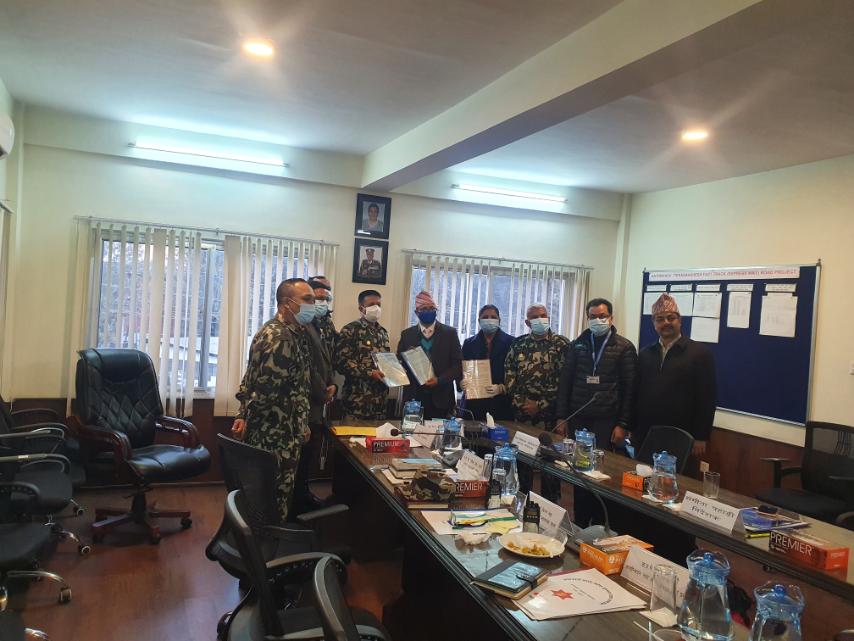 Optical Fiber along Kathmandu Terai Fast Track Road
Nepal Telecom and Kathmandu-Terai/Madesh Expressway Project have signed a MoU-Memorandum of Understanding on Poush 10 (December 25, 2020).
Nepal Telecom's MD Mr. Dilliram Adhikari and Expressway's road project's Chief Technical Brigadier General Mr. Bikash Pokharel inked the agreement for the optical fiber link over the Kathmandu Terai Fast Track highway.
They agreed upon to gradually incorporate several optical fiber tenders along with the expressway development in several different packages.
The optical fiber laying requires huge construction works like Digging, Pipe laying, cable installation and more. So, Nepal Telecom bears the cost involved in this. Nepal Telecom will also be responsible for the technical supervision of the optical fiber installation in the fast track highway.
Significance
Having a shortest transmission route with the optical fiber in the Kathmandu-Terai road will enhance the capacity and quality of the network in Terai region. Not to forget that the major international internet traffic that comes from India, will also get the shortest route. The shortest route might result in lesser latency.
This shall also help Nepal Telecom to upgrade and expand their services like 5G and Fiber internet (FTTH) to more places.
The fast track road is believed to significantly boost the socioeconomic condition of the country. Now the information highway shall help to enhance the digital connectivity that also has a role for the economic development.
Currently, Nepal Telecom is also working for the installation of Optical fiber and development of information highway over the Mid-hill highway along Province 1,2,3, and 6,7 (Karnali, Sudurpaschim) with separate Package.
Tell us what do you think of laying Optical fiber in the Fast Track road in the comment section below.