Ncell, the private telecom operator of Nepal is known to change their logo. According to Naya patrika daily, Ncell is currently removing hoarding boards in the capital city: Kathmandu. Once all of the hoarding boards are removed, they will be putting a new one with the new logo in one or two days.
It was in 2010 that then Teliasonera holding Spice Nepal Pvt .Ltd had changed its mobile brand from Mero Mobile to Ncell. That time, Ncell changed its logo which later was used as a global logo for all of the Teliasonera holding operators. Ncell even put purple color in all of its advertisement, website and showed its aggressiveness in giving new services/ offers. The company was later called Ncell pvt. ltd.
After the buyout of Ncell by Malayasian Telco giant Axiata ( unknowing to regulators and government officials), it was expected for the change in either the logo or the color itself. Today Naya patrika daily reports of the logo change news, quoting their sources in the company. But it is not exactly clear on what sort of change is Ncell mulling in their brand or company itself  so as to mark the recent acquisition by Axiata Group Berhad. No matter what, the logo change for their re-branding is almost sure to happen. As all of the operators that Axiata holds have yellow, blue and purple multi-colored ribbon like logo above the name, that logo will definitely add up to the current name Ncell. So the new logo might looks like this: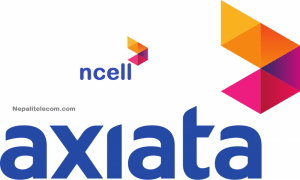 Axiata operates in ten countries of Asia with 25,000 employees and serves approximately 290 million subscribers. It operates as Robi in Bangladesh, Smart in Cambodia, Idea Cellular in India, AXIS and XL in Indonesia, Celcom in Malaysia, Multinet in Pakistan, M1 in Singapore, Dialog in Srilanka and Ncell in Nepal. The percentage of share holding ranges from twenty percent to 100 percent (as in Smart Cambodia and Celcom Malaysia).
Read more: Ncell declares aggressive plan, changes logo and gives new offer to all customers.