Nepal Telecom (NTC) had first launched 4G service back in Kathmandu and Pokhara on Jan 1, 2017.  After a break of 2 years, Ntc resumed its 4G expansion work with a new project from Feb 2019. Now the Ntc 4G coverage is available to more places of the country. This post, we are here to compile all the information about Nepal Telecom 4G service.
The company had organized a grand event in Kathmandu to mark the soft launch of 4G service here in Nepal in presence of Prime Minister KP Sharma Oli himself. Then the 4G service was made available to 60 cities of 37 districts.
What is 4G?
4G is the fourth generation of mobile communication technology. It is the evolution in the GSM family after HSPA+ (3G) for more enhanced mobile services. As GSM is for 2G, WCDMA is for 3G, LTE (Long Term Evolution) is the technology for 4G.  4G is a data-only technology but you can get Voice service by fall back to 2G or 3G network or through a new technology called VoLTE.
4G coverage of Nepal Telecom
At first, the coverage of Nepal Telecom 4G was limited to Kathmandu and Pokhara only. Then the first expansion of 4G outside Kathmandu made the 4G available to 50 cities of 37 districts, covering major cities and metropolitan areas. For those cities, there is a seamless coverage of 4G even in major business and core areas.
As more 4G towers are being operational, 4G will be available towards the outskirts region too. As per the plan, there are around 4000 LTE Base stations in all of the country.
Recent data of Jan 2020 shows the Ntc 4G is available in 1600 locations of the country, in 65+ districts. As a lot of technical teams are involved in the Ntc 4G rollout, more base stations will be on aired and so will be the greater 4G coverage. Find the Ntc 4G coverage details.
Services with 4G LTE
Currently, Nepal Telecom provides high-speed internet service with its 4G LTE technology. As stated above, 4G is a data-only technology that puts the option to either fall back to 2G, 3G for voice or use the VoLTE technology.  Nepal Telecom is providing voice service through CSFB (circuit switch fall back) but as they are testing the VoLTE, they will provide voice calls through it for the supported handsets. So now when a Nepal Telecom 4G user makes a call, the phone will itself go to 2G or 3G mode.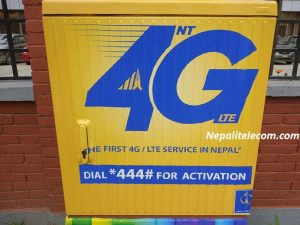 Technologies used.
The telecom company had once organized a press meet with all the news/online media where they told us about the various technology/features used in its 4G service. Here are a few of them stated in the meetup.
Carrier Aggregation: As Nepal Telecom is using two frequency bands for the 4G LTE network, the subscriber can get higher speed if the handset supports the aggregation of both spectrums. This feature is now available with the Nepal Telecom 4G network. So, the speed can reach above 100 Mbps on the non-busy hours.
Multiple Antennas: Nepal Telecom uses up to 4 Antennas in its 4G network. So, if a handset supports such 4 antennas in 4G, you can get higher data speed. This kind of multiple antennas is available where there is a high demand for higher speed data service.
VoLTE: 4G being a data-only technology, can also provide voice service using IP technology, without the need to fall back to 2G or 3G. This feature is being tested in Nepal Telecom 4G.
VoWiFi: After VoLTE, Ntc is also going to enable Voice through WiFi technology but at a later stage. So, when you are at a fixed location, you can always make a call through WiFi.
SON: One of the key features of 4G, is the Self-organized network (SON) through which, the 4G network quality and optimization can be maintained very easily using a separate entity with more efficiency.
5G ready: That time, Ntc stated that their current 4G network is compatible with the upcoming 5G. So, if they can easily upgrade their network to 5G through software only.
ALSO READ: 5G will come to Nepal in the year 2022: Huawei CEO.
Speed of Nepal Telecom 4G
As demonstrated in the soft launch, the highest speed that a user can get from Nepal Telecom 4G is around 200 Mbps download. But with the speed test results from different parts of the country, we found the average speed of Nepal Telecom 4G comes around 15 to 20 Mbps, which is quite good. The speed of a mobile network always depends on your location and the time of the test.
How to check if my phone supports 4G?
To use 4G, your handset should support 4G in Nepal Telecom's 4G LTE band. You can confirm the 4G support in your handset, by going to Settings then to Mobile/cellular networks, then to Network mode where you will find 4G preferred or LTE/WCDMA/GSM mode.
What is the frequency band for 4G?
Earlier Nepal Telecom was only using 1800 MHz (band 3) for 4G LTE. But with the recent expansion, they have added 800 MHz (Band 20) 4G network. So, to get the most out of the Nepal Telecom 4G network, you need to make sure of both the band available on your phone. Here is a detailed post on this 4G band information of Nepal Telecom and more.
How can we activate Ntc 4G in our SIM/ number?
After having support for 4G in your handset, you should put your phone in LTE preferred mode by going to Settings, Mobile network,  Preferred network type or network mode. Your SIM card should also support 4G. If it does not, you should replace your SIM card. To activate 4G in their number along with the 4GB free promotional offer, dial *444# and press 1 for activation. Read more on how to activate 4G and put 4G mode on your phone.
If you need any information on Nepal Telecom 4G, you can contact us or comment below.