The number of unique mobile subscribers in the world has crossed the 5 billion mark on June 13, 2017. The data is based on the real-time data of GSMA (GSM Association), a trade body for the interest of mobile operators worldwide. As the current world population is 7 billion, unique mobile subscribers in the world is found to be 70 percent of the total.
GSMA terms the milestone as a tremendous achievement for industry: the mobile industry that is only a few decades old. But the latest billion addition took 4 years to realize.
Mats Granryd, director-general of trade group GSMA said. "Today mobile is a truly global platform, delivering connectivity and, perhaps more importantly, social and economic opportunities to citizens in all corners of the world."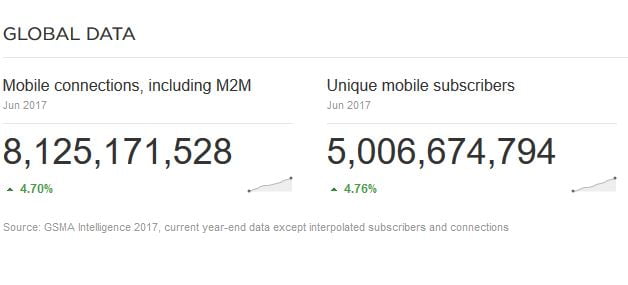 GSMA keeps on showing the real-time data of the mobile subscribers in the world through GSMA intelligence. The picture above shows the real-time data of total mobile connections in the world and the unique mobile subscribers, according to GSMA.
World mobile market and growth
In the mobile market, 55 percent of mobile subscribers alone come from the Asia Pacific region. The region includes the two largest mobile economies. China is the world's largest mobile market with more than a billion subscribers. Whereas India is the second-largest mobile market with 730 million. Europe has the highest penetration of mobile subscribers in the world, and Africa is the least penetrated one.
In the whole world mobile market, India has the largest market growth. GSMA also predicts India to host around 30 percent of unique subscribers in this decade.
Granryd adds. "Meanwhile, in mature markets where subscriber growth is slowing, operators are evolving their business models to capture increasing value within the expanding mobile ecosystem, and providing the platform for a new digital world as we enter the 5G era."
No of Mobile subscribers in Nepal.
Considering the Nepal market, it has still room for penetration of mobile in the unconnected areas and the rural areas. As said, the mobile penetration in Nepal had already crossed the population of the country. But the data doesn't hold right if we consider the unique no of mobile subscription.
The regulator NTA says the total no of mobile subscribers in the country is 32 million (3 Crores and 20 Lakhs). So, the unique mobile subscribers in the country come around 20 million (2 Crores): 70 percent of the total population.