Oppo has opened its second customer care and service center at CTC Mall, Kathmandu, in order to provide a better quality after-sales service. They also intend to provide the best customer experience to their consumers through the customer service center.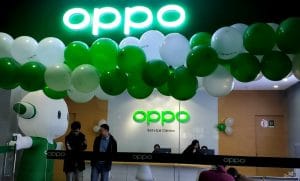 Oppo service center info
From the service center, OPPO will provide maintenance and servicing on OPPO phones sold in Nepal. Oppo has set up its second official customer care service center, on the fifth floor of CTC mall, Sundhara, Kathmandu which is located at unit 606 and 606 A.
They will provide all of their services from the newly opened service center in the duration of 10 am to 6 pm Sunday to Friday.
Contact number
Oppo has also taken an initiation to provide more convenience to its valued customers by using a toll-free number. So, you can dial 16600188886 to ask for the queries and get the solution of the problems regarding Oppo mobile phones.
As per the official information, customers can also contact the service center via other numbers 9808130417 and 9851210623.
Oppo service center contact number: 9808130417 and 985121062, Toll-free: 16600188886
CEO of Oppo Nepal, Mr. Bobby Zhao, and CEO of Telecell Pvt. Ltd, Mr. Sunil Kumar Agrawal jointly inaugurated the customer service center.
In the auguration program, Mr. Bobby Zhao said, "We want our consumers to be fully satisfied with our products. Our ultimate aim has always been their overall satisfaction. Therefore, we don't only focus on sales of the products rather on the after-sales service as well. With the second service center in Kathmandu, we are confident that, we will further be able to boost their experience, pleasure, and satisfaction through our service".
Also Read Oppo Mobile price in Nepal.
Oppo is the smart device maker from China but going global now. They have put a lot of innovative technologies in their device to blend it with the aesthetic value and satisfy the end-users to their extent. They have two smartphone series namely Find and Reno both having top-line specs and quality. OPPO has its footprint in more than 40 countries and regions. They also have 6 Research Institutes and 4 R&D centers in the world along with a design center in London.