Classic Tech is a leading Internet Service Provider in Nepal. Since its launch in 2009, it has steadily risen earning trust and support on the back of its varied range of packages and offers. Despite stiff competition from existing ISPs, Classic Tech has earned a massive customer base in the last 12 years, becoming one of the go-to ISPs with its coverage across 74 districts across Nepal.
As the Nepali internet market rocks through the internet speed war, Classic Tech has propelled itself to the top when it comes to the number game at least. The company recently announced a 1000 Mbps internet plan, which is Nepal's fastest ever and leaves its competitors far behind in the race.
Besides, the company has also announced that it will bring WiFi 6 and Tri-Band routers soon to complement its newer and higher ambition as it seeks to reach more households in the coming years.  

Classic Tech provides its services under Home Broadband and Enterprise Solutions. But the latter offers minimal bandwidth packages compared to the Home Broadband's ultra high-speed packages. This is why Enterprise Solutions will soon turn obsolete in the wake of the current speed war if not significantly upgraded. This is why, we will list its Home Broadband's diverse range of internet packages and their costs in detail. Keep reading.
Read: How to connect Internet service in Nepal?
Classic Tech Tachyon – Home Broadband internet packages
Classic Tech has recently announced its tentpole packages under its Home Broadband segment. Dubbed Tachyon, It includes the ISP's flagship plans at affordable costs. The internet plans range from 225/275/325 Mbps to 625 Mbps. This segment also includes its premium 1 Gbps show steal. Let's explore each in detail.
Classic Tech's 225 Mbps home broadband package is available monthly subscription for Rs 11,988. It doesn't include the IPTV option. The same speed package with an IPTV costs Rs 13,200 for a 12-month plan and Rs 3,897 for three months. Either of these plans are not available for monthly renewals. The 275 Mbps plan costs Rs 15,558 and Rs 3,897 for 12 and 3 months respectively. These plans are good for regular Internet users with slightly higher broadband needs.
For households or even offices with high bandwidth requirements, 325 Mbps and 625 Mbps packages are more likely an option. The 325 Mbps internet package comes for the three-month plan at Rs 4,497 and for twelve months, it costs Rs 17,988. The premium 625 Mbps package costs Rs 29,388 for a twelve-month subscription but doesn't include an option for three and one-month subscriptions. This plan also comes with 3 IPTV connections.
Classic Tech Internet Packages
225 Mbps
225 Mbps
(1 IPTV)
275 Mbps
(2 IPTVs)
325 Mbps
(3 IPTVs)
625 Mbps
(3 IPTVs)
1 month
NA
NA
NA
NA
NA
3 months
NA
Rs 3,300
Rs 3,897
Rs 4,497
NA
12 months
Rs 11,988
Rs 13,200
Rs 15,558
Rs 17,988
Rs 29,388
One-Time Installation Charge
The cost for 225 Mbps (with IPTV), 275 Mbps, and 325 Mbps plans comes with a free installation and FTTH cable charge. For 3 month plan tough, the ISP charges Rs 500 on the above packages. The dual-band ONU device costs Rs 2,000 for rental on a 3-month plan but the fare is waived on a 12-month package. Similarly, the deposit for the ONU is Rs 500 for available renewal options. Check the table below for more details.
| | | | |
| --- | --- | --- | --- |
| Internet | 12 Months | 3 Months | 1 Month |
| Installation Charge | FREE | FREE | N/A |
| FTTH Cable | FREE | Rs 500 | N/A |
| Dual Band 5G ONU Rental | FREE | Rs 2,000 | N/A |
| Dual Band 5G ONU Deposit |   Rs 500 | Rs 500 | N/A |
Classic Tech IPTV installation cost
At the same time, Classic Tech provides free Set Top Box (STB) activation on a 12-month plan and charges Rs 2,000 for a 3 months plan. Similarly, the STB deposit costs Rs 500 for both 12 and 3-month subscriptions.
| | | | |
| --- | --- | --- | --- |
| Primary IPTV | 12 Months | 3 Months | 1 Month |
| STB Activation (Primary) | FREE | Rs 2,000 | N/A |
| STB Deposit | Rs 500 | Rs 500 | N/A |
Classic Tech IPTV brings to your TV over 100 HD and over 100 SD TV channels from all the major categories such as sports, entertainment, infotainment, movies, news, etc. You also get YouTube, Movies-on-Demand, and Catch Up TV services.

Mesh WiFi for 625 Mbps
Classic Tech's 625 Mbps internet package gets better with Mesh 2.0 router system for the best combination of performance and coverage. Although it's just an option, such a high-speed package might need a better Mesh configuration to extend the coverage to wider areas so the ISP has made the option available.
The first Mesh 2.0 costs Rs 8,000 with a security deposit and the Smart installation costs another Rs 3,000 and Rs 2,000 respectively. Up to other 3 Mesh routers are available with a similar deposit and installation fare which will guarantee the superlative internet connection. The 625 Mbps connectivity though is not for a regular user. It's only commendable for large residential areas with a large number of users and devices needing connectivity.
| | | | |
| --- | --- | --- | --- |
| Mesh 1.0 | Rental Charge | Security Deposit | Smart Installation |
| First Mesh 2.0 (Optional) | Rs 8,000 | Rs 3,000 | Rs 2,000 |
| Second Mesh 2.0 (Optional) | Rs 8,000 | Rs 3,000 | Rs 2,000 |
| Third Mesh 2.0 (Optional) | Rs 8,000 | Rs 3,000 | Rs 2,000 |
| Fourth Mesh 2.0 (Optional) | Rs 8,000 | Rs 3,000 | Rs 2,000 |
Classic Tech Tachyon 1 Gbps Internet Package
Classic Tech's endgame 1000 Mbps plan or more succinctly 1 Gbps internet is the greatest residential plan in Nepal to date. With this package, the ISP has completely taken others off guard. the 1 GB internet plan is a world-class offering in its own right and is the greatest yet in the recent months that has seen a transformation in Nepal's internet market.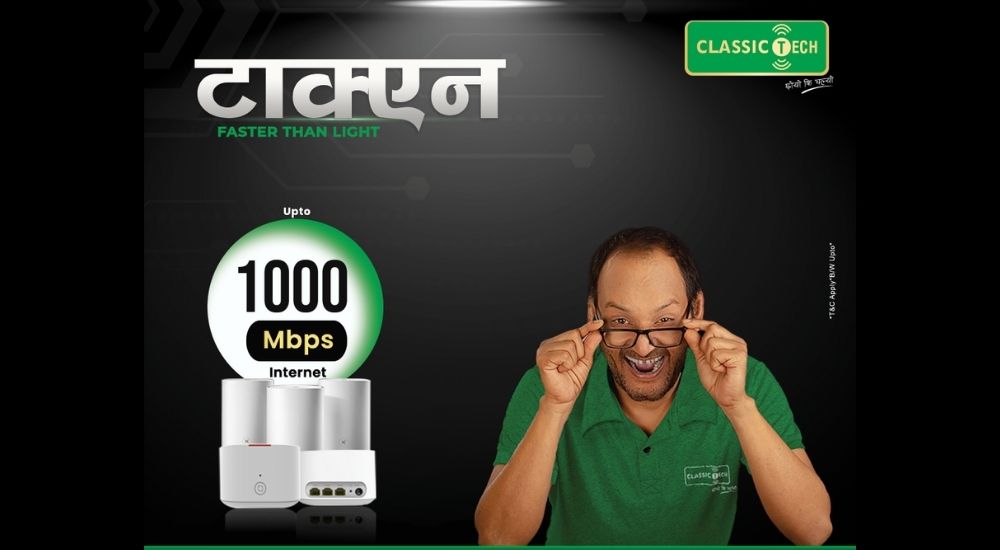 1 GB is perfect. It is ultra-high-speed and delivers the fastest broadband experience for any be it residential users or corporate. The 1 GB speed can download and upload ridiculously large-size files within minutes. It can stream videos, and help with online gaming with superior performance. The 1 Gbps internet is a supreme candidate to fit the bill for any internet consumer.
Cost for Tachyon 1000 Mbps Internet Plan
The 1000 Mbps internet package comes exclusively on a 12-month subscription and costs Rs.47,988. It comes with 3 IPTV additions too. The cost for installation is none except the customer will have to pay Rs.500 in deposit for the ONU device.
| | |
| --- | --- |
| Internet 1000 Mbps | 12 Months |
| Cost | Rs 47,988 |
| IPTV | FREE |
Just like the 625 Mbps package, this 1 Gbps package is for those who need interrupted internet round the clock over a large area for multiple devices. Business houses that have high internet demands for large file transactions, and video conferences can opt for this package. For ICT-related ventures or film production companies, this is going to be an ideal package.
Check out: Best Internet Service in Nepal
Classic Tech Best-Selling Internet Packages
Classic Tech provides its "Best-Selling" deals which comprise 150 Mbps, 200 Mbps, and 300 Mbps internet packages. As with others, these are available on an annual, 3-month, and monthly renewable basis. The costs for these packages are also reasonably affordable given that these are moderately high packages and are more standard these days. The inclusion of dual-band 5G router, and IPTV services has made them so popular among the customers
The 150 Mbps package comes for Rs 1,422 monthly, Rs 3,816 for 3 months, and Rs 14,412 on an annual basis. The 200 Mbps plan costs Rs 1,522 monthly, and Rs 3,966 for three months. If you want it for a year, it will come for Rs 14,652. Likewise, the 300 Mbps plan comes for Rs 1,772 on a monthly subscription, Rs 4,716 for three months, and a 12-month subscription costs Rs 18,264.

These packages are decent for social media, video consumption, and file download and upload. Classic Tech says that these packages support smooth gaming of popular releases such as PUBG, Fortnight and Free Fire, CSGO, etc. These packages come with a high Fair Usage Policy so downloading large-size files are also more convenient.
| | | | |
| --- | --- | --- | --- |
| Classic Tech best-selling packages | 12 Months | 3 Months | 1 Month |
| 150 Mbps (1 IPTV) | Rs 14,412 | Rs 3,816 | Rs 1,422 |
| 200 Mbps (2 IPTVs) | Rs 14,652 | Rs 3,966 | Rs 1,522 |
| 300 Mbps (3 IPTVs) | Rs 18,264 | Rs 4,716 | Rs 1,772 |
One-time installation charges for best-selling packages
Classic Tech's best-selling internet plans cost Rs 500 for FTTH cable also called drop-wire. There is an option for two types of routers- sing-band and dual-band and both cost Rs 1,000 for deposit and Rs 500 for rental, all these for an annual subscription. For three month plan, fiber cable costs Rs 750, and ONU rental costs Rs 1,000. The deposit for ONU is Rs 1,000 here as well. The monthly package though costs Rs 1,000 each for the cable and router deposit. The rental cost for the router is set at Rs 1,500.
| Internet | 12 Months | 3 Months | 1 Month |
| --- | --- | --- | --- |
| FTTH Cable | Rs 500 | Rs 750 | Rs 1,000 |
| Single Band ONU Deposit | Rs 1,000 | Rs 1,000 | Rs 1,000 |
| Dual Band 5G ONU Deposit | Rs 1,000 | Rs 1,000 | Rs 1,000 |
| Single/Dual Band ONU RENTAL | Rs 500 | Rs 1,000 | Rs 1,500 |
Classic Tech Enterprise internet packages for enterprises
Classic Tech provides enterprise internet packages that enable subscribers to turn their homes into offices and come with an uncompromising bandwidth performance. In the ISP's own words, these are the packages for "future leaders with high aspirations". These packages come with IPTV options which further elevates their utility. These packages come free of FUP and users get 24×7 customer support which ensures consistent internet connection with optimum performance. Let's talk about their prices.
The 60 Mbps plan comes for Rs 2,100 on a monthly plan, Rs 6,000 for a three-month plan, and Rs 21,048 for 12 months. This package comes with 1 IPTV connection. Likewise, the 80 Mbps plan comes for Rs 3,100 for a month's subscription, Rs 8,901 for three months, and Rs 32,550 for an annual subscription. It includes 2 IPTV services. The 120 Mbps enterprise package of Classic Tech costs Rs 6,100 for a month, Rs 17,400 for three months, and Rs 62,500 for an annual subscription. This package consists of 3 IPTV connections.
| | | | |
| --- | --- | --- | --- |
| Classic Tech enterprise packages | 12 Months | 3 Months | 1 Month |
| 60 Mbps (1 IPTV) | Rs 21,048 | Rs 6,000 | Rs 2,100 |
| 80 Mbps (2 IPTVs) | Rs 32,550 | Rs 8,901 | Rs 3,100 |
| 120 Mbps (3 IPTVs) | Rs 62,500 | Rs 17,400 | Rs 6,100 |
To ensure the best-in-class fiber connections, Classic Tech offers Dark Core fiber. This technology offers a secure and cost-effective service that serves enterprises to maintain control of their network with almost unlimited bandwidth around the clock.
Classic Tech Enterprise connection features:
Classic Tech's flagship Enterprise internet solution comprises the following characteristics:
There will not be any sharing among other customers.
There is no FUP on the unlimited internet.
Static IP with Public IP block range (if required) via L3 network.
Secondary link for redundancy with automatic failover.
Server hosting ability.
Customized bandwidth provisioning.
Well-managed services.
Prompt response and customized Service-Level Agreement (SLA).
Customized QoS to manage critical applications.
Symmetric upload and download.
Classic Tech's Enterprise Plan subscription can be processed online at this link.
Classic Tech corporate internet packages
Corporates can benefit from Classic Tech Internet packages with comes with dedicated internet bandwidth suited for businesses and organizations. Packages under this category offer more reliable broadband performance and reliability than residential internet while also including additional features such as virtual private networks (VPNs) and customer support for business-critical applications. The key benefit of Classic Tech corporate internet packages are highlighted below:
High-speed internet and reliability:
Corporate plans come with faster speeds and reliability than residential packages which is vital for businesses as they rely on the internet for transferring large-size files or need to connect to cloud-based applications. The bandwidth is catered to the customer from 5 to 10 Gbps as per the need. This type of connection comes with a static IP address and a time of response of 2 hours.
Security:
The corporate internet connection is a dedicated one and comes with an extra layer of security consisting of VPNs, which help subscribers to protect their business, and their data from potential cyber threats such as phishing, malware, hacking, etc.
Customer support:
Corporate users get extended after-sales support from Classic Tech such as phone support, email support, and support from online resources. For any issues that may occur in businesses, the ISP will intervene swiftly to help out. dedicated PC details are also provided for emergency scenarios.
Scalability:
The ISP ensures the specific needs of its corporate users with options for different speeds, data allowances, and extra features. This custom connectivity allows businesses to scale their broadband needs as they change over time. Classic Teh provides the below plans for its dedicated internet users.
Dedicated Internet
Intranet
VAS (Value Added Services)
Co-location
Also read: Toll-Free Numbers of ISPs in Nepal For Inquiry/Complain
Classic Tech Internet Solutions
Classic Tech has magnified its presence in the last few months since the internet war began. The company is not only bringing the 1 Gbps milestone internet speed, but it also wants to herald a new broadband experience for the users. That's why the ISP has announced WiFi 6, Tri-Band routers.

Currently, it has a Mesh WiFi system and 5 GHz routers on offer while the previous two will launch soon. These standards will upgrade the broadband internet with superior performance improvement over the existing standards.
Meanwhile, the ISP has also started the Payback time feature. That means it will compensate users with additional days of internet plan for its downtime during an active subscription.
Data Center
Under Corporate Plan, Classic Tech also provides Data Centre solutions including physical server Co-location services and Dedicated servers on leaser. Companies can sign up for the data center solution for 24/7 uninterrupted storage of their data. Some of the characteristics of the Data Center are as follows:
Server Hosting and Leasing
Hosting Solutions
Cloud Services
Physical Server Co-location
You may also like to read: Classic Tech opens new outlets to provide the best customer support
MPLS Intranet
Among many high-profile services, Classic Tech's Intranet service is one. The ISP has established a native Intranet network over Virtual Private LAN Service with a Multi-protocol Level Switching platform.
Classic Tech guarantees its subscribers traffic up to 100Mbps via a secured network. Check out Classic Tech's Intranet features.
Nationwide coverage
Secure and private MPLS VPN
Multiple routing protocols supported
Robust online network management portal
24 X 7 X 365 days customer support
Classic Tech: Fair Usage Policy
Classic-Tech implements a Fair Usage Policy to keep its bandwidth fair for all. If it finds any "unlimited" plan subscriber abusing the bandwidth, it toggles a FUP on that user, and the speed throttles.
As Enterprise plans are dedicated, only the "Unlimited" plans are subject to the FUP. The policy resets every month. But if a customer doesn't comply, the ISP may contact with caution.
These are the conditions where FUP can strike:
While downloading or uploading large files at the hostel, cyber, or some official work as their internet demands are generally higher than residential uses.
If a Home Broadband subscriber has unusually "heavy download" characteristics.
Can't rule out the possibility of viruses or malware triggering the device to send and receive heavy data files without the user knowing.
Classic Tech implements its FUP in three tiers, just like other major ISPs in Nepal. It has a three-tier status: YELLOW Zone, RED Zone, and BLACK Zone
Classic Tech's Three-Tier Zone FUP
Classic Tech has modified its FUP parameters with generosity. Now, the ISP has introduced a percentage system in which the subscribed package's speed comes down to the stipulated percentage speed. As the Home Broadband speed is all in 3 figures to 1 Gbps, users will still have a good speed for their internet consumption. But it doesn't mean a user is encouraged to abuse the bandwidth.
YELLOW Zone – If a user or a client exceeds the Fair Usage Quota, the speed throttles down to 50%.
RED Zone – The client's bandwidth speed comes down to 25% if they continue abusing the internet consumption even after triggering the YELLOW Zone
BLACK Zone – The bandwidth throttles to its lowest 10% or 5 Mbps for their continued bandwidth abuse.
When either of these Zone triggers, Classic Tech notifies the user via SMS/Email/Notification in mobile apps. If a FUP Zone is active, it resets at the beginning of the next month's billing cycle, and the speed restores to normal.  
When a customer crosses the FUP Quota threshold, their data usage counter will reset at the first of every monthly billing cycle and their Internet will return back to its original speed.
Classic Tech FUP zone
Classic Tech tags a user to its corresponding 'zone' when a user exceeds the monthly data threshold. This will trigger the speed throttle and reduce its bandwidth performance till the end of the running month.
YELLOW Zone: When this zone comes into effect, the users' bandwidth speed will come down to 12Mbps. Classic Tech will inform them via SMS/Email/Notification in the mobile app so that they could lessen their internet abuse.
RED Zone: If the user exceeds bandwidth consumption further, the RED Zone strikes and the bandwidth spirals down to 6Mbps. They get notifications through SMS/Email/Notification.
BLACK Zone: If the user ignores the warning and keeps on abusing the bandwidth, the bandwidth's speed will be throttled to 3Mbps.
Classic Tech resets its FUP every monthly billing cycle and it restores back to normal. It is always best that we do not abuse your bandwidth consumption so as to help every gain better internet service on the network.
So there it was. We compiled the list of all Classic Tech's available internet packages from Basic, SoHo, To Corporate. Depending on the size of your family, the purpose of use, bandwidth demands, and affordability choose your package wisely and stay away from FUP's strike.
In this evolving competition, Classic Tech has solidly strengthened its profile with the 1 Gbps internet plan and plans for WiFi 6 and Tri-Band routers. The ISP is keeping no stone unturned to gung-ho in this speed war and wants to stay ahead with both the number and quality.
Classic Tech coverage areas
Classic Tech internet service is available across most major cities in Nepal. You can available of the ISP's digital services in Pokhara, Kathmandu, Biratnagar, Birgunj, and most municipalities and rural municipalities.
Classic Tech says that its coverage area has expanded to 74 districts which means its coverage has reached almost the entire country. Check out the map below to get an idea of its service coverage.

Classic Tech contact number
To buy a retail internet package, you can contact Classic Tech at +977 9801004477 or reach via [email protected], for Enterprise plans, you can contact +977 9802622303. Similarly, for Corporate plans and information, you can contact the ISP at +977 9802622303.
If you have any queries regarding Classic Tech's packages or reservations about the ISPs' current situation, let us know in the comments section below.