Nepal Telecommunication Authority (NTA) has implemented the full version of the mobile device management system (MDMS) from Monday, Kartik 20, 2080 (November 06, 2023). The mobile device security system has come into effect after a series of delays. This "ends" the 15-day deadline given to the grey phone owners with the notice on Kartik 04, 2080 (October 21, 2023).
With MDMS, NTA will proceed to blacklist unregistered mobile handsets (grey phones) in Nepal which will block their access to any mobile network (network lock). The authority has started blacklisting unregistered mobile phones from Kartik 20, 2080 beginning with the high-end phones. For now, they have blacklisted 1500 iPhone 15 series phones that will not get any signal from Nepali telcos (Ntc, Ncell). However, you can still register your phone in NTA's MDMS system and save your phone from blacklisting so that you can continue using carrier-provided services. Let's find out all about MDMS in Nepal, registration, complete steps with pictures, costs for registration, and all in depth.
MDMS in Nepal
MDMS is a hugely ambitious and bold project of NTA seeking to curb the spread of the grey phone market in Nepal and bring devices within the centralized regulation. The system itself has witnessed enough uncertainties before its launch. The system went live on Jestha 01, 2080 BS (May 15, 2023) with a soft launch. However, the controversy surrounding customs charges on phones forces the authority to keep them in a nominal functional state. However, the authority had issued a request to mobile phone users to register their phones in the MDMS system by the end of Ashar 01 before the start of the FY 2080/81 BS but very few complied. There was another 15-day deadline till Kartik 20.
A mobile device management system (MDMS) is a system software to manage all the mobile devices/handsets operating in the country. MDMS is also called a Centralised EIR system which is governed by the regulator NTA. The system shall record and control all the smartphones imported to the country.
NTA selected Numera JV (JV of M/s Numera (M) Sdn. Bhd., Malaysia, OSI Consulting Pvt. Ltd., India, and Namaste Global Communication Pte. Ltd., Singapore) for the installation of MDMS system. However, there are reports that they have not completed the works for full-fledged MDMS system. Some even reported that there is no any system installed (instead of a normal server) that the NTA is asking the telcos to block the IMEI numbers manually. However, NTA recently refuted the news and claims that hardware for secondary site has already been installed. They also claim that only the hardware for primary site are being delivered to Nepal.
MDMS bylaw (Rule)
NTA has made MDMS mandatory which means all the phones in operation on any network in Nepal [Nepal Telecom (NTC) and Ncell] must have their IMEI number registered in the system. The government will ultimately blacklist or block those unregistered devices in NTA's MDMS server. NTA had formulated and passed a bylaw for the mobile device management system (MDMS) system. The bylaw was put in effect to ensure national, consumer security, identify the genuine handsets, and make the unofficial and fake ones inoperable in Nepal.
The other stakeholders for this device management system are telecom operators, mobile phone importers, Customs duty office, and subscriber themselves who also need to be aware of it.
Here is a snapshot of the NTA MDMS portal for a blacklisted phone, which shows that the provided IMEI number is a blacklisted one.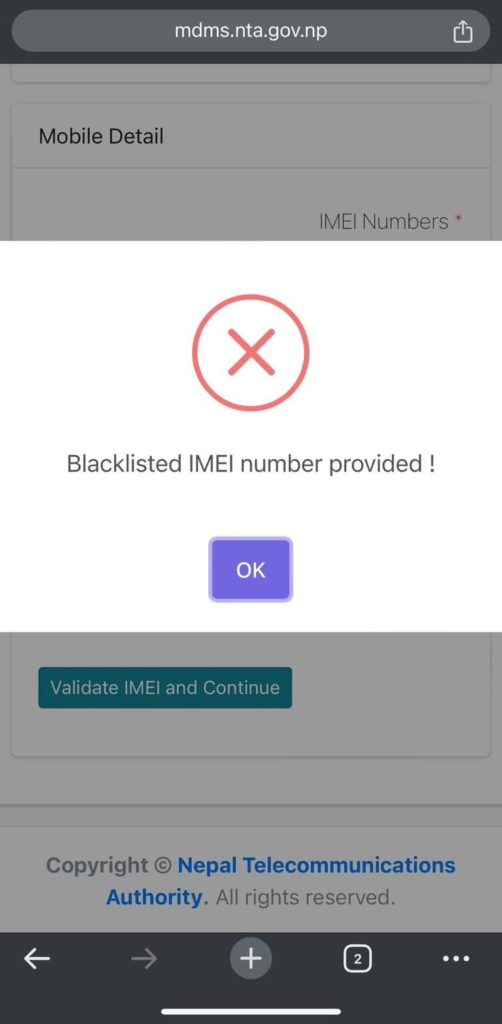 Do read: NTA implementing TERAMOCS to monitor telecom services
"A new era" for Nepal's mobile phone industry
NTA says that the full launch of MDMS harbors a new era for Nepal's mobile phone market. This initiative will ensure transparency and regulation in the mobile phone industry and promise unprecedented benefits. The system will enable the government to get its revenues which has been missing to the grey phones. As the mobile phone industry faces the brunt of economic recession, NTA says that MDMS "offers a glimmer of hope by injecting economic benefits" to the nation. The mobile phone industry is worth billions of rupees however, the grey phone market has helped phones to evade customs charges and taxes leading to the government missing billions of revenues. They believe that MDMS will address that.
In its last MDMS notice, NTA seemed more intense than on previous occasions. "This notice has been issued to all those concerned who are using mobile devices registered in mobile network in Nepal but not registered in NTA's MDMS to register their mobile handsets in the Mobile Device Management System within the next 15 days," the authority says, "If not registered by the mentioned date, all concerned are informed about the suspension of mobile telecommunication services on these mobile handsets as per the rules." This deadline has presumably come to it end. But there's no official statement regarding it and you can still register your phones in NTA's MDMS portal.
MDMS starts blacklisting with the high-end phones
With the full-fledged version of MDMS in operation, NTA will gradually blacklist grey phones operational in Nepal. NTA Chairman Purushottam Khanal shared that MDMS will start with the blacklisting of premium smartphones from 9 pm on Kartik 20. Phones without VAT bill and missing registration will be blacklisted. After blacklisting, mobile devices will stop connecting to any mobile network in Nepal.
"Currently, we target phones above Rs 1.15 lakh. We are not trying to stop by specifying any particular brand. High-end phones that are illegally accessed are locked from the network. We will phase out phones that are unable to submit VAT bills and are not even registered," Mr. Khanal said.
He added that the authority chose 9:00 PM to start blacklisting unregistered phones to not affect the mobile network of telecom companies.
After blacklisting flagship phones, mid-range, entry-level, and other mobile phones will also come under the hammer. In the first phase, around 1 thousand high-end phones will face blacklisting. Mr. Khanal said that currently, 10 thousand grey high-end phones are operating in Nepal. Below, we learn about what MDMS is, the MDMS process, costs for Android, and iOS, and more. Keep reading.
For now, 1500 iPhones 15 series phones have been blocked to stop working with Nepali SIM cards. Among which, around 800 are from Nepal Telecom and around 700 are from Ncell.
What is MDMS?
MDMS is an advanced mobile device management system brought live by Nepal's telecommunication regulator Nepal Telecommunications Authority (NTA). The system is the result of years of plans, and development, hiccups, and materialization. The system primarily wants to keep mobile devices "checked" by keeping their identities in its servers. Therefore, MDMS makes phones' IMEI (International Mobile Equipment Identity) registration mandatory for their operation in Nepal. However, the government has more reasons to bring this regulatory infrastructure into practice. With MDMS, NTA will not just incapacitate unregistered phones to provide telecom services, it will also help with crime investigation, retrieval of lost/missing phones, and importantly help collect revenues. For a regular user, the gist is, that without MDMS registration, a phone won't be able to connect to any mobile network in Nepal and hence no call, data, and SMS services.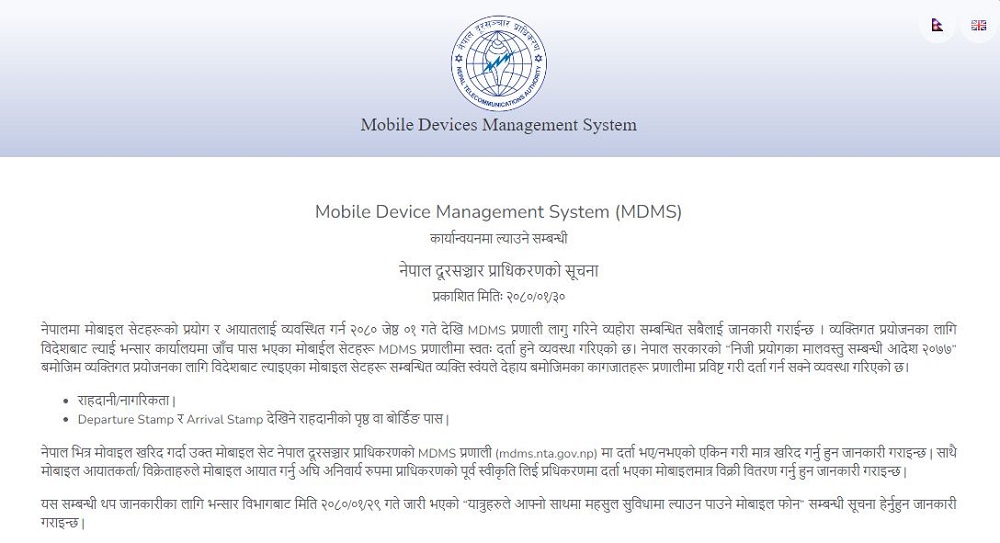 How to register a mobile phone MDMS Nepal?
To register your phone in MDMS, follow the steps below:
Step 1: First, visit the link here.
Step 2: Now, you see fields requiring you to submit some details. Enter your phone's IMEI number, the brand of the phone, and the model. Also, confirm whether the phone is currently in use or not. After entering the details, click on Validate IMEI and Continue.

Step 3: Then you need to validate your email address using an OTP. Just enter your email address, click Request for OTP, check your email, enter the OTP code there and your email address is verified on the MDMS portal.
Step 4: Next, you need to enter when and where you entered Nepal and also need to provide your personal details. This also includes your passport number and your nationality. Then, you need to fill in a different set of details depending on your nationality.
Check out detailed post on the process to register mobile IMEI in NTA MDMS.
MDMS phone registration for Nepali citizens
For Nepali nationals: If you select Nepali as your nationality, you need to enter your address. You must also mention whether the phone you have is for your personal use or for others. If you brought your phone as a gift for others, the option is for you. Select between 'Self' and 'Others.'
Foreigners: In case you are not Nepali by nationality, you need to provide your address in your home country and submit your visa validity date. If you wish to extend your Visa, then you must renew your phone's IMEI validity with the same process.
Step 5: Now, you need to recheck your details. Make sure the details are accurate before you submit them. You will need to upload and submit a scanned copy of your passport, and an entry stamp from the immigration department/boarding pass. Now you do not need to submit proof of purchase of your smartphone which was mandatory before. (The scanned file should be in .jpg or .jpeg format and not exceeding 512 KB in size).
NTA's system runs a check on the details and decides whether to approve your registration or not.
Benefits of MDMS
The two prominent bodies also highlighted the benefits of MDMS:
The government can generate revenue of around Rs 4 billion annually.
Customers won't be buying stolen, counterfeit, and low-quality phones unknowingly.
Details of every IMEI user will be with the Nepal Telecommunication Authority, which will help the Nepal Police in the investigation in need.
Entrepreneurs contribute through tax payments to the government and by maintaining their assets, such as houses and farms in banks. They not only safeguard their own interests but also protect the livelihoods of millions of Nepalis who depend on this business sector.
If the government can arrange 100% excise duty and VAT refund, mobile phones in Nepal, the industry can start and mobile phones will be available at a lower price than abroad.
Do read: Communication Minister Sharma Calls for Phone Assembly in Nepal
MDMS registration deadline has been "extended" many times before
During his budget speech for FY 2080/81, finance minister Dr. Prakash Sharan Mahat announced that current mobile phone owners will get time to register their phones in use till Jestha 15, 2080 (May 29, 2023). The deadline went past with a few grey phone owners registering their handsets. NTA has also structured a fee model to register phones. As per the provision, phones costing over Rs 1 lakh, Android, iPhone, and bar phones will now cost differently.
Again, Ashar 31, 2080 (July 16, 2023) was the last official deadline to register grey phones. However, there was no definite announcement from the authority regarding the backlisting of unregistered phones or extensions for the same. Initially, there was talk of a 1-month extension from the government but it was not official. We assume it is still safe to register the phone in the absence of an official NTA decree. But now, the authority at the time said that MDMS will come to its full function within the next 15 days.
In the meantime, grey phones will continue to work on any mobile network in Nepal. NTA's Assistant spokesman Mr. Achyutananda Mishra earlier suggested that even without registration, grey phones will stay operational for the time being as the intention is not to disrupt customers' telecom services. However, NTA seemed very serious with its notice on Kartik 04, 2080. As per Mr. Khanal, the last 15-day period was perhaps the last deadline for MDMS registration.
What Will MDMS Do to Unregistered Phones?
From now on, MDMS will come with several ramifications on grey phones operating on any network in Nepal.
First of all, the grey phone won't be fully operational after Kartik 20, 2080.
In case such a phone is lost, one cannot lodge a police report for it. If one does, the chances are they will find themselves in jeopardy for using an unauthorized device.
After the phone is blacklisted, your unregistered grey phone won't be able to connect to any carrier network in Nepal. It will not be compatible with any telecom network from Nepal in the future. The phone won't show any network signal.
Since the unauthorized phone does not receive any signal, its utility will be a bare minimum. You cannot avail yourself of any telecom service and the device becomes almost useless as a brick.
Then again, a grey phone evades government registration, taxes, and regulation. The black marketeer or the smugglers sneak into the country via illegal routers and circulate such phones at large. The public buys them because they come cheap without realizing the broader risk entails. Eventually, it also raises a moral question- Whether one should use an illegal phone at all?
MUST READ: What Will Happen to The Grey Phones After MDMS Implementation?
MDMS implementation timeline
MDMS operation has witnessed several debates, issues, and even protests before its coming into operation. It's been a lengthy work in progress, to say the least. Here, we have compiled the timeline of MDMS in Nepal.
In 2018, NTA issued an Expression of Interest (EOI) first for MDMS. In the notice, the then Chairman Sadan said that MDMS is "focused on tracing illegal and non-registered mobile devices in Nepal, to minimize the import of mobile phones through grey market and to encourage the sale of genuine mobile handsets in Nepal."
After 2 years of plans and work, MDMS made substantial progress and went live on Shrawan 01, 2080.
Full launch on Jestha 01, 2079. But due to the lack of preparedness and technical needs, it didn't.
MDMS then went functional on Bhadra 30 but not at its full capacity.
 The authority announced that the full launch of the system will be on Poush 15, 2079. However, PM Pushpa Kamal Dahal "Prachanda" gave an executive order not to implement it. This was because NTA had mentioned that Nepalese working abroad would have to pay customs charges for bringing additional handsets to customs. In response, disgruntled Nepalese ran a #noremittance campaign on Twitter expressing their disapproval of MDMS and more particularly custom charges at customs for new phones.
As a result, a Cabinet meeting took place on Baisakh which decided to implement MDMS on Jestha 01, 2080. NTA gave a month for mobile phone registration.
NTA announced the full implementation of MDMS on Monday, Kartik 20.
MDMS will contain the operation of "grey Phones" in Nepal
One primary reason for the MDMS in Nepal is to curb the spread of grey phones in Nepal which has been hurting the government revenue and challenging the legitimate phone business in the country. If you didn't know yet- The condition of selling/buying phones without registration/tax payment to the government is what we call the "grey phone market". The open borders have also remained unfortunately favorable for people to evade customs checkpoints. People cross borders to purchase phones at a lower cost.
Grey phones are at large. There is an estimated 25-30% of grey phones in the Nepali mobile phone market. The worst is that people are using them without a hitch. This has not only put mobile phone owners' safety at risk, but it has also cost the government in revenues. But finally, the Nepal government is gearing up to sort out the issue. After all the talks, discussions, and preparations, NTA has finally got MDMS all ready to execute.
With this, the authorities will be able to monitor all the mobile phones operating in Nepal. NTA would also roll out its policies via updates on phones, and monitor users for anti-social behaviors. Besides, the government will be able to collect revenues when phones enter via legitimate channels.
Nepal imports roughly one million sets of phones monthly. Out of those, 2,50,000 phones remain unauthorized. This has cost the government around NRs. 7 billion per year, sources say.
Check out: NTA implements new telecom bylaw along with compensation
Mobile phone industry faces a huge challenge from grey phones
In mid-2079, Nepal Mobile Distributors Association and Mobile Phone Importers Association held an event in Kathmandu. At the event, they called on the government to speed up the effective operation of the mobile security system. Stating that there is still Rs. 15 billion of grey phone sales and distribution, the market bore a great loss due to the lack of full mobilization of MDMS. Together, they highlighted the challenges the mobile industry faces from the grey phones:
The Government of Nepal loses Rs. 3 billion in revenue every year.
Some of the phones that come to Nepal may be counterfeit. However, users may not be aware of this, as they may have paid the same price as a legitimate phone. This could potentially result in cheating of the public for the phone they spend their money on.
Nepal Police face difficulty in solving investigations due to the lack of MDMS.
Traders are migrating due to declining businesses, low profit margins, and the
burden of taxes and financial obligations.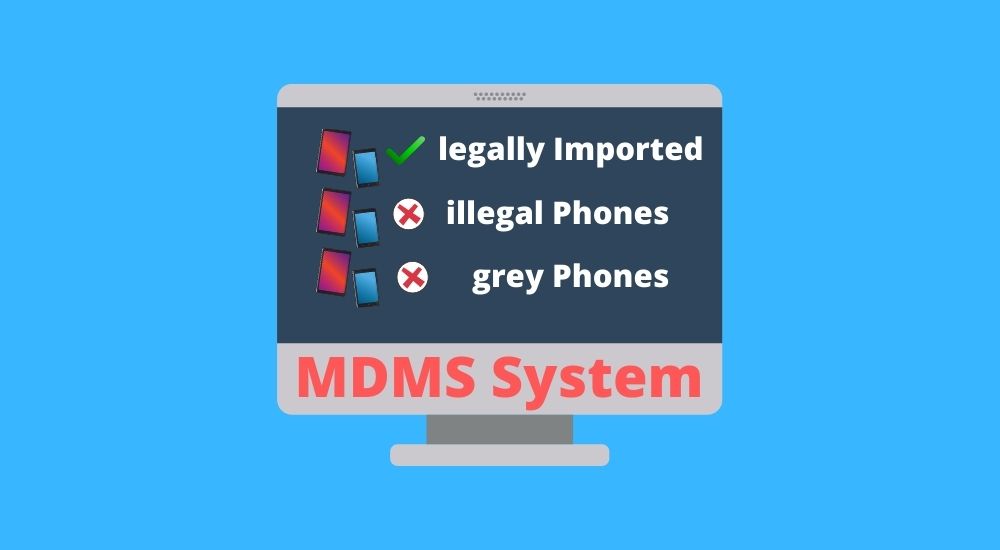 Read the detailed process for how to report and track lost/stolen phones online
The infamous #NOREMITTANCE campaign
NTA says that after the MDMS beta came into operation, the central EIR system came live to regulate mobile phones and properly monitor their imports into the country. The government has also decided that Nepali citizens coming home from abroad work will be able to bring two mobile phones into the country legitimately. The regulation won't apply to those who are on a student visa or on a trip.
MDMS was in its beta effect since Jestha 01, 2080. Then NTA planned to launch its full-fledged form on Poush 15, 2079 (December 30, 2022). This didn't go to plan after a directive from PM Pushpa Kamal Dahal "Prachanda". The excise duty on "one extra phone" at the customs caused a stir among people. In response, they ran the "No Remittance" campaign against the government. MDMS then couldn't proceed to its full launch, and multilateral discussions brought some amendments to alleviate the public dismay. The full launch announced from Kartik 20 follows multilateral discussions with the Finance Ministry, MoCIT, NTA, various government agencies, and all the stakeholders.
Nepalese can bring two phones in Nepal from foreign countries
As per the authority, phones that people bring in for their personal use are automatically registered in the MDMS system after passing their inspection at the customs office. As per the government's "Private Use Goods Order 2077", mobile sets brought from abroad for personal purposes can go through registration with the necessary documents.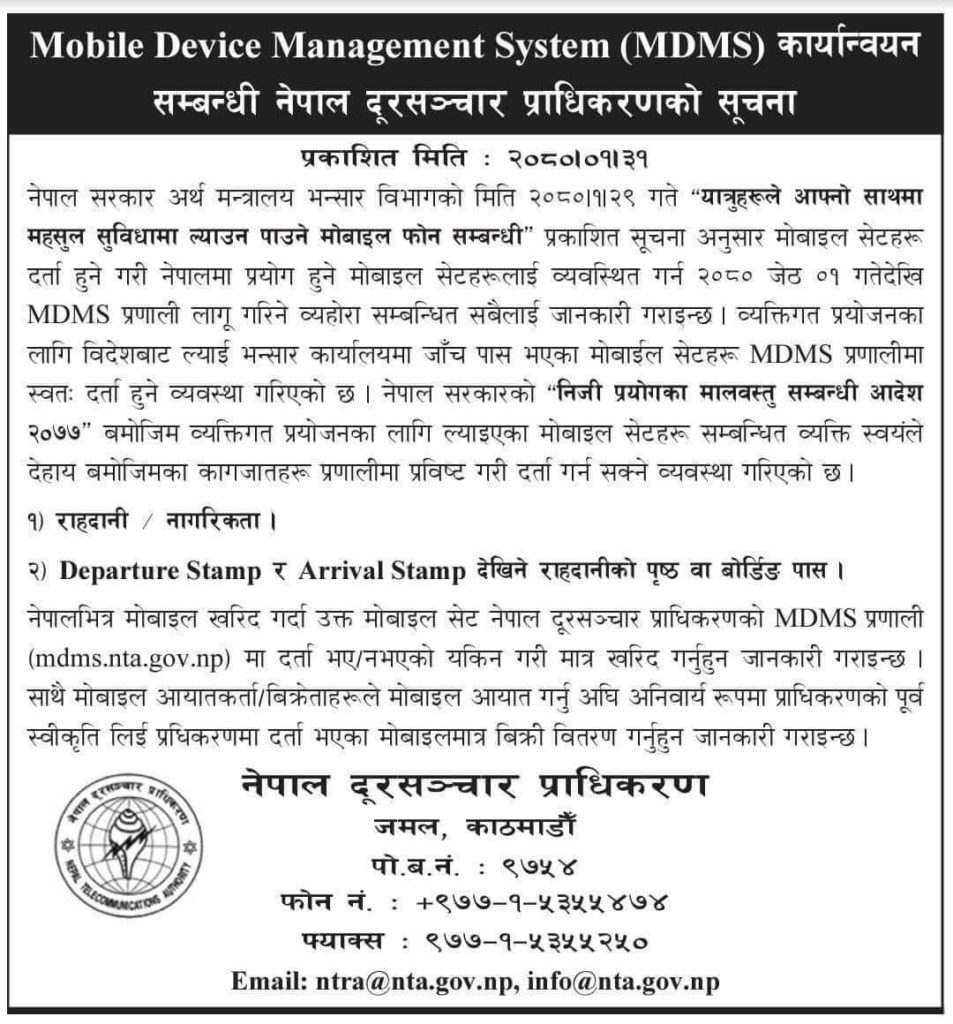 MDMS registration fee for grey phones
NTA has fixed different costs for different mobile phones depending on their platform and price. For iPhones, and those devices that cost Rs 1 lakh above, the MDMS registration cost is set at Rs 10,000, for Android phones below Rs 1 lakh, the MDMS registration cost is Rs 3,000, and for general phones, Rs 300.
| | | |
| --- | --- | --- |
| SN | MDMS phone registration cost | Fee |
| 1 | iPhones | Rs 10,000 |
| 2 | Any phones above Rs 1 lakh | Rs 10,000 |
| 3 | Android Phones (< 1 lakh) | Rs 3,000 |
| 4 | Bar phones | Rs 200 |
Do note: In case you do not have official documents to submit for your grey phone registration, you can still go ahead by paying an amount.
Read in detail: Grey phone registration cost in MDMS: For Android, iPhone, Bar Phone
How to check if my phone is registered in MDMS Nepal?
NTA has urged future phone buyers to first verify if the phone is already in the MDMS in Nepal. You can check to see if your device is already registered in NTA MDMS with the steps below:
Go to the NTA MDMS portal.
Enter your phone's IMEI on the field to your left.
Click on Search.
If your device has already been registered in MDMS, you will get a corresponding response or if otherwise, you will be given a link to register your device. Check the screenshots below for your clarity.
For better confirmation, you need to check both IMEI if it's a dual SIM phone.
NTA Chairman has said that MDMS will kickstart with the blacklisting of premium smartphones followed by others. So, if your phone doesn't fall in that category, your phone will be able to connect to mobile networks before getting blacklisted.
MDMS makes approval mandatory for phone import
With MDMS, importers and distributors also need to mandatorily get approval from NTA to import phones. Likewise, they could only sell phones that are in the MDMS system.   
MDMS refers to a thorough monitoring system that works for the holistic management and operation of mobile devices such as PCs, tablet PCs, cell phones, POS systems, and other devices. It's a software application that helps device fleet operators manage and implement rules or policies on various types of devices.
MDMS has been in the news for a long time. It has been in the plan of the Nepal Telecommunication Authority (NTA) for years. Though the plan for a centralized database of all phones was conceived long back, the MDMS was coined with an NTA project in 2018. But the outcome never came to fruition. The mobile importers in Nepal have also voiced their concern about its effects on business. As a result, all the stakeholders were standing on the same page.
Do read: Mobile Number Portability (MNP) in Nepal
MDMS On Telcos' Servers
With MDMS working, it will be integrated into NTC and Ncell servers. So, every phone will only access the mobile network after the verification of the mobile in the central MDMS database at NTA. However, such full functioning Central database of all IMEI is still not operational despite the regulator claim. For now, NTA will ask the telcos to manually black list the grey phones identified so far.
This will also help phone owners when they lose their phones. For example, if someone complains about their phone's theft to the telco, the company will have the capacity to restrict any service when a new SIM becomes active on the device.
Likewise, the Centralized EIR system will be beneficial for all; the government, traders, and mobile phone users. It will curb the circulation of unauthorized phones in Nepal and contain the grey phone market. The government will raise more revenues at customs and the owners will be able to assure themselves of their devices' legality.
Most important FAQs about MDMS
Here are some frequently asked questions (FAQs) about MDMS in Nepal. Find out what it is and what it does to mobile phones below:
What is MDMS?
MDMS refers to a Mobile Device Management System. Nepal Telecommunication Authority (NTA) has implemented this system to regulate phone businesses, monitor devices, and help the government collect revenue.
When did MDMS come into implementation in Nepal?
Initially, NTA implemented MDMS in Nepal on Jestha 1, 2080 in beta form and launched its full version on Kartik 20, 2080.
How to know if my phone is registered in MDMS?
To confirm your phone's registration status in MDMS, you need to visit the NTA MDMS portal here. Then, on the left, find the option for "IMEI MDMS" verification. Enter your phone's IMEI and submit it to see if it's already in the system or not. Read more here.
What documents are necessary for MDMS registration?
1. For an "individual" registration, you need a passport or citizenship, departure stamp, arrival stamp, or boarding pass, and other individual details submitted in "Individual Registration".
2. Then, an email is sent to the applicant confirming the application. In two to three days, another email is sent confirming successful registration, or the lack of it with a reason.
I don't have the documents, can I still register my phone in MDMS? (Grey Phone Registration)
1. Yes, the authority has made it possible to register a phone even in the absence of the necessary documents. Earlier, it was in the news that phones in operation in Nepal from 2079 Bhadra 30 to 2080 Jestha 15 can be registered in MDMS by paying a tax even if there are no documents. You can still register your phone in the next 15 days to save your phone from blacklisting. The Financial Bill 2080 has made this provision in the case of grey phones.
2. To register your grey phone, you need to go to this page and go to the Grey Registration Section. Enter the details of your device, and the system itself lets you know how much tax you need to pay.
3. You can use ConnectIPS>QR code>Scan and use an app to perform the transaction. Within one hour of payment, your phone will be registered.
What to do with lost or stolen phones for MDMS?
You can use the Lost / Registration section here to apply and help find the phone. Before that, you need to block the SIM card that was in use on the phone in concern.
What is the last deadline for phone registration?
NTA had issued a warning that Kartik 20 will be the last deadline for phone registration in MDMS. After that, unregistered devices will go into the blacklist.
What will happen if my phone gets on the blacklist by NTA?
If your phone gets blacklisted by NTA for failing to register your phone, you won't be able to connect the device to any mobile network in Nepal. You won't cellular services such as voice calls, data, and SMS.
Can I continue to use my phone after it is blacklisted?
You can continue using your phone even after it gets blacklisted. However, you can't use any telecom services provided by carriers. You can use your device to take photos, and videos, play music and videos, and the rest. You can't use services that become available after connecting to a mobile network.
Will MDMS tap my phone calls?
Strictly no. MDMS only records your phone's unique identity numbers such as IMEI. NTA's purpose is to validate the phone's operation in Nepal for sales and using a mobile network.
What is MDMS in Nepal Telecom?
MDMS is a mobile security system and Nepal Telecom (NTC) is a company that provides a cellular network. So, they are closely related. NTA bars the network from operating on any network such as Ntc. If you own an Ntc SIM card, but your phone is not registered, the phone won't connect to the network locking you out of any telecom services the company provides. But Nepal Telecom is not responsible for registering your phone in MDMS.
How can I check my phone registration in MDMS in Nepal?
You can check your MDMS registration status at the NTA website by entering your phone's details. Read how to check your phone in MDMS.
What happens if mobile is not registered in MDMS?
In case your phone is not registered in MDMS, your phone won't connect to any mobile network in Nepal and that means you won't be able to get voice, data, SMS, and other value-added services the company provides.
Can I use my blacklisted phone abroad?
Yes, you can use the blacklisted phone to call, text, and exchange SMS in a foreign country. MDMS is a region and network lock so failing to register in MDMS means, it will not get cellular services that are available in Nepal only. Your phone will be fully useful abroad.
Can I use WiFi if my phone is blacklisted by NTA MDMS?
Yes, you can connect your phone to WiFi and connect to the internet even after NTA MDMS blacklists or blocks your mobile phone. The point is your phone just won't connect to a mobile network that provides a myriad of services (phone calls, Data, SMS, and more) than just the internet connection.
Does MDMS registration cost money?
No, and Yes. If you can provide all the documents needed for MDMS registration for personal purposes, then you do not need to pay. Otherwise, you need to pay some amount for MDMS registration. For this, NTA has structured charges for MDMS registration for Android, iPhone, and bar phones. Read charges for MDMS registration in Nepal.
How much cost of MDMS registration in Nepal?
For MDMS registration, NTA has determined Rs 10,000 for new iPhones and for those that cost above Rs 1,00,000, Rs 3,000 for Android phones, and Rs 200 for bar phones.  
Can we bring 2 phones in Nepal?
Yes. NTA has allowed Nepalese coming from abroad to bring two brand-new phones (only for those on foreign employment for more than six months) without paying extra taxes but must have all the documents.
How do I know if my phone is MDMS registered?
You can know if your device is registered in MDMS by visiting the NTA website for MDMS.
How does MDMS work?
MDMS works by registering mobile phones' unique identity numbers (IMEI) on its servers.
How to check the IMEI code on a phone?
You can check the IMEI code of your mobile phone by *#06# and it will display on your phone's screen.
How many phones are allowed from the USA to Nepal?
You can bring two phones into Nepal via customs legitimately with the right documents. Bringing more devices will cost charges.
What is the MDMS rule in Nepal?
With MDMS, NTA rules that all mobile phones must be registered to operate on any mobile network in Nepal.
How to register my phone if I bring it from India?
If you have come from India with a phone (without a flight), you can easily register it in NTA's MDMS portal by paying an applicable amount as determined for a grey handset.
Do I need to enter both IMEI if  I have a dual-SIM phone and eSIM?
Yes, you need to enter both IMEI numbers of your phone for MDMS registration, and also for an eSIM-compatible phone, you need to enter its IMEI number.
What do you think of NTA's MDMS project that mandates every phone's registration in its system? Do you think it's going to lower the number of grey phones in Nepal? Drop your opinion below in our comment section.