Not receiving OTPs timely can be a huge frustration as we need them immediately for immediate authentication and transactions. Unfortunately, it is a recurring problem for many Nepali users who request OTP from various apps on different mobile networks (Ntc, Ncell, Smart Cell). Multiple factors can lead to such an annoying situation. Keep reading to find out the possible causes and solutions for the verification codes problem.
What Are OTPs ?
OTP stands for One Time password. It is either a numeric or alphanumeric string of characters used for one login session. Once we use them, we can discard them or delete them as any other message. Various apps and sites use them for login, changing passwords, two-way authentications, and financial transactions.
Check out: SMS vs Instant Messaging Apps, which one to prefer?
When Do We Use Them?
OTPs have multiple uses today. Social media platforms, digital wallets, and financial portals as well as their mobile apps, have major applications of OTPs. Generally, we need these codes on the following occasions.
Account verifications
Account Logins
Creating a new password (while you forget the old one)
Financial Transactions and etc.
OTPs are also useful for the authentication of users. It helps the service providers to ensure that the person who is trying to create a new account or changing the password is also the original account holder.
Check out: Ntc requests not to share OTP codes with others
Many apps these days exploit OTPs for two-factor authentication. The user can create a simple password along with OTP (verification codes) Or they can even a biometric factor such as a fingerprint or a face scanner.
For an instance, if you are registering for an eSewa account, it will ask for your phone number and send you an OTP to it. After you input the OTP, your verification will be complete and you could attain the services.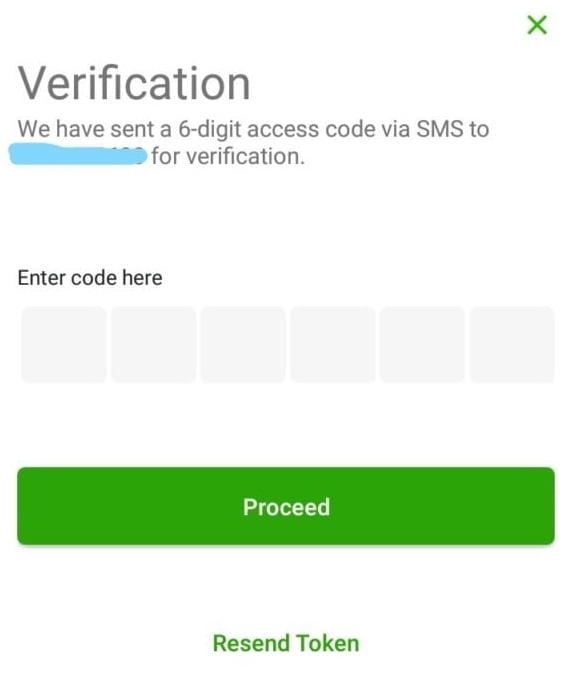 The Problem With Nepali Platforms and Networks
There is inconsistency regarding the successful delivery of OTPs (verification codes) from various platforms on various networks. On major carrier networks namely Nepal Telecom, Ncell, and Smart Cell, there is a recurrent issue of not receiving the OTPs.
Many users of Facebook have complained of not receiving an OTP while they are on Ncell. While many aspirants of Tootle have witnessed the same issue of not receiving OTP on their device while registering as a new rider. Others on its rival platform, Pathao also suffer when they are trying to register or creating a new password.
There may be multiple factors at play for this delayed delivery or none. Some of them may be the platforms themselves and at times the network issues could also play the role. At times, it can be down to the wrong setting or altered default configurations on our mobile devices.
Then there are those doing their transactions on connect-IPS, eSewa, or Khalti who also witness these OTP issues at times leading to inconvenience and frustrations. It applies the same to other Top Digital wallets in Nepal.
When we are locked out of our accounts or we have our social media or any accounts hacked, we can be in serious turmoil for not getting timely delivery of OTP codes. This issue has become common for many Nepalese currently.
For some services like Employee Provident Fund (EPF's) Digital KYC, they ask to put Ntc numbers as there is a possibility of not receiving the code as a message in Ncell number. Here is a notice on their premises.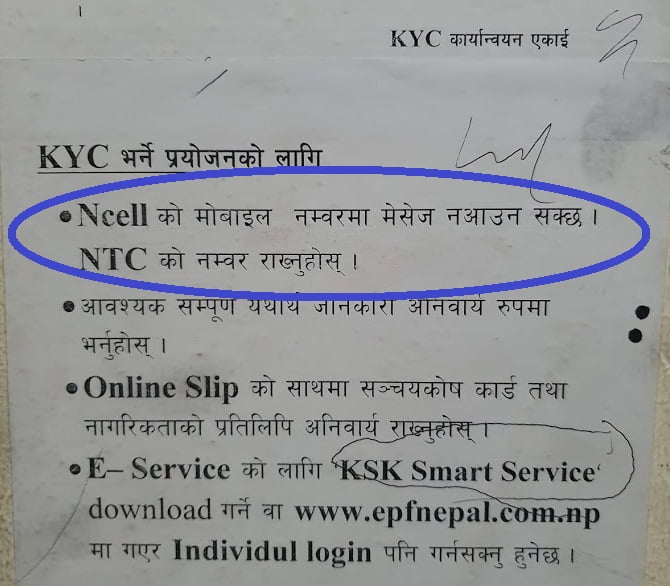 The Possible Causes And Solutions
All the sites or platforms coordinate with multiple telecom networks to deliver OTPs timely. Given that their validity is short-lived, they do their best to ensure that the requesting user receives those codes almost instantly for smooth account verification or another purpose. However, there could be several factors at play that renders OTPs delivery untimely and a cumbersome affair. Let's enumerate some of the possible causes below.
Your number could have been blocked after several requests. If you make multiple requests the network can derive that you may not be the original account holder of an app or a platform hence blocked.
Sometimes, the problem may lie in your own device settings. To sort things out, go to your message and settings and reset it to default. Check how to resolve SMS issues on Ntc, Ncell, Smart Cell SIM?
It is also possible that third parties or the default delivery apps might block your OTP provider after identifying it as spam. In this case, you can go over to the messaging app and unblock the number to receive them normally.
At times a mobile network may block a number from a particular country, region, or IP address for security or for spamming prevention. Automated Spamming filters might be used for those blocking. In such a case, you may need to take help from a telco's technical expert to sort out the issue.
A poor network may also lead to late or no delivery of OTPs. Changing the network from 4G to 3G or 3G to 2G may help. Or simply choose the model that has the strongest network in your area. Read what to do to get a good mobile signal?
It is also possible that you may have accidentally blocked the message on your device. Just remove the SIM from your current device then insert it into another. Then request another OTP. Sometimes it can be the only step necessary.
If you are not receiving an OTP code from a particular app or portal, it is in your best interest to visit them or make a call so that they would sort out the issue for you.
In case you face the issue with a dual SIM phone, try putting a single intended SIM card for receiving the verification code. This can also solve the problem for some issues.
These are some of the causes and solutions to the issues of not receiving OTPs on your devices. Next time, whenever you face such a scenario, make sure you take one of these steps. We believe one of the steps above will certainly guide you through the OTP issues.
Have you ever had to face such a scenario when you did not receive an OTP on your device? What trick did you pull to sort it out? You can share your experience in the comments section below.