F1 soft international launches its new venture eSewa Pasal officially from Sunday (Bhadra 17, 2018). After the Acquisition of Bhatbhateni online, eSewa will promote the online shopping along with the digital payment. With the official launch, eSewa pasal provides cash back offer ranging from 5 % to 25 %. Find more of the eSewa pasal offers and future services below.
Customers will get 5 % cashback for every purchase of items from eSewa pasal using eSewa wallet. Whereas using the card on delivery, customers will get 10 % cashback. They are providing the cashback offer on the occasion of the official launch of the online shopping website. Manish Shrestha, CEO of eSewa Pasal said that they will provide excellent service to the customers at affordable rates for the good future of online shopping in Nepal.
eSewa Pasal has also collaborated with Nabil Bank to provide Cashback offer. Purchasing items from eSewa Pasal using the Nabil banks Visa and credit card of Rs 3000 will provide 20 % cash back and an additional Rs 150 from eSewa.
For amount greater than Rs 3000, Nabil bank will provide 25 % cash back based on the Rs 3000 amount. The previously acclaimed 24 hours delivery will also remain with eSewa Pasal. Along with esewa, all the major banks mobile banking, e-banking, and cards can use to pay in esewa pasal.
Compare to before, eSewa pasal has also added more items and best deals with the official launch. The e-commerce site includes items from gadgets to groceries.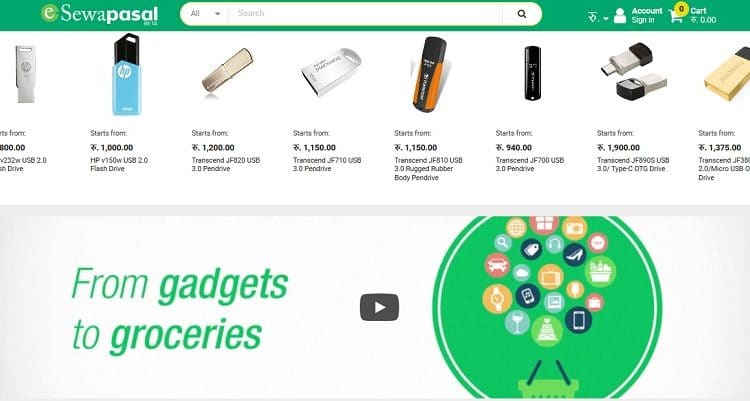 Future services
eSewa pasal has claimed of their price to be very affordable. They also ask the customers to suggest them for the price of the items if it is higher than others. If they find such, they say they will bring down the price to make it affordable than others.
They also announced to bring the facility to buy items in installment. It is basically for the bigger or high price devices or equipments.
For the upcoming festivals, eSewa pasal will launch offer to provide prizes like Bangkok tour to lucky winners among the purchasers.
READ ALSO: