Using wearable has already been a lifestyle now and especially using True Wireless Earbuds. That's why different companies launch different wearable with better features at a low cost as much as possible. And now joining the wearable battle is the Nepali accessories OEM company 'Accurate'. The company launched its second TWS Earbuds in Nepal on August 12, 2020. Last year they launched their best selling Accurate HX-03 and this time its Accurate AT-01 TWS Earbuds. Find the price and specs of Accurate AT-01 TWS in Nepal.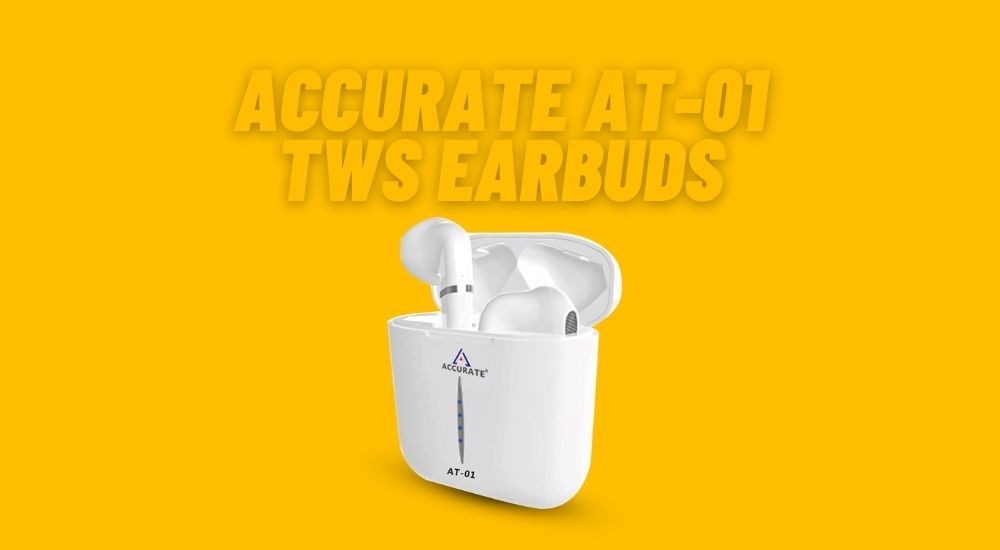 It hasn't been long since Realme launched Realme Buds Air, Oppo launched Enco series. Only Samsung Buds Live came in the premium price range while most were in budget or mid-range price range. Even a budget TWS Earbuds from a recognized company price starts from Rs. 5,000 or above in Nepal. And then there is Accurate, which is providing us TWS Earbuds at a lower cost. Is the basic budget buds good even though of its lower price tag? This is the Accurate AT-01 TWS Earbuds review and let's find out the answers.
Accurate AT-01 Overview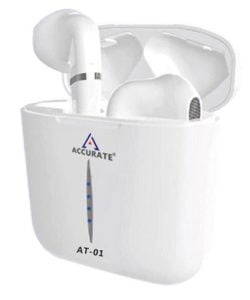 At first glance, we can clearly see that AT-01's design is inspired by the second generation of Apple AirPods. Even the shape and size of the charging case looks similar. Accurate has enhanced the design for better hearing and comfort. Its Ultra-lightweight is what makes it comfortable to put in ear for hours. The Buds have large stems that are slowly going out of fashion.
The earbuds feature Bluetooth 5.0 for connectivity. Because of this, the buds have a Seamless Pairing. This feature enables you to get a hassle-free pairing experience of mono or stereo. These buds also support Hand-Free Voice Assistant on both Android and iOS devices. Now you can give your phone voice commands without taking them out of the pocket.
The call quality is what matters the most in a TWS Earbud. To improve the call quality and experience the company has integrated Noise Reduction technology. This technology reduces ambient noise and makes the receiver side of the speech clear resulting in good call experience. For an entry budget, TWS Earbud to have this feature is really appreciative.
Battery and Charging Case
Now comes the most important part, the battery. AT-01 packs 40mAh battery on each bud and the Power Case packs a 400mAh battery. This battery provides juice for up to 12 hours of total music playback time with other additional charges on the case. It also offers 4.5 hours of playback on the go and 3.5 hours of continuous talk time. The charging case provides an additional five charges to the buds.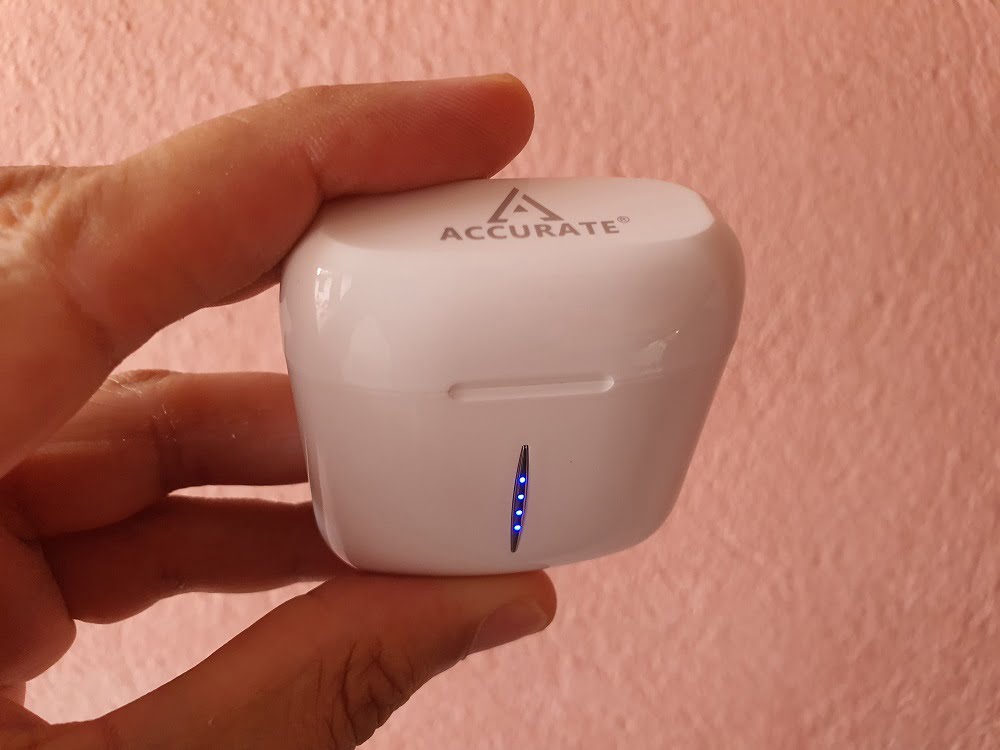 Just like the design of the buds the charging case is also inspired by the second generation Apple AirPods. The charging case has round and curved edges and corners which makes it comfortable to hold and put in the pocket. USB Type-C Port is fitted at the charging case to charge the buds and the case. You will also get a USB Type-C cable in the box while purchasing the AT-01.
Check-Out: Redmi Earbuds S now available in Nepal
Having used the device for a day, I find the Accurate AT-01 TWS earbuds to have a nice standby time and playback. It lasted for my sound requirement for a day-out and if it does not last for you, the TWS box can do the quick charge to revive the device. When it comes to sound quality, I must say it has an average fidelity, which is fair for such price range. The noticeable stereo effect makes you experience better using the device. The earbuds do not put much pressure on your ear, making it comfortable to use for long.
Accurate AT-01 Key Specifications
Weight: Ultra-Light
Performance: Faster and  Stable
Features: Noise Reduction

Hands-Free Voice Assistant
Seamless pairing

Connectivity: Bluetooth 5.0
Battery Size: 40mAh on each bud

400mAh on the Charging case

Battery Backup: 4.5 hours of continuous Music Playback

3.5 hours of continuous talk time
5 additional charges via the charging case

Miscellaneous: USB Type-C Port and Cable
Warranty: Six month
Accurate At-01 TWS Price in Nepal

Accurate AT-01 price in Nepal is set at Rs. 3,499 and comes with a 6-month warranty. It is available in three colors; White, Pink, and  Black. It is available in Daraz Mall, Accurate's Official Facebook Page, and at Retail stores across Nepal. You can directly call at 9815763150 to place an order.
| | | |
| --- | --- | --- |
| Accurate TWS Earbuds | Price in Nepal | Availability  |
| Accurate AT-01 TWS Price in Nepal | Rs. 3,499 | DarzMall, Accurate Offical Facebook Page, Retail Stores |
Not just TWS Earbuds but Accurate also manufactures other various mobile accessories. Click Here to read about all the mobile accessories launched in Nepal by Accurate. You will also know about all the features it has to offer and their respective price tags.