Telcos set up various types of call error messages and call announcements to help users identify particular situations while placing a call. For an instance, you might call someone but instead, get a recorded voice message saying the particular number is busy or the phone is switched off. These are automated messages and are relayed to subscribers and are relayed to customers by a display on the phone or a voice message. Each call error announcement carries its own distinct meaning. Nepal Telecom (NTC), Ncell, and Smart Cell also have a large list of such call error messages and announcements set for their users. Let's find them all and what they mean below.
First of all, what are call error announcements and call error messages?
In telecommunication, call error messages are the notifications you see on the display after a failed phone call. For example, if voice service is not working, you can get a service not available error message. Call announcements, on the other hand, are services that play recorded messages for customers for information, promotion, and awareness activities. After making a call, callers receive different types of automated messages corresponding to a particular situation of call failure. The number you have dialed is currently busy, please try again later, this is just one of the call error messages heard by many in Nepal.
List of Call error messages in Nepal | Ntc, Ncell, Smart Cell
When dialing a number, it may not always initiate a call. There are many reasons for a failed call. It can be due to network overload, wrong number, or the line is busy. Anyway, you receive either a message or an announcement conveying to you the reason behind an unsuccessful call. If the call displays a message of a failed call on the phone's screen, it's a call error message. Below is a list of some common call error messages.
Fixed Dialing Number (FDN) restricted calls
Fixed Dialing Number lets users restrict outgoing calls to selected phone numbers. If you have activated the service, you get reminded of it with a notice that says something like "Call restricted due to FDN". It is a handset feature so the message could slightly vary. You can't call a number that is on the FDN list. However, if you want the ability to call any contact from your side, you need to disable FDN on your phone.
Also read: How to Activate NTC, Ncell, Smart Cell SIM Card For the First Time?
Service not available/reachable
One of the most frequent call error messages you can get is the service not being available. The recorded voice message tells you that the number (service) is not available for several reasons. The person you are calling might have put the phone on 'Don Not Disturb' mode, the network could be unstable, or the phone could be switched off.
Mobile number not registered
You can end up calling a number that is saved on your phone and it won't initiate with the message that the number is not registered. It happens when you are at poor mobile network coverage or even due to temporary technical errors or malfunctions at the system level. The problem dissipates itself when the network comes to full function or when you are in good mobile coverage.
Call ended
There are times your network operator only gives you the message 'Call ended' in an instant after dialing a number. This can happen for a number of reasons. If the network is congested, it can't initiate another call unless its space is freed for another call. If there is no power supply or equipment has failed, it can also end the call. Similarly, a network preference choice could also cause the situation. For an instance, if you put your phone on 4G or LTE mode only, and place a call without VoLTE checked, then you are likely to get the Call ended message.
Check out: Top Features of VoLTE; Fast call setup to Video calls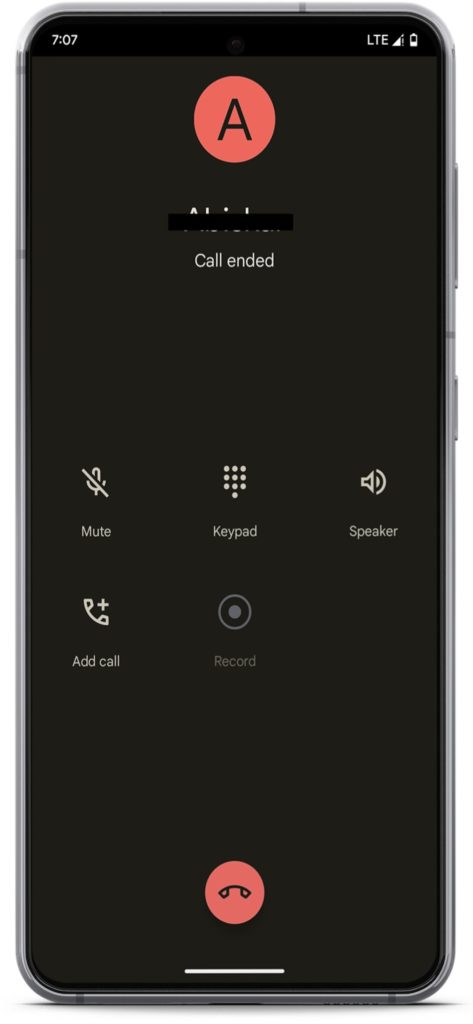 Call error announcements in Nepal
Call error announcements notify you of particular network situations with a voice message. Depending on the situation, you receive a certain type of recorded voice message on your device revealing the issue behind a call failure. Below is the list of call error announcements used by Nepali telecom operators.
The called number is busy
You receive a message which says that the number you have dialed is busy. It means the number you have called is already in an active call with another. It is also possible that the contact is calling someone and receiving one from you is not possible.
Also read: How to Activate NTC, Ncell, Smart Cell SIM Card For the First Time?
The call couldn't connect
Often you get the message that the call you made couldn't connect. It could be for many reasons. The person you are calling might have blocked your SIM number on their phone. It is also not to be ruled out that poor network strength could be the reason for the unsuccessful call.
Calls restricted
If the contact you are calling has blocked your number, you will hear the announcement that your number has been blocked or restricted. At this, you can't initiate a phone call with the person unless unblocked again.
Incoming/outgoing calls barred
It's also common to hear the voice message telling that incoming call on the number you have dialed is restricted or your number's outgoing service has been scrapped. It happens due to unpaid dues (credit) or the lack of balance.
Do read: How to solve mobile data not working on Ntc, Ncell, Smart Cell?
Wrong number
Hearing the message that the number you dialed is wrong or doesn't exist could be annoying but at times, you are bound to get the message. It could be because when you type a number, you mistyped a digit that is not assigned as a telephone number, or you missed one or many digits which won't make up a phone number n the first place. Normally, a mobile phone number in Nepal is composed of 10 digits.
To avoid the wrong number pre-call announcement, make sure you are dialing the right number. If it's all correct and you still get the same error, it means the telco might have scrapped the number of services or there is some fault in the systems.
Do read: Mobile number range of Ntc, Ncell, Smart Cell | How to identify?
All circuits are busy
There could be a few scenarios for getting the recorded message that says "All circuits are busy". It means that all outgoing circuits or channels are unavailable at the moment. In addition, this error could emerge from a network overload or the unavailability of some nodes. Any equipment failure or a cable cut can also cause the error. You can hang up your phone, and redial or wait till the telco fixes the issue.
Low balance
It's not hard to guess why you will get the error message except for some network disturbance. If you place a call with a low balance, you will get a warning that your SIM card's balance is low and the voice message asks you to recharge it soon as possible. It is an indication to you why your call may not initiate or disconnect abruptly later.
Check out: How to Recharge Ntc, Ncell, Smart Cell Balance Online?
Random wrong messages
At times, you can get a random error message during a call. This is a glitch arising from a network failure and you shouldn't be worried about it. The error message could tell you that "Your balance is getting low, please recharge and try again" but may not correspond to the actual situation. Poor network coverage or network outage could also be a cause behind a false voice announcement. The issue could not be solved on its own but with the telco's intervention.
No announcement
There are times you can get no announcement or an error message. When this happens, the call doesn't connect and you can't hear anything. The call just goes blank before it hangs up. It happens due to a network outage.
Check out: How important is voice call quality on Mobile networks?
Busy tone
Likewise, you can also receive a busy tone after placing a call. The tone indicates that either the person you are calling or the network itself is busy or loaded and unable to set up the call. You can also check your balance in such cases, to avoid issues due to a zero balance (less than 5 paisa).
Which of these call error messages do you get most frequently? Do share in the comments below.