Nepal Telecom, the government-owned telecom company, is set to hire 73 new employees for various positions. Furthermore, the company has opened job vacancies for 13 different positions, which is published in Gorkhapatra daily on Feb 24, 2023 (Falgun 12, 2079). So, anyone with the required qualifications can apply for the vacant posts ranging from Deputy Manager to Junior Technician, and including several engineers. Also, find the process to apply for the recent vacant jobs in Nepal Telecom online.
Check out: Nepal Telecom launches eSIM; Find how to subscribe?
Positions vacant for applications
As per the information published by Ntc on Friday regarding the call for applications, the vacant posts requested in the company include:
Deputy Manager (Telecom): 1   
Senior Telecom Engineer: 2
Baristha (Senior) Account officer: 1
Telecom Engineer (Electronics and communication): 10
Engineer (Computer): 5
Telecom Engineer (Electrical): 3
Civil Engineer: 1 
Assistant Accounts Officer: 4
Sahayek (Assistant) Administrative Officer: 3
Assistant Business Officer: 4
Technician: 11
Assistant: 11
Junior Technician: 17
The employees who will be recruited in the above posts will be assigned to work in various directorates, departments, and offices outside the Kathmandu Valley. The interested applicants can apply for the posts by following the mentioned online process below and visiting Ntc's recruitment portal.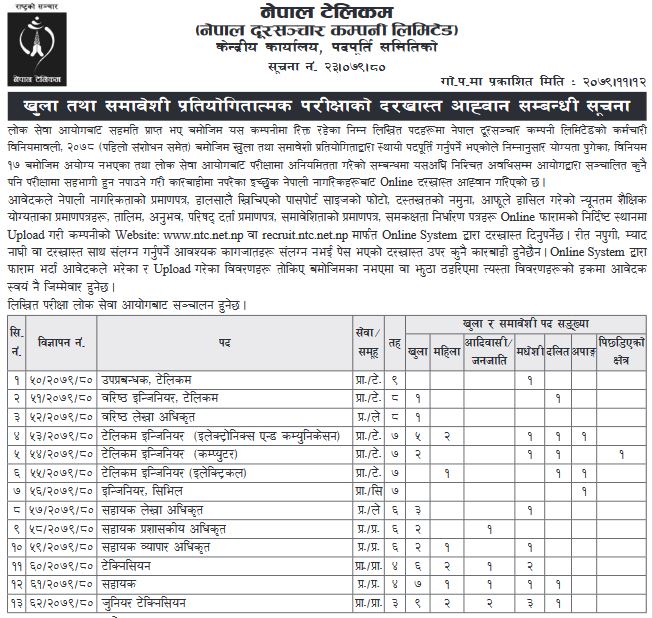 Check out: Nepal Telecom Fiber Net Offer, Speed, Price
How to apply for Ntc Vacancy Online?
To apply for several vacancies in Nepal Telecom, first, you need to check whether you qualify for the vacant position or not. If you qualify, then follow the steps below.
Go to the NTC recruitment portal for the online application and select the position you want to apply.
Then, fill the form along with the attachment of the Citizenship copy, PP size photo, Academic Qualifications, Training, experience (if any), Council registration, Inclusiveness determination certificate as required.
After rightly filling the application, you can pay for the application fees on the payment options where you can choose Namaste Pay, Connect IPS, eSewa, and Khalti. You can also pay for the respective fee from NT counters while presenting the slip with the application token number.
You can fill the application form online for the Ntc vacancies till Chaitra 2 and a week more (till Chaitra 9) with double fees. Similarly, the vacancies are approved by Lok Sewa Ayog (PSC) and the same agency will conduct the examination for the open and inclusive competition.
Don't miss: How to transfer balance in Ntc?
Apart from the open vacancies, Nepal Telecom has also opened applications for internal competition among the existing employees.
Tell us, Are you interested to work in Nepal Telecom (NTC)? If yes, then this is the right chance for you to apply for several positions at NTC? Do check it out. If you have any problem applying for the job, you can comment below.