Nepal's leading itnerner service provider WorldLink Communications Limited has introduced its Artificial Intelligence (AI)-powered chatbot service to hear out and address customer complaints. The company expects the feature to enhance its customer service without human help.
WorldLink integrated the AI service on its website and WhatsApp number to bring the advanced service live for its customers.
AI chatbot will help reduce phone calls and improve customers' service experience from the company. Now, customers won't always have to dial WorldLink numbers to convey their Internet issues. In fact, many customers struggle to get the number to their closest office of the ISP. The chatbot helps get rid of the need to search and dial phone numbers.
WorldLink AI chatbot to address all common customers' internet queries
As per WorldLink, customers can use its chatbot for the majority of customer services the company provides. Mostly, customers call its offices, and customer centers to find out about their WorldLink internet packages, new connection, and expiry, check their internet connection, learn about new offers, or shift locations. All these and other queries are covered efficiently by the automated chatbot feature.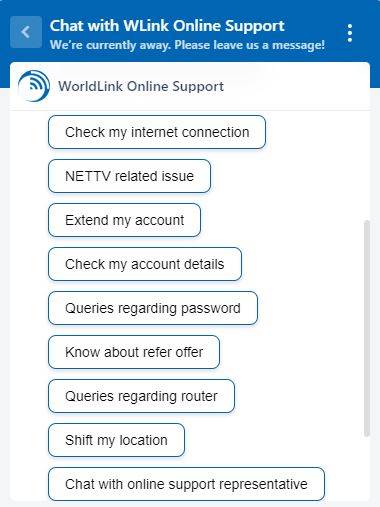 WorldLink brought its chatbot with the idea of incorporating new technologies and minimizing the number of daily phone calls it receives for customer service.
How to use WorldLink AI Chatbot?
You can use WorldLink's AI Chatbot service on its website or by using its WhatsApp number (+977 9801523051). Accessing the company's customer services online also means you don't have to spend money on phone calls. The real advantage is that you can access it anytime with an internet connection.
Check out: WorldLink, PUBG Launch "Gamers Pack" Internet Packages, Claims Up To 75% Latency Improvement
You need to verify your WorldLink account
But you need to verify your WorldLink account to solve any internet issues. After initiating the contact, WorldLink's chatbot asks for your phone number. You must enter the one you have used for your registration. After the verification, the intervention starts. You can select the topic of your concern or query and get help online from the company. But if your number is not in the records, you can still check out the options available for other customer services.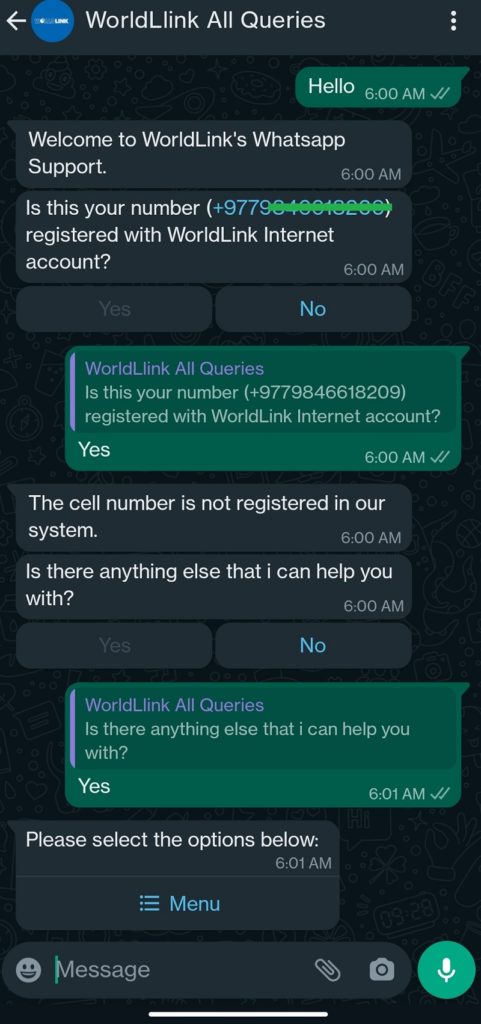 But AI chatbot can be limited in its capacity and not cover your queries. In such a case, you can directly contact WorldLink's representatives.
WorldLink is known for its exceptional network of custom services and the latest chatbot addition will add more value to that department. If you try the chatbot, do share in our comments how effective you found it.